Eight questions this week, so I kept the answers relatively short. If you want to send us anything, use the Submit A Tip box in the sidebar.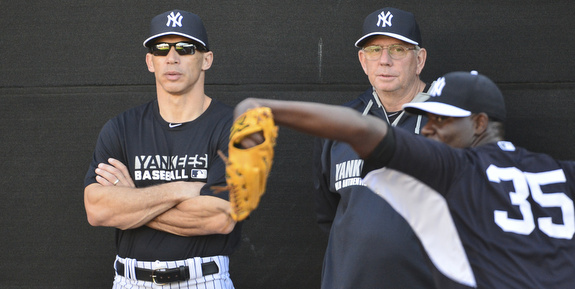 Kevin asks: If Michael Pineda comes back and has a strong year, pitching ~150 innings, wouldn't it make at least some sense to consider trading him for a young cost-controlled hitter instead of betting on his shoulder long-term?
Oh sure, absolutely. Given the team's needs on the infield, it definitely makes sense to deal a pitcher with a major arm injury in his not-too-distant past for a young position player. Obviously there would be many more variables here. How does Pineda look in 2014? Do any prospects take a step forward and change the team's long-term outlook? Stuff like that. Pitchers who have shoulder surgeries tend to continue having shoulder problems, so flipping Pineda for a young infielder next winter definitely makes sense. We just have to see how these next few months play out before we can know how realistic that is.
Dan asks: Let's say that between being healthy and playing in Yankee Stadium, Jacoby Ellsbury's power numbers rebound to where he approaches his career highs, or at least becomes a legit 20 HR guy. Would Joe Girardi move him down in the lineup?
I think so, especially since they have Brett Gardner ready to step right into the leadoff spot. I don't know if it would make sense to bat Ellsbury any lower than third, but I could see the lineup being Gardner, Derek Jeter, Ellsbury, Carlos Beltran, so on and so forth at some point. I guess it depends how the rest of the offense is performing. There's no harm in having a 20+ homer, 40+ steal leadoff man. That's quite the table-setter.
Howie asks: I haven't heard a word about Zelous Wheeler from anybody this spring. He was a good enough prospect for the Brewers to protect on their 40-man roster for a while, and it seems he's been able to get on base throughout his career. He got a lot of ABs for the Yankees in spring training. Any word on him? Any chance the Yankees give him a call up at some point to see if he can play a major league 3B?
Wheeler, 27, has not even played a full season at Triple-A yet, believe it or not. Only 121 total games at the level across three seasons. Baseball America never once ranked him as one of Milwaukee's top 30 prospects in their Prospect Handbook and that's really saying something. The Brewers have had some awful farm systems in recent years. Wheeler has put up nice numbers at Double-A (.276/.377/.428 in 321 games) and decent numbers at Triple-A (.264/.342/.410 in 121 games), plus he's had a monster spring (.287/.381/.486), so he's on the map. I don't think he'll get much of a chance to help the big league team this year though, at least not without a ton of injuries. He's at the very bottom of the depth chart it seems.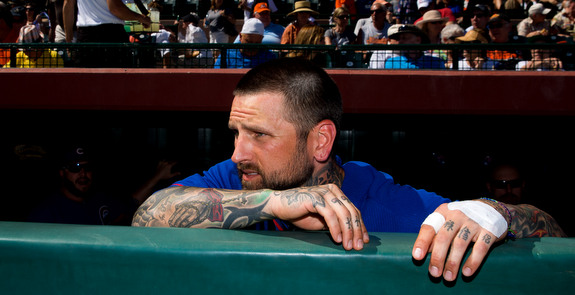 Nic asks: Ryan Roberts worth to pick-up this late in the spring?
I don't think so. Roberts had a big year with the Diamondbacks in 2011, hitting .249/.341/.427 (109 wRC+) with 19 homers and 18 steals, but he's only hit .238/.296/.364 (81 wRC+) in the two years since. That includes a .256/.304/.412 (95 wRC+) line against left-handers, so he e isn't much of a platoon option. Roberts can play second and third, and the various defensive stats say he's a good but not great gloveman. He's very similar to Scott Sizemore and I don't see much of a point of carrying two Scott Sizemores. One in Triple-A is enough. The Yankees went through all that trouble to acquire Dean Anna and they removed other players from the 40-man roster this winter in favor of him. I say let him play while Brendan Ryan's hurt. That's what he's there for.
Dylan asks: I'm pretty sure I'm the only guy that ever asks this or even cares, but can we get our yearly Pat Venditte update? I saw he was available multiple times but did he pitch this spring? Does he have a shot at getting called up this year? Ever?
Venditte had surgery on his right shoulder two years ago, and he returned last season to throw 28.2 innings at three different levels (3.45 ERA). He has been brought up to big league camp as an extra arm a few times this spring but hasn't gotten into a game. Venditte is fully healthy now and throwing with both arms, and I think he'll start the year with either Double-A Trenton or Triple-A Scranton. It might be Double-A because there are a ton of arms ticketed for Triple-A as it is. Venditte will turn 29 this summer, so he's not some young prospect anymore. I don't think he'll get called up this year, but hey, he'll be a minor league free agent next winter, so maybe another team will give him a shot. Since he's gone unselected in the Rule 5 Draft several times, probably not.
Frank asks: I know it's "only Spring Training" but something has to be said about the number of runs the Yankees have allowed this Spring.  As of today, they're only behind the Rays for fewest runs allowed.  Yankee pitchers haven't really got lit up this Spring.  Encouraged?
It doesn't mean anything. I know that's the cliche but it's true. A total of 33 pitchers have thrown a combined 266 innings for the Yankees this year, and, assuming Dellin Betances and Vidal Nuno get the last two bullpen spots, 124.2 of them have them have been thrown by guys who will not be on the big league roster. Almost half (46.9%, to be exact). Bruce Billings has thrown the same number of innings (8.1) as Hiroki Kuroda, just to drive the point home. (Kuroda's thrown in minor league games a few times, hence the low innings total.) Remember, many of those innings were against hitters who won't sniff MLB this year. It's neat that the Yankees have pitched well this spring — they have the second most strikeouts (234) and second fewest walks (59) among all 30 teams — but ultimately it means nothing. Spring Training stats for one individual player mean little and they mean even less for a group of players.
Dustin asks: John Ryan Murphy for Marcus Semien. Would you do it? Would the White Sox do it?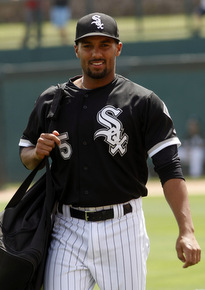 Pretty sure I'd do it. Semien, 23, hit .284/.401/.479 with 19 homers, 24 steals, and more walks (98) than strikeouts (90) in 137 games between Double-A and Triple-A last year before getting a cup of coffee in September. He actually made his big league debut in Yankee Stadium. Here's the box score. Baseball America (no subs. req'd) ranked him as the 91st best prospect in the game last month, and in their subscriber-only scouting report they said he has pushed "beyond his original utility profile" because he's hit so much. Semien is said to fit best at second or third base, and given the Yankees' need for both short and long-term infield help, he'd make a lot of sense. It is a bit of a concern that he was considered a future utility man as recently as 12 months ago, but not enough to deter me completely. The White Sox desperately need a catcher and Murphy would fit well for them. I don't know if they'd pull the trigger though.
Jonathan asks: Since Jeter came into the league, what would be the best 25 man roster that could be put together by the collection of Yankees that have come and gone or are currently on the roster? (Lineup, Bench, Rotation, Bullpen)
The Play Index was made for stuff like this. Here is the highest bWAR at each position (min. 50% of games played) during Jeter's career, starting in 1996, his first full season. Some of these are obvious (click the link on each position for the full results):
Catcher: Jorge Posada (42.6 bWAR)
First Base: Jason Giambi (22.0)
Second Base: Robinson Cano (45.1)
Third Base: Alex Rodriguez (52.5)
Left Field: Hideki Matsui (20.4)
Center Field: Bernie Williams (35.1)
Right Field: Paul O'Neill (16.6)
Designated Hitter: David Justice (3.6 WAR)
Bench: Frankie Cervelli (2.9), Brendan Ryan (0.5), Miguel Cairo (2.0), Tim Raines (3.3)
Rotation: Andy Pettitte (48.7), Mike Mussina (35.2), CC Sabathia (22.1), Roger Clemens (21.3), Orlando Hernandez (19.1)
Bullpen: Mariano Rivera (56.4), Ramiro Mendoza (11.5), David Robertson (9.6), Mike Stanton (8.7), Joba Chamberlain (7.1), Tom Gordon (7.0), Jeff Nelson (6.5)
If you'd rather use the second best player at one of the other positions than Justice at DH, it would be Brett Gardner (19.3). I'd put him in left and Matsui at DH for obvious reasons. If you want a second lefty in the bullpen, Boone Logan (3.2) would replace Nelson. I picked actual bench/part-time players for the bench and yes, during the Jeter era, Ryan has the second highest bWAR among Yankees shortstops. Crazy.
That's a pretty excellent team otherwise, no? Not like we should have expected anything different. Nice mix of dynasty guys and more recent players, though not so much on the pitching staff. Only three guys on that staff joined the team after 2006. Of course, the more recent guys haven't had as much time to accumulate bWAR. Anyway, there's a the rest of the team around Jeter.