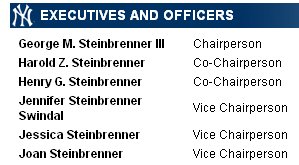 Until today, the Steinbrenner family had varying degrees of power within the Yankee Front Office. Hal was the General Partner, Hank a Senior Vice President and Jennifer Swindal the Senior Vice President for New Stadium Public Affairs.
This afternoon, the Yanks announced a little organizational reorganization, and now, all of the Steinbrenners — including two not previously on the Front Office masthead — all carry some form of chairperson in their official titles. Said George via his press guru Howard Rubenstein:
"I am excited to announce these titles. I am pleased to work with my two sons, Hal and Hank. With me, they will jointly oversee the club on a day to day basis. I am also gratified to recognize the leadership of my daughter Jenny in the club's charitable endeavors and her involvement with new stadium matters; as well as the contributions of my wife Joan and daughter Jessica in assisting me.

"Together with my executive team, the New York Yankees are prepared for the future and the exciting challenges the next several years will bring."
While this move is mostly semantics, it helps solidify family control over the team. George Steinbrenner has looked frail recently, and with the stadium's dedication in Tampa, the Yankees are in full honorific mode. Perhaps the family knows what the rumors have long said about George's health.