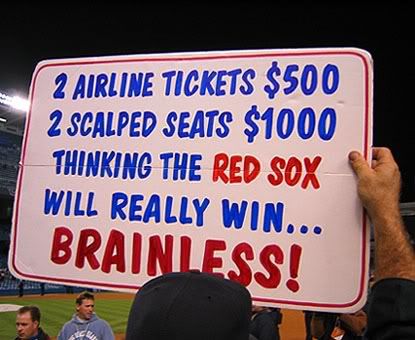 The term "must-win" gets thrown around a lot in sports these days. Your team loses five of six in May and falls to three games back in the division? The next game is a must win. Your team just lost three in a row and has their ace going tomorrow? That's a must win. It's much like the term "ace pitcher," it's been thrown around so much that it's lost its meaning.
But tonight represents the true meaning of a must-win for the Sox: they lose, they go home. Period, end of story. They're sending Dice-K to the mound, the only starter that managed not to get his brains beat in by the Rays' lineup this series. Tampa's outscored the Sawx 31-13 over the last three games, and their bats are so hot they set the Citgo sign on fire.
Joe Maddon switched up their rotation and is sending Victor Zambrano Scott Kazmir to the bump instead of Jamie Shields. The move partly has to do with each pitcher's career performancea at the Fens (Kaz has a 3.02 ERA in Fenway; Shields 10.12) , but mostly has to do with Kazmir's issues with scheduled Game 6 ump Derryl Cousins. Bottom line is that it would behoove the Rays' to wrap this series up tonight, because having to face Josh Beckett and Lester The Invincible in Games 6 & 7 is not a situation they want to be in, regardless of how those guys pitched earlier in the series.
The weather's not going to be great, with about a 50% chance of rain up until 10pm or so. This one looks to have marathon written all over it. TBS has the game, what will Craig Sager wear tonight?
Tampa Bay
1. Akinori Iwamure, 2B
2. BJ Upton, CF
3. Carlos Pena, 1B
4. Evan Longoria, 3B
5. Carl Crawford, LF
6. Cliff Floyd, DH
7. Dioner Navarro, C
8. Gabe Gross, RF
9. Jason Bartlett, SS
– Scott Kazmir, P (12-8, 3.49)
Boston
1. Coco Crisp, CF
2. Dustin Pedroia, 2B
3. David Ortiz, DH
4. Kevin Youkilis, 3B
5. Jason Bay, LF
6. JD Drew, RF
7. Jed Lowrie, SS
8. All-Star Catcher Jason Varitek, C
9. Mark Kotsay, 1B
– Daisuke Matsuzaka, P (18-3, 2.90)
The World Series isn't starting until next Wednesday regardless of when the ALCS ends, so we could be looking at nearly a week of no baseball. Yikes.