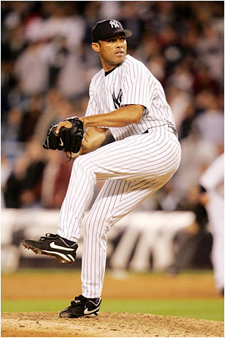 We are truly blessed. For the past 13 years, we've had the privilege of watching Mariano Rivera work his magic out of the bullpen. While he may never hold the career record for saves, he is the greatest relief pitcher in the history of baseball. You won't find too many people, Yankee lover or hater, who will argue that point. In an aspect of the game wrought with volatility, Mo has been a pillar of consistency and excellence.
Let me take this a step further. Some might not agree with me, but I think in due time many of them will come around. Not only is Mariano Rivera the greatest relief pitcher in the history of baseball, he is the best pitcher, period, in the history of the New York Yankees. This is no disrespect to Whitey Ford, Ron Guidry, and the other workhorses of Yankees lore. They all have their places in history. Mo, however, is a once in a lifetime talent. I can't even begin to imagine life in 2011.
While we've been examining what went wrong with the 2008 Yankees, Mo was among the few things that went right, though that doesn't begin to describe his phenomenal performance. You might even be able to call 2008 the best, if not most dominant, season of Mariano Rivera's career. He certainly earned the first year of his contract.
We'll start with his raw ERA, 1.40, the second lowest of his career. The lowest came in 2005, 1.38, so there's hardly a difference. Well, scratch that. The difference is that in 2005 Mo got hosed out of a Cy Young because Bartolo Frickin' Colon won 21 games. Johan Santana also has beef. His ERA+ was actually better this year, 308, though it was 307 in 2005. He also allowed the fewest runs of his career, 11, even surpassing 2002, when he threw just 46 innings. His six walks were also a career-low.
None of those, however, is the most astonishing stat of them all. For that, I point to his WHIP: 0.665. I couldn't believe it the first time I saw it. Seriously? That has to be some kind of record, right? Thanks to ESPN, we can check at least back to 2000. Surprisingly, there are a few closer than I had thought, but none as low as .0665. Want another has-to-be-a-record? Mo's K/BB ratio was 12.83:1. Only Ben Sheets has hit 10.00 since 2000.
As if that wasn't enough, he did it all with calcification on top of his AC joint, causing inflammation. How someone deals with that for 70 innings is beyond me. He'll undergo arthroscopic surgery on Tuesday, but will be ready for Spring Training. Thank Mo for that.
It was an utter joy to watch Mo pitch ninth innings this season, as it has been since 1996. Each year, he continues to amaze. You'd never think a lanky guy like Mo, with only a fastball in his repertoire, could author such a dominant career. Yet he has, and there's more to come. It has been a blessing and a privilege to watch Mariano become perhaps the greatest pitcher in Yankees history.