Update 1:22 a.m.: According to SportsCenter, Manny won't be taking any offers until after Teixeira signs. That news could be in response to this leak and a sluggish market for Teixeira or it could be more reliable. Just keep it in mind as you read about the Impacto Deportivo report about Manny I highlight below.
* * *
The Yankee news of the night doesn't come from ESPN, FoxSports or Jon Heyman. Rather, it's from a Spanish-language sports site based in the Dominican Republic.
According to Impacto Deportivo, the Yankees and Manny Ramirez are on the verge of a three-year, $75-million contract. The short report says that negotiations are advanced with an official announcement set to come on Monday or Tuesday. It also notes that Manny would have liked to stay in LA but that the Dodgers didn't want to pay the steep price.
Tim Dierkes, at MLB Trade Rumors, reported this story about 40 minutes ago but did so with an eyebrow raised in skepticism. Impacto Deportivo has a mixed track record when it comes to breaking stories. They did, however, break the Damaso Marte signing earlier this winter.
I, like Tim, am a bit skeptical of this news. First, it's the first we've heard of advanced negotiations between the Yanks and Manny's camp. Considering how Scott Boras runs the exact opposite of a tight camp, news embargoed until the negotiations are at an advanced stage would be shocking. This may also just be a mistranslation of Mark Feinsand's story of a Manny offer. Furthermore, the Mark Teixeira situation has not been resolved, and in fact, the Yanks could be emerging as prime players in that market.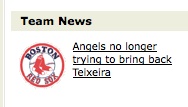 To wit, the Angels have officially dropped out of the Teixeira bidding, and reports say that the Red Sox have not contacted Boras since Thursday. While ESPN, as you can see at right, clearly wants all Mark Teixeira to involve the Red Sox — how is Angels' news not deserving of an Angels logo? — this latest development would increase the Yanks' chances. Unless Teixeira absolutely wants the Nationals' money, he may be fielding offers from the Yanks, Red Sox, Orioles and Nats. The field is that more wide open.
We'll of course monitor as this new develops, but things may be coming to a head for the Yankees, Manny Ramirez and Mark Teixeira as Christmas looms. Who knows which one, if any, will be under the Steinbrenner tree. If tonight's Impacto Deportivo story is to be believed, Manny it will be.