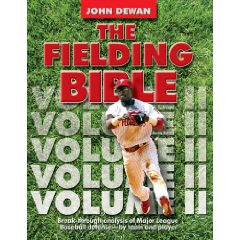 A few weeks ago the folks at ACTA Sports were kind enough to send along a copy of The Fielding Bible Volume II, John Dewan's study on defensive metrics. Instead of reviewing the entire 400-page tome in one shot, I thought I'd address a number of issues throughout the week. We'll start off with a topic which has been beaten into the ground over the past few years: Derek Jeter's defense. As it turns out, his Gold Gloves might be justified.
This isn't to say that Jeter's range is any better than we've come to understand. He still has trouble ranging to his left, and that's probably not going to improve. Yet he's not a complete black hole out there. As it turns out, Jeter ranked best in the majors last year in Defensive Misplays, a visual metric developed by Bill James which attempts to succeed where errors fail in determining poor defensive plays. Says James:
A defensive misplay is a very specific observation of a very narrowly defined event, created in such a way as to keep the scorer's use of judgment to an absolute minimum.
An error is based on what "ought" to happen in the mind of an official scorer. A-Rod should have fielded that cleanly; Robinson Cano should have made a better throw to first. James attempts to strip the subjective observation of the scorer and create a defined set of circumstances which will determine a defensive misplay. There are 54 different types of defensive misplays. Here's his example:
Failing to anticipate the wall — Outfielder goes to the outfield wall, allowing a ball to bounce over his head back toward the infield, allowing a runner or runners to take bases which they might not have been able to take had the fielder turned and played the ball off the wall.

The scorer has to ask himself only two questions:

1) Did the outfielder go to the wall in an effort to catch the ball, and
2) Did the ball bounce over his head back toward the infield?
…
The scorer does not ask himself "Did the fielder have a real chance to catch the ball?" or "Should the fielder have chased the ball to the wall in that situation? or "Should an ordinary fielder have known that he could not catch the ball at the wall?" or anything like that. It's two simple questions: Did he chase the ball to the wall, and did the ball bounce over his head back toward the infield?
While James attempts to separate subjective judgment from objective observation, he's not always successful in The Fielding Bible. I'll agree with Mitchel Lichtman's critique: "However, as you read more about his Defensive Misplays (DM's), it becomes clear that many of them are very subjective, or at least not as objective as he claims DM's are in general." Still, it tries to add more context to the idea of an error, beyond the official scorer determining that a player messed up.
(Oh, and you'll never guess who led the league in the above-cited defensive misplay. Yes, it was Bobby Abreu, in a tie with — wait for it — Nate McLouth.)
Jeter's strength, according to James's system, is his ability to cleanly field balls he reaches. He led all shortstops last year with just 17 defensive misplays in 1,259 innings at short. Even when you count errors — which James claims were not counted in Defensive Misplays, so there's no doubling up — Jeter comes out as the best shortstop in the majors.
This puts Jeter's Gold Gloves in a bit better context. After all, it's easier to see plays that were made than those that weren't. It might not be easy for an observer to see all the balls Jeter doesn't get to. Routine grounder through the hole for a single, one might think. That's an easy observation to make, since it's difficult to determine whether Jeter should have gotten to the ball or, even more difficultly, if one of Jeter's peers would have cleanly fielded the grounder. Because he's so good on the balls he does get to, that's translated into playing good defense, hence the Gold Gloves.
When it comes to range, we know that Jeter doesn't get much respect. If you check out his UZR you'll see that since 2003 he's ranged from slightly below average to freaking atrocious (namely 2005 and 2007). Last year he was just below average by that metric. Since this is a Fielding Bible review, we'll also look at Dewan's plus/minus system. That one's a bit harsher on Jeter, rating him a -9 (-8 for fielding, -1 for his double play turning). That puts him fourth lowest among qualifying shortstops, besting only Yuniesky Betancourt (another guy who reputedly plays good D), Jeff Keppinger, and David Eckstein. During the three years from 2006 through 2008, Jeter ranks dead last at -50 — and it's not even close.
The difference between the two systems is something we should certainly explore further. While Dewan had Jeter in the cellar in terms of defensive range, UZR was a bit kinder in 2008, ranking him 11th in the majors, ahead of Jose Reyes. More notably, UZR has Jeter ahead of Christian Guzman, who ranked fifth in Dewan's plus/minus system. Clearly, there are flaws in defensive metrics. Geoff Baker, beat writer for The Seattle Times, has a comprehensive and intelligent look at defensive metrics. I highly recommend the read.
Does Jeter's ability to avoid misplays compensate for his lack of range? It's tough to say, especially when we're working with inherently flawed statistics. I will agree with Steve Lombardi's conclusion: "In a nutshell, it's his ability to avoid "Defensive Misplays" that has enabled Derek Jeter to win Gold Glove awards in the past. And, it's probably the same reason why the Yankees haven't moved him off shortstop yet." That and ego, of course.
We'll close this out with a scouting take on Jeter, also from The Fielding Bible, just to even out all this statistical talk:
Then there is the signature Jeter play, when he fields a backhander in the hole and makes his patented jump-throw. Jeter still excels at this play, but it disguises the fact that he does it because he lacks the arm strength to plant his feet and throw. His arm also causes him to play more shallow than other shortstops, cutting down on his range.
The last comment about playing shallow makes plenty of sense. Certainly, playing shallow would make it tough for Jeter to get to those up the middle balls. Regarding the first observation about the jump-throw, it might sound intuitively incorrect. You can't make as strong a throw while you're in the air, right? No, you can't, but you can also get rid of it quicker. What Dewan means here is that Jeter needs to do the jump-throw, because it would take him additional time to stop, plant, and make a strong throw. Because his arm isn't as strong, he needs a quick release. It's along the lines of Johnny Damon's arm not costing the Yanks any runs — a topic we'll visit later in the week.
You can get The Fielding Bible–Volume II
from Amazon.com for $16.29. That's our Amazon Associate code, so if you buy the book from that link you'll kick us a few pennies.