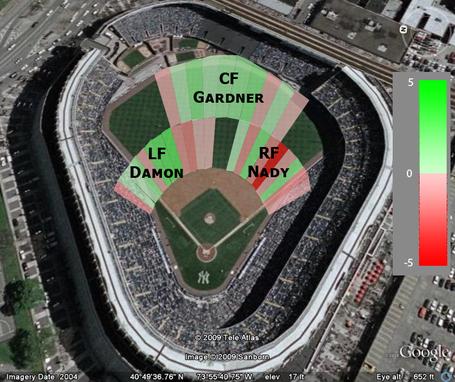 That graph comes courtesy of Dan Turkenkopf at Beyond the Box Score. Dan took the vector data from Dave Pinto's database and plotted it to show where each of the Yanks' starting outfielders excels defensively. Basically what you're seeing is how good each player is on balls hit to a specific "zone," with green being good and red being bad. The center fielder is shown above the corner guys just so you can see the overlap, it doesn't mean that balls hit to corners will go undefended or anything like that. And also don't worry about the background, the New Stadium will have the same dimensions as the old joint.
The very first thing I noticed was how bad Nady is on balls hit right at him, basically about five outs worse than expected. He's even weak to his immediate right and left, which tells me that he's just not very instinctive out there, and is at his best defensively when it's obvious off the bat that he'll need some hustle to get to the ball. You know what would be cool? If Mr. Turkenkopf put one of these together with Swisher in right instead of the X-man. (nudge nudge)
Damon is the opposite of Nady, eating up everything hit close to him, which is what you'd expect from a veteran Major League outfielder. He's also stronger going to his right, which probably has something to do with him not having to reach across his body with his glove to field balls on that side. Gardner's very strong out there, making plays on everything hit even remotely close to him. He shows the same pattern of struggling to get to balls that would require him to reach across his body with his glove, so my theory might hold a little water. Of course the small sample size police are in full force with Gardy.
Judging from the graph, it looks like the biggest problem areas are the gaps (expected), specifically the left-center field gap. And, you know, the whole Nady in right field thing. Joe and I have mentioned on the podcast several times that the hardest ball to field is the one hit right at you, but it looks like Nady is the only one in the Yanks outfield with this issue.
This is some really interesting stuff. What do you guys think?