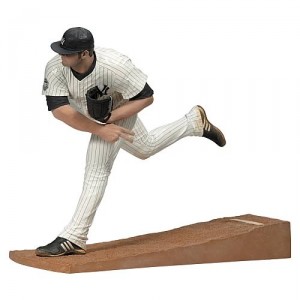 As if Phil Hughes' glorious comeback last night wasn't enough, we've got ourselves a top shelf pitching matchup tonight: Joba Chamberlain vs. Rick Porcello.
Joba hasn't been as explosive as expected, but he's hardly been terrible, putting up a 3.94 ERA in 16 IP over three starts. Still just 23 years old, we all have to temper our expectations a bit and remember that he's still just a boy amongst men in the AL East. Patience my friends, patience.
Speaking of boys amongst men, how about this Rick Porcello character? Just 20 frickin' years old, the kid straight outta Jersey has been pretty much everything the Tigers could have asked him to be at this point. He's got a 4.50 ERA in 18 IP covering three starts. He didn't receive a deal worth potentially as much as $11.1M as a high schooler in 2007 for nothing, but it's still staggering how quickly he reached the majors.
The starting nine:
Jeter, SS
Damon, LF
Teixeira, 1B
Matsui, DH – .393-.414-.643 in his last 6 games
Cano, 2B – .387-.375-.645 in his last 6 games
Posada, C – looks like the hammy's healthy
Swisher, RF
Melky, CF
Pena, 3B
And on the mound, the Nightmare from Nebraska, Joba Chamberlain.
Don't forget to vote in this week's Fan Confidence Poll if you haven't already. I see many fans have lost the faith following last weekend's beatdown in Beantown.
Photo Credit: Entertainment Earth