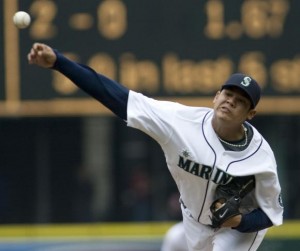 As the trade deadline approached late last week, we heard that the Yankees were connected to the usual suspects: Jarrod Washburn, Bronson Arroyo, Brian Bannister, middling guys like that to fill out the back of the rotation. But then something crazy hit the blogosphere on deadline day … the Mariners were actually listening to offers for Felix Hernandez. The next day we learned that Brian Cashman and the Yankees were one of the teams to give Mariners GM Jack Zduriencik a call about his young ace, but ultimately no deal went down. Theo Epstein sure made a valiant effort, though.
It's hard to think of many pitchers in baseball with more trade value than King Felix. There's that kid in San Francisco doing amazing things, but he's almost two full years older than Hernandez. Zach Greinke is two-and-a-half years older, but is locked up below market value for the next four years. Jon Lester? Two years older. Justin Verlander? Three years older. Heck, Joba Chamberlain? He's eight months older. Phil Hughes is just two months younger than the King, but far less established.
We're talking about the Justin Upton of pitchers here, a kid who's already one of the best players in the game at his position but still has his best years ahead of him. He ranks in the top ten in innings pitched (152.1), FIP (3.11), strikeouts (141), and wins over replacement (4.3) this year, and is only going to get better as he enters his prime years. Scheduled to become a free agent after the 2011 season, when he'll be just 25-yrs old, it's almost a foregone conclusion that Hernandez will become the highest paid pitcher in history. If things go his way, he's got a chance at being the first pitcher to crack that $200M plateau.
Since we're talking about the best young pitcher to come along in years, possibly decades, it would have taken a tremendous package to acquire him before the deadline. We're talking about a Herschel Walker type of trade for the Mariners, one that sets them up at multiple positions for years. What could the Yankees have offered?
Joba Chamberlain? he's yours
Phil Hughes? sure thing
Jesus Montero? no problem
Austin Jackson? free shipping
High upside, low level prospect like Arodys Vizcaino? you can have two
That's the kind of package we're talking about; several young players in their pre-arbitration years, and I don't mean the Brett Gardners and Ramiro Penas of the world. A package of Zach McAllister, Austin Romine, and Mark Melancon doesn't even get you invited to the party. If a team like Texas wanted to get in on the action, they'd have to offer up guys like Derek Holland, Justin Smoak, Elvis Andrus, and more. It's an extraordinary deal that would have made a Roy Halladay trade look like the Joe Blanton trade, given how young and dominant Felix is.
The real question is this: Are you willing to give all that up? Having to part with Joba and Hughes in the same package is really something you want to avoid at all costs, but if you're going to do it, Felix Hernandez is the kind of guy you do it for. Considering his tremendous performance, about the only concern you can have about Felix is the workload he's been run through. He's thrown 1,056 innings since his 18th birthday, and is on pace to throw over 190 innings for the fourth straight year. He's never been Verducci'd though, with his biggest increase in innings from year to the next coming in '04-'05, when he went up just 23 IP.
For the sake of this post, I ran Felix Hernandez through Beyond the Box Score's trade calculator, which says King Felix has a trade value of $38.1M based on my almost arbitrary WAR predictions. Victor Wang's research says that Montero and Jackson combine for $59.9M in value (one top-10 hitting prospect, one 26-50 hitter), while a low level arm like Arodys adds another $1.9M. Joba's trade value comes in at $50.6M while Phil Hughes' registers at $46M.  However, those values represent best case scenarios based on my WAR assumptions, which are far from perfect. The total value of that package is $158.4M, but we have to factor in attrition rate. Felix's value represents just under 25% of the package's value, but I honestly have no idea if that is an appropriate flame out factor. This is all just food for thought, and for all I know I just wasted 15 minutes of my time calculating that stuff.
I know we have plenty of Felix fans out there, but would you be willing to give up the package of young players required to obtain him? It's a lot of eggs to put in one basket, that's for sure. Remember, Hernandez already turned the Yankees down for the Mariners as an amateur even though the Yanks (and Braves) offered more money, so it's no slam dunk that he signs an extension to keep him in pinstripes past 2011.
Photo Credit: The Seattle Times