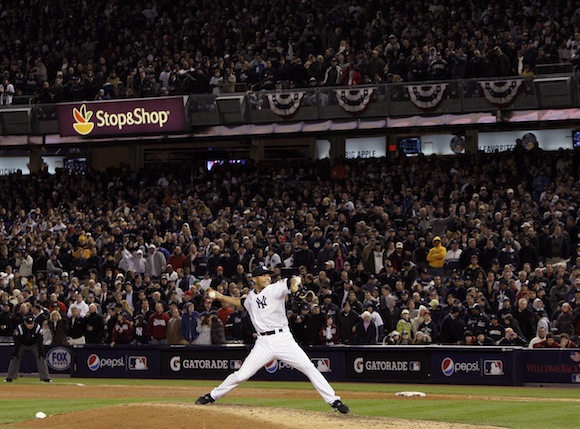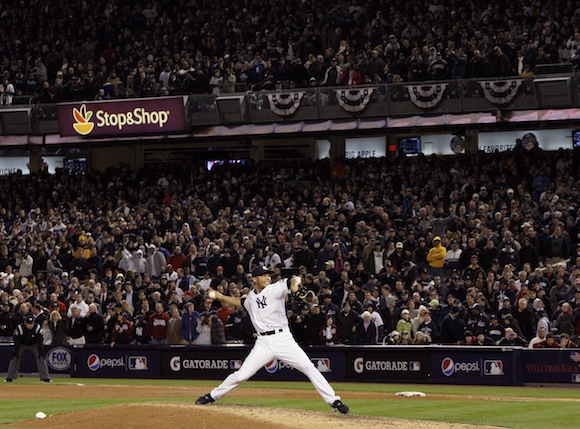 Mariano Rivera pitches during Game 6 of the 2009 World Series. (AP Photo/Elise Amendola)
For the fifteenth consecutive season, the Yankees know that during home games when they have a lead in the ninth, Metallica's "Enter Sandman" will begin playing over the Yankee Stadium public address system. The Yankees know that Number 42, Mariano Rivera, Number 42 will come slowly walking off the bullpen mound. He will hit the edge of the outfield and start jogging, slowly and confidently, toward the infield. He will make his warm-up tosses, and he will go about his business as he has done 526 times in his career.
I don't need to toast Mariano in this post. Regular RAB readers know how much we adore and worship at the Altar of Mo. We know we're seeing something special every time Rivera comes into the game, and we know we have witnessed greatest unfold since Rivera made his mark in the 1995 ALDS. He is the Yankee Dynasty, an all-time great who will be enshrined in Monument Park and Cooperstown sometime before, say, 2020.
Last year, Mariano was just as good as ever, and it was, in a way, surprising. He threw the last pitch at old Yankee Stadium and a few weeks later, underwent a shoulder procedure to clear up some calcification in his pitching arm. The early going was rough; he allowed back-to-back jacks for the first time in his career. Yet, by year's end, he sported a 1.76 ERA in 66.1 innings. He allowed 48 hits, walked 12 and struck out 71 while notching 44 saves. Father Time is impervious to Mariano.
Going forward, though, what can we expect from Rivera? He'll be 40 and one of the top five oldest players in the Junior Circuit this year. Time, as Mick Jagger once did not sing, is not on his side, and Yankee fans will one day have to come to grips with the world without Mariano Rivera.
For now, though, we can ignore that scary future and check out his projections. As a 40-year-old closer, Rivera appears to be doing very, very well for himself. Take a peek (and click to enlarge):


Overall, Rivera's numbers do show signs of decline; that is, after all, to be expected from a pitcher his age. Still, those numbers are very comforting. His 2.74 ERA would be his highest total since only 2007 when early-season woes resulted in an ERA over 3.00. The strike out numbers remain high; the walks remain low; and the long balls remain few and far between.
There is, of course, still the question of who will follow Mariano and just how much the Yankees will miss him. Mariano Rivera last year had a WAR of 2.0, and for closers, that's high. But even the worst closers were around only 1.5 wins worse than Rivera. Sure, 1.5 wins could mean a lot in the AL East, but it isn't life and death. I love Rivera more than any other Yankee I've seen in my life, and while his postseason presence is irreplaceable, his regular season results are not. It isn't realistic to assume the Yankees can find another Mariano Rivera, but the team will have a closer once Mo retires.
This year, though, we don't worry about that. We see Rivera, healthy and feeling good. We see Rivera throwing easily; we see projections that look rosy; and those familiar guitar strains will soon enough fill the air. Exit light. Enter night. Take my hand. We're off to Never Never Land.