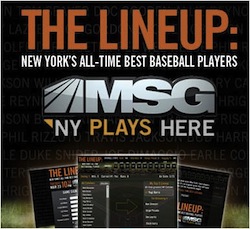 Later tonight on MSG, a new original series with an interactive fantasy game component entitled The Lineup: New York's All-Time Best Baseball Players will make its debut. The idea is simple and one that baseball fans can appreciate: A panel of sports analysts will debate the best players in New York history.
Tonight's episode — the first of ten — will focus on the backstops. Which catcher is the best in the storied history of New York's baseball past? The Yankees, Mets, Giants and Dodgers all have plenty to offer, but Yogi Berra should probably come out on top. Tonight's panelists set to debate something we often discuss here include Gary Carter, Sparky Lyle, Will Leitch of Deadspin fame and Elias Sports Bureau's Steve Hirdt. Fran Healy will moderate the discussion. At the end of the pisode, the top player at each position will be named to the "Lineup." See what they did there?
In conjunction with the TV show, fans can follow along online at the show's website and nominate their own baseball greats. As the panel names its top five at each position, online participants earn points for each correct guess, and a few lucky will win some baseball memorabilia each week. The first episode airs tonight at 10:30 p.m., and this week's prize is a ball signed by Donnie Baseball himself.
Meanwhile, here's your open thread. You know the drill. The Knicks are in action tonight, and the Devils are playing right now. LOST is new as well. Be good to each other.