The seventh inning wasn't supposed to happen like that. As Mike noted earlier, it was a trial by fire of sorts for Chan Ho Park. He failed in his initial assignment, though it's likely he gets another chance in the near future. Maybe not in the next two games, but we'll certainly see Chop in the seventh, and perhaps the eighth, again soon. His command just wasn't there last night. It happens to the best of them.
With David Ortiz coming to the plate, Joe Girardi made the predictable move and called for his lefty, Damaso Marte. Just a few days removed from a "cranky" shoulder, Marte was pronounced in full health for Opening Day. Clearly, he would enter the game to face Ortiz if an appropriate situation arose. This seemed like it. Runner on second, two outs, tie game. As we saw, though, the sequence didn't go well. Let's take this pitch by pitch.
Pitch 1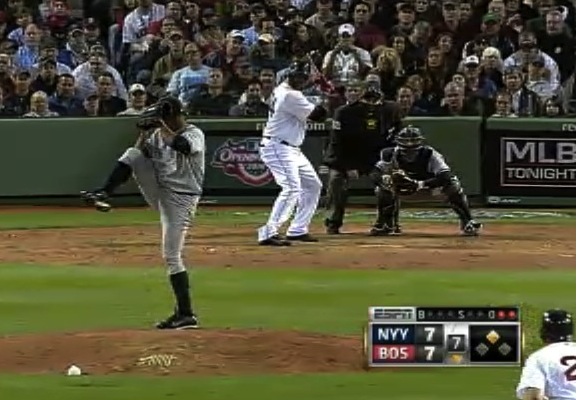 As you can see, Jorge sets up low and away for the slider. Marte missed big time, overthrowing the pitch and sending it well to Jorge's left and in the dirt. Still, it's just one pitch. The runner on third rather than second doesn't much matter, unless Marte has another wild pitch in him.
Pitch 2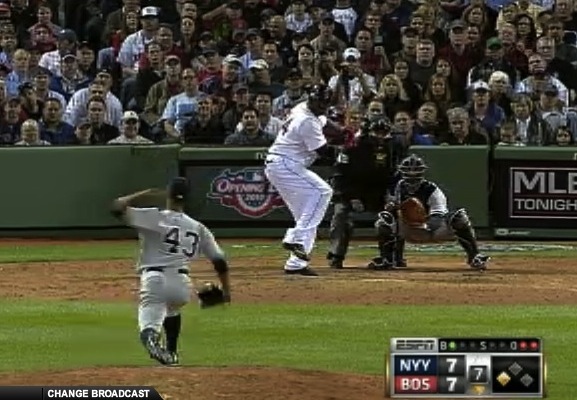 It looks like Posada wanted the same pitch, same spot. He set up, and Marte missed again, though not nearly as badly. It wasn't encouraging, though, that Marte missed with two straight sliders. That's supposed to be his money pitch against lefties. The idea is to get Ortiz to misread it as a fastball and then give one of those long, loping swings and miss.
Pitch 3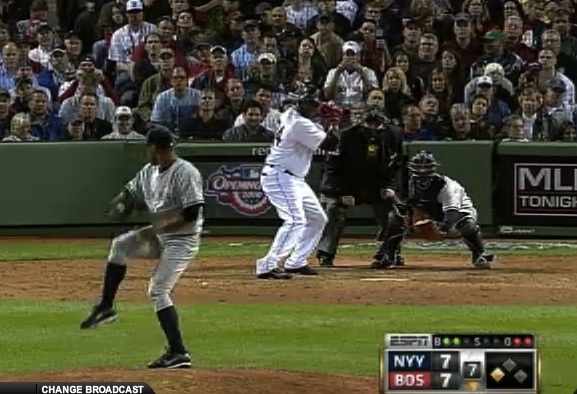 Finally, Jorge calls for a fastball. He sets up low and away, even though Ortiz has had problems on the inside pitch over the past year or so. Marte unleashed one, missing his spot by a decent amount. This is where the pitch ended up.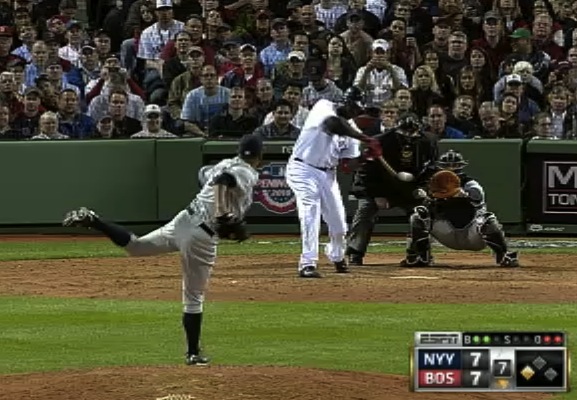 Ortiz circa 2006 puts that pitch onto the Mass Turnpike. It was right around his waist and at a spot he could get his arms extended. Marte reached back and slung it at 93, which was probably his only saving grace. If that cranky shoulder caused him to hold back on his velocity, Ortiz might have been able to do more with it. Then again, maybe it was Ortiz's slow bat rather than the pitch speed that caused the swing and miss.
Pitch 4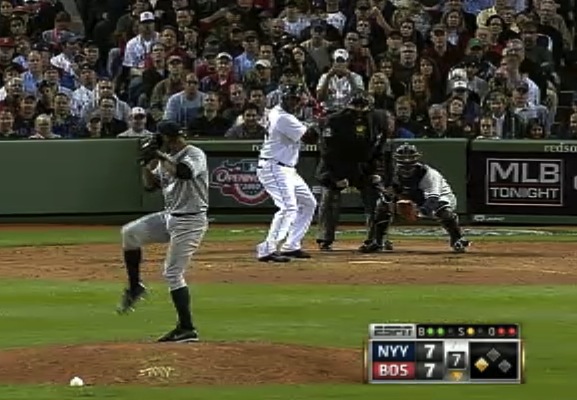 Again, setting up low and away. Posada and Marte had a plan here, though again I'm not sure I get it, considering Ortiz's trouble with inside pitches. ESPN didn't show Jorge giving the sign. Marte threw fastball, though maybe Jorge called for a slider. In any case, Marte threw one upstairs and Jorge couldn't compensate.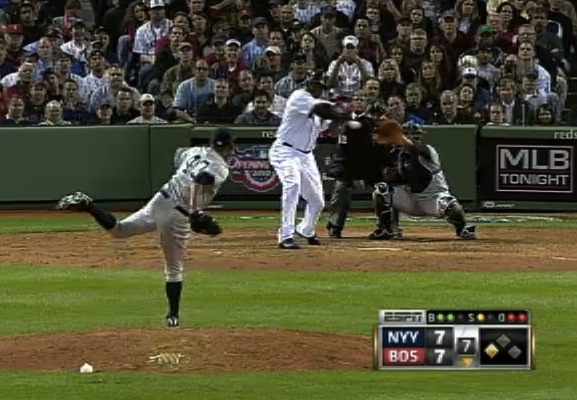 I honestly hope that was a cross-up, because if not it reflects even more poorly on Jorge. Yes, the pitch was nowhere near the setup, but he still has to catch that. It's more understandable, of course, if Jorge was expecting slider low and away and got fastball upstairs.
Pitch 5
Just for good measure, another low-away setup: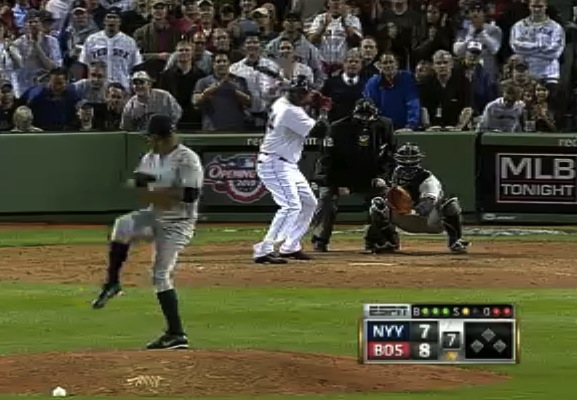 Apparently Jorge did call for fastball this time, because the pitch was even higher than the previous one. This time he caught it. Not that it mattered. It was ball four, and Ortiz isn't the type to sprint around and take the extra base.
For reference, here's where each pitch ended up: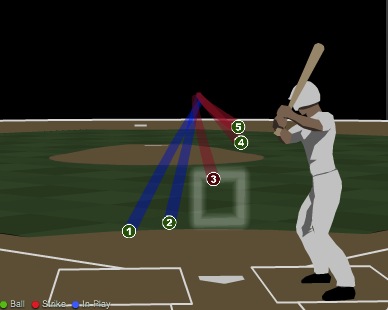 That brought on Joba, who recorded the final out in the seventh before pitching his own sloppy eighth inning. Hopefully these were just some early season jitters. The bullpen looked like crap last night, and we all know that they're better than that.