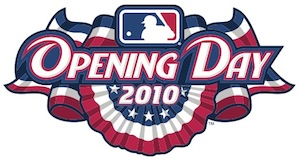 The last time the Yankees played in a game that mattered, they walked off the field as World Champions. Following an offseason of trades and free agent signings, plus a Spring Training completely devoid of major controversy, the boys in pinstripes are ready to step out onto the field to defend that World Championship. The 2010 season isn't going to wait around for any drama, it's kicking things off with a good ol' fashioned Yankees-Red Sox matchup in Fenway Park the night before the other 28 teams play their first games.
The new season means a new beginning, and all of that magic from 2009 will have to be recreated. We don't know if CC Sabathia will be able to ward off his April demons, but we know he's the guy we want on the mound in October. We don't know who's going to pitch the almighty eighth inning, but there's about three or four guys out in the bullpen that we're comfortable seeing out there. We don't know if this is the year that age catches up to Derek Jeter or Jorge Posada or Andy Pettitte or Mariano Rivera, but if it is, then damn, it sure has been one hell of a ride.
Here's the first lineup of the new season…
Derek Jeter, SS
Nick Johnson, DH
Mark Teixeira, 1B
Alex Rodriguez, 3B
Robinson Cano, 2B
Jorge Posada, C
Curtis Granderson, CF
Nick Swisher, RF
Brett Gardner, LF
And on the mound, the Villain from Vallejo, CC Sabathia.
First pitch is scheduled for 8:05pm ET, and the game is being broadcast nationally on ESPN2. If you're in the NY area though, that broadcast is being blacked out and we'll have to watch on YES. Same deal if you're in enemy territory, NESN will have the game in New England.
Ladies and gentleman, welcome to the 2010 season.