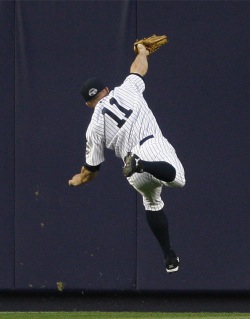 On the morn of his second Opening Day start for the Yankees, Brett Gardner must feel on top of the world. Last season he started in center field, beating out Melky Cabrera in spring training. This year the left field job was all but his, and while he hit only .200 this spring his competition actually fared worse. We don't know how long a leash the Yankees will have with Gardner, but it will likely be longer than last year's.
Thomas Grant of the Times and Democrat profiles Gardner and his rise to the majors. A third round drat pick in 2005, Gardner was initially denied a place on the College of Charleston baseball team. It took plenty of effort not only by Gardner himself, but by his father, to secure a place on the team. They didn't regret it, of course, as Gardner broke the school record for runs scored, among other achievements.
Gardner answered the call by rushing through the minors. He showed a pattern from AA through the majors, struggling during his first stint but excelling in the second. In 2007, with 207 PA in Scranton, Gardner hit .260/.343/.331, but upon his return trip he hit .296/.414/.422. Similarly, he hit .228/.283/.299 during his first 141 PA in the majors, but came back last season to hit .270/.345/.379 in 284 PA. There's hope for the undersized Gardner to succeed at the majors. After all, he did post a .389 career minor league OBP despite initial struggles at higher levels. He knows, though, that the same approach might not work in the majors.
"With the Yankees, obviously, I was probably the weakest bat in the lineup," Gardner said. "The last thing guys are going to do is be careful around me and pitch around me and wanting to put me on base for (Derek) Jeter and Nick Johnson and those guys on the top of the order like Alex (Rodriguez) and Tex (Mark Teixeira). Those guys can drive in runs. The last thing they want to do is put me on base for those guys. So I'm going to get pitches to hit. It's just a matter of being consistent with my swing, being consistent with my approach and going up there and having good at-bats."
He'll get his chance starting tonight. Yesterday Sucka Got No Juice wrote that the Yankees "could be in the market for outfield help quickly" if Gardner gets off to a slow start. I'm not so sure, though. They know that their problem amounts to the No. 9 spot in the lineup, so perhaps they'll extend Gardner more leeway than last year. In fact, I'm almost certain they will. If Gardner, Winn, and Thames don't produce the team will surely look for an alternative, but I wouldn't expect any such movement until June at the earliest.