Despite Alex Rodriguez's and Jorge Posada's torrid Aprils, the Yankees had plenty of problems at the beginning of 2007. Their pitching situation got so bad that Carl Pavano had to start Opening Day. Andy Pettitte and Mike Mussina presented quality options behind him, but the final rotation spots went to Kei Igawa and Darrell Rasner. Jeff Karstens and Chase Wright made starts in early April, thought they weren't much better. Finally, for a start on April 26, the Yankees recalled Phil Hughes from AAA.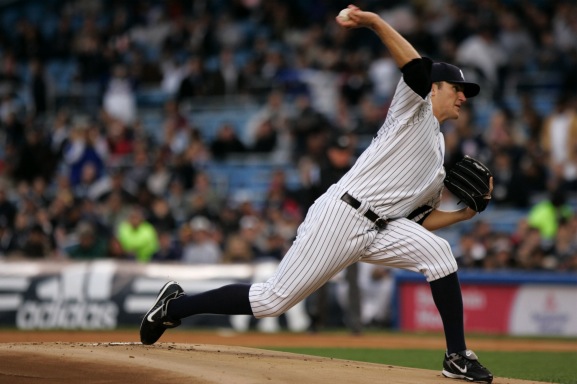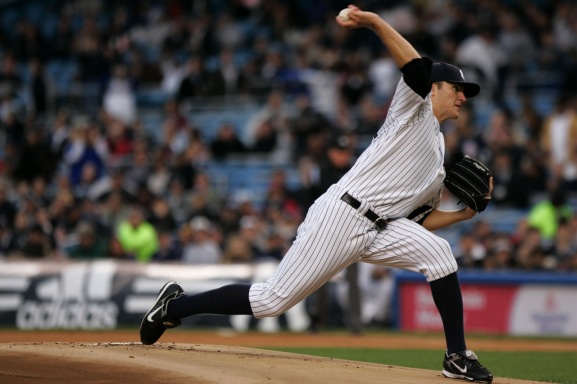 At the time RAB was just two months old. Yet in that time we'd already made our excitement over Phil Hughes well known. For many of us he was the first prospect we followed all the way through the minors. For others, he represented something we hadn't seen from the Yankees in many, many years: a Top 5 pitching prospect. Even though Hughes was just 20 years old, the expectations for him were through the roof. In retrospect, it was a bit much to pin on a player who had thrown just 153.1 professional innings at that point.
To express our excitement, Mike and I combined to write a massive Hughes post, by far the longest post in our young site's history at the time. Mike spend the first half writing about how Hughes ended up on the Yankees, from his selection as the No. 23 overall pick in 2004 to the Yankees' pitching problems that forced his call-up. In the second half I compared Hughes to a number of high-profile minor league pitchers. By the end I assumed everyone was as pumped for Hughes as we were.
From there it was an up and down act for Hughes. He didn't dazzle in his debut, nor did he get lit up. In his second start, as we all remember, he was working on a no-hitter when he popped his hamstring. He was decent upon his return in 2007, but then something happened during the off-season and Hughes didn't return the same pitcher in 2008. He spent most of the year on the DL and then in minors. In 2009 he was the sixth starter, though he struggled most of the time. He did finally find himself in the bullpen, giving us hope for this season.
The Yankees skipped Hughes the first time through the rotation, so tonight marks his season debut. I know I should have learned from my previous behavior. I should understand that Hughes might not pitch well tonight. It's just one game, after all, and Hughes's first real appearance of the year at that. Yet if he does fail, I'll still feel that disappointment. No, I won't boo him, but it will still feel like a big letdown. That's how big the expectations were for Hughes back in 2007. I don't know why, but I haven't been able to let go of those.
For an example of the cognitive divide I'm experiencing:
A reasonable expectation: 6 IP, 5 H, 3 R, 3 ER, 2 BB, 4 K
My ridiculous expectation: 8 IP, 3 H, 0 R, 0 ER, 1 BB, 7 K
Do other fans place lofty, even unrealistic expectations on their favorite players? It's pretty unreasonable to do so, but sometimes we just can't help ourselves. For some reason, I just can't quit expecting the world from Hughes.