Note: This was written prior to Marte's appearance against Thome this afternoon. Sure, he was able to get Thome out, but he still made a few mistakes that ended up not hurting him. That's baseball!  I'm hesitant to say "Marte is back" as a result, though he did look improved.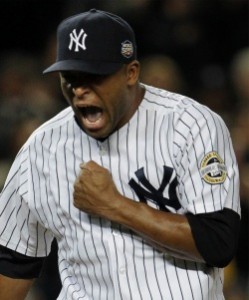 With all the issues the Yankees are currently facing, the bullpen is relatively low on the list of major concerns for the team. Joba has looked great of late, Mariano is Mariano, Park and Aceves should be returning shortly, and our AAA callups Ivan Nova and Romulo Sanchez impressed in their short stints. With major and minor injuries throughout the roster, the struggles of Damaso Marte, David Robertson and Boone Logan aren't going to be front page news in Yankeeland. After all, two of the three are just lefty specialists (one likely to be sent down when Park returns) and Robertson could be sent to AAA to work on his issues. Whatevs. But make no mistake, all is not well on the left-turn front.
Let's take a look at last night's game. Marte entered with a man on second and Joe Mauer at the plate. Marte misses on a first pitch slider outside. He returns with a fastball for a called first strike. It had good velocity but ended up nowhere near where Cervelli set up. At this point, I'm fairly worried. If there's a short list of guys you absolutely do not want to miss on pitches, Mauer is on it. Then, for some reason, Damaso leaves a slider without much movement in the center of the plate, about belt high. Against Joe Mauer he's fairly fortunate the ball was only smoked for a single, scoring Denard Span from second. Unfortunately, Brett Gardner attempted to nail Span at the plate and his throw was way up the line. Why he did that is a mystery to me.
Herein lies the problem: Marte was brought in as an expensive reliever (the contract extension still seems a bit of a blunder as of this writing) with the one goal – to get out tough lefties. He hasn't done it with much regularity a a Yankee and while Burnett had command issues (and certainly not helped by a pygmy-sized strike zone), wouldn't you rather have the better pitcher face the better hitters? Mauer's no slouch against lefties, either. He hits them to the tune of .313/.376/.417. I understand why Joe made the decision and it's much easier to second guess the Yankee manager from the comfort of my garden apartment, but I'd argue you'd rather have the better pitcher in against the better pitcher, especially if neither has much of a platoon split. All of Burnett's pitches are better than Marte's offerings.
Back to the action. So Mauer moves up to second and Morneau is now the batter. Morneau hasn't been phenomenal against left-handers throughout his career, but as Mike noted in last night's recap, why let their only really dangerous hitters beat you? With first base open, you'd think they'd not give Morneau anything to hit, if not walk him altogether, right? On the sixth pitch of the at bat, Morneau slams another high slider with little break. Boom! Double! Mauer scores. With the lead gone, Girardi then intentionally walks Michael Cuddyer (a righty) to get to Jason Kubel (a lefty, who has managed to do virtually nothing but walk and strike out all year). He flies out to Marcus Thames, inning over. But the damage was done. If not for A-Rod's heroics, Marte likely becomes the game's goat, though true to form, Randy Winn would have given him a good run at it.
Damaso has some alarming peripherals this year. Now bear in mind, he hasn't had many innings to accumulate a definitive sample size, but the numbers etch out many of his struggles. Let's first take a look at plate discipline:
On the year, Marte is eliciting an O-Swing % of 16.2%, which basically says that his stuff doesn't have a lot of movement where hitters bite at balls slicing out of the zone. In fact, batters are only swinging at a total of 31.6% of Marte's pitches, about 15 points lower than league average. It gets worse. Only 40.4% of Marte's pitches find themselves in the strike zone, but hitters are hitting 92% of them. I don't need to tell you that's a bad combination.
His velocity is is about 1 mph slower than it had been in 2009 and 2 mph slower than 2008, the year he was traded to the Yankeees. He's getting older and it's still very early, so that might go up as he finds himself further removed from shoulder surgery. Maybe more alarming is his PitchFX data. As a Pirate in 2007, his fastball had good vertical rise – moving 9.5". Today it moves almost 2 " lower, but a bit more in on left-handers. In 2007 his slider was a also a different looking offering. It was quicker and tighter than it is today – the pitch had a horizontal break of 1.0 inches and a vertical break of -4.6 inches. Now, in 2010, strictly as a LOOGY, Marte's horizontal break is -7.6 inches and it moves vertically -2.1 inches. Essentially, his new slider is a larger, sweeping pitch that moves across the plate significantly more. We can't gather any truly damning evidence, as Marte has been injured but this far he's shown to be a different pitcher.
Unfortunately, that pitcher is also walking close to a career high at 6.14/9 while striking out a career low at 7.36/9. Girardi's continually given Marte high-leverage situations, even as he has allowed inherited runners to score at an alarming rate (half of his 8 inherited runners have scored), and has issued far too many walks to yield good reults. A look at his shutdowns/meltdowns paints another grim picture. Marte has four meltdowns and not a single shutdown, which accompanies his team-low "clutch" score at -0.59.
Damaso Marte's career sample suggests he should at least be an excellent option to get lefties out, if not more. This isn't just some guy pulled from the stands. He'd been a closer – and an effective one at that – and we like to defer to the greater sample if we can. In his case, his track record is very, very good. But he hasn't done much good this year and with the exception of last year's playoffs, has overall been an unmitigated disaster in New York. It's still very early in the season and I'm optimistic he can return to form, but given the volatility of relievers, Marte's lesser stuff and his injury history, it's not crazy to think Marte could find himself DFA'd at some point, contract and all.
There don't appear to be better lefty specialist options (*cough* Boone Logan) in house, so Girardi surely wants to give Marte every opportunity possible to come in and be a reliable specialist. At this point in the season it's understandable. But at what point do you say enough is enough? If his appearances continue to resemble last night's, we may be looking at a new slew of matchups quicker than we think.