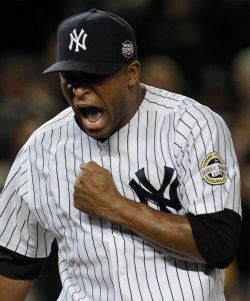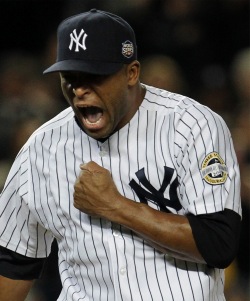 It came as no surprise last night when A.J. Burnett walked out of the dugout at end of the seventh. In the past, it might have been a bit more shocking. We've grown accustomed to seeing pitchers exit at around the 100-pitch mark, especially if he's already completed seven innings. This year, however, it seems that Joe Girardi has become a bit more willing to let his pitchers cross that barrier. All of his starters, save for Vazquez, have started innings at or above 100 pitches.
When Burnett walked Nick Markakis with one out, though, it was clear he would leave the game. At 107 pitches and with his velocity fading — none of the seven fastballs he threw that inning broke 92 mph — the walk represented a logical end point for Burnett's night. He had the game pretty well at hand, having dominated the Orioles for 7.1 innings, but there was a bit of trouble brewing. The walk brought Matt Wieters, the tying run, to the plate.
After Phil Hughes pitched seven innings on Sunday and CC Sabathia finished eight on Monday, the bullpen was well rested. Only Joba Chamberlain pitched on Tuesday, and only Mark Melancon, since optioned to Scranton, pitched on Sunday. Girardi had his pick of arms to face Wieters, who had homered off Sabathia on Monday. Normally this would have been Chamberlain for certain, but with Mariano resting a sore flank, Girardi wanted to use Joba in the ninth. His choice to face Wieters was lefty Damaso Marte.
When Girardi tapped his left arm on his way to the mound, I experienced a sinking feeling. Burnett had worked so hard, had pitched so well, and had out-dueled Orioles youngster Brian Matusz. If anyone could throw that all away with one pitch, I thought, it was Marte. There was nothing about the matchup with Wieters that made me comfortable. Even though he fares better against righties than lefties, I still would have preferred Al Aceves in that situation.
This runs counter to my initial feelings when the Yankees acquired Marte in 2008. After years of testing out lefty reliever after lefty reliever, it appeared that the Yanks had finally found their man. Though his numbers looked bad after joining the Yankees, much of that came in just one outing, a 40-pitch endeavor that never should have happened. I have no idea why Girardi left him in so long, but he had no business throwing anything past pitch 30. His poor start in 2009 left many Yankees fans sour on him, and even a dominant World Series run didn't make many people more comfortable with him on the mound.
Marte has done little to quell the uneasy feeling this year. Though he didn't allow a run of his own until Kendry Morales took him deep on April 25, he had a penchant for letting inherited runners score. In fact, he has allowed half the runners he has inherited to score — and that includes his strand of Markakis last night. In other words, while the Morales homer is the only blemish on his game log, he has still done plenty of damage. Those inherited runners hurt, mainly because Marte's job usually comprises retiring just one batter.
Last night's appearance, though, will perhaps make me less uneasy next time Girardi taps his left arm and calls for Marte. After missing with his first pitch he came back with a faster fastball, 92 mph, low in the zone. Count even, he then dropped a slider low and inside, a perfect spot to a righty who doesn't hit lefties too well. Wieters took it for strike two. Marte came back with a similar pitch, this one a bit more under the hands, and all Wieters could do was foul it off. He didn't bite on the next slider, which ended up in the dirt. On the last pitch, though, Marte shined. After the pitch in the dirt he elevated a fastball, this one 93 mph, and Wieters took the bait. He swung right under it for strike three.
That, of course, was only the second out of the inning, and with righty Miguel Tejada at the plate Girardi again went to the bullpen, this time to Aceves. And then, as if the baseball gods were telling me that my intuition sucks, Ace came within five or six feet of surrendering a game-tying homer.
I doubt I'll actually feel less uneasy when Marte next enters a game. He has been shaky enough during his time in pinstripes that we don't know what to expect. Last night's batter faced, though, at least gives me a bit more hope. Not only did he do his job, but he did it well. I loved the pitch sequence, loved the location. A few more appearances like that and maybe I won't curse Girardi for going back to Marte in big spots.