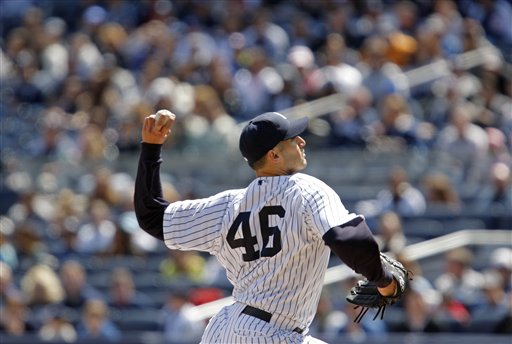 Two games into the series, the Yankees have two wins. It's their eighth series win in nine tries, something only two other Yankee teams in history can claim (1928 & 1938). Yes, it's been 71 years since the Yanks have won eighth of their first nine series. Cool stuff, huh?
On the mound to try for the sweep this afternoon is Andy Pettitte, who took a little bit of a beating at the hands of the White Sox last time out, but has been stellar overall. Mariano Rivera is available to close the door in the 9th if needed, but Joe Girardi indicated that he would like to play it safe and give him another day if at all possible. Joba Chamberlain is unavailable to close after working the last two nights. My guess is that if push comes to shove late, Al Aceves will work the 9th.
Here's the lineup…
Jeter, SS
Johnson, DH
Teixeira, 1B
A-Rod, 3B
Cano, 2B
Swisher, RF
Gardner, CF
Cervelli, C
Winn, LF
And on the mound, Andrew Eugene Pettitte.
Get away day for the Orioles, who have to be in Minnesota for a series starting tomorrow. First pitch is scheduled for 1:05pm ET and can be seen on YES. I'm holding our weekly game chat today, so join in when the party starts at 1pm. Enjoy the game, chat's after the jump.