If the byline looks a bit unfamiliar, that's because we've brought aboard a couple of guys to help out on weekends. Welcome JMK from Mystique and Aura and also the RAB comments.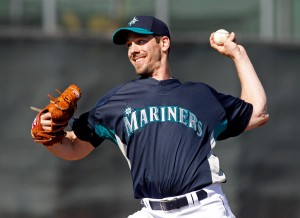 It's never too early to speculate on whom the Yankees will target during the free agency period. Popular logic suggests Cliff Lee will be among the bigger names this winter, and for good reason. With only three rotation spots filled next year – who can tell what role Joba Chamberlain will find himself in next year or Pettitte's retirement status or if Javy figures it out and returns – Lee might just fit the bill as the perfect #2 starter in 2011.
With the extensions of Josh Beckett, Matt Cain, Roy Halladay and Felix Hernandez, the next best options in the FA pool are Brandon Webb, Ben Sheets and Javy Vazquez. With fewer elite pitchers entering free agency these days than ever, the chance to lock up one of the best pitchers to be available for the foreseeable future, coupled with the likely impending need in the rotation, seem to indicate that Lee in pinstripes next year is as good a guess as any.
Though Mr. Lee is undoubtedly one of the best pitchers in the game right now and the Yankees are likely to have a spot needing to be filled, he's not without questions. The Arkansas native has only really been an "elite" starting pitcher since 2008; he'd also likely sign somewhere around the range of a 4 or 5-year, $80-100 million contract, which at the tail end would mean the Yankees' top 3 starters will be in their mid-30's, all making around $20 million each. That's generally something you'd like to avoid, particularly as many of the key members of the team are already on the wrong side of 30, with long contracts limiting flexibility.
His injury history, too, isn't spectacular, though nothing suggests chronic problems or elbow concerns. His eye-popping numbers of late are also a bit skewed by his high LOB%, which is very unlikely to sustain itself. They'll level off at around 70% (they're currently in the high 70's), which will increase his ERA. His strikeout rate, while good, isn't fantastic, either.
Now, for the good news — Cliff Lee is really, really, really good. I can't stress that enough. I was even reaching looking to find noticeable flaws in Lee's game. Cliff Lee may not be Nolan Ryan, but his strikeout rate — around 7 per 9 — doesn't make him John Lannan. It's not a concern. And despite some of the minute issues I may have, he's easily the top free agent available and I think has demonstrated that he's likely to be worth every penny, provided he's blessed with good health.
Don't get me wrong — it's hard not to like AJ Burnett, but his Dr. Jekyll/Mr. Hyde act makes him a better fit as a #3 starter. You'd really prefer more consistency out of your #2 starter, especially on a team that makes the playoffs as often as the Yankees. In contrast to Burnett, Cliff Lee doesn't have such eccentricities. In 2008 and 2009 Lee threw up a combined 13.8 WAR and he was amazingly consistent as well, throwing 10 complete games within that span and generally suffocating opposing offenses. For a sense of perspective, Roy Halladay has a WAR of 14.7 within the same time period. Clearly Halladay is a better pitcher with a longer track record, but the age, similarities in performance and stuff, and likely contract demands make the two a fairly good comp. Again, he's really good.
On top of that, just like Halladay, the Yankees have also expressed interest in acquiring the 31-year-old lefty before, at the trade deadline in 2009. When asked to surrender Joba or Hughes and more, the Yankees understandably balked. Now, with Hughes seemingly firmly entrenched in the rotation and Lee almost certain to test the market, the strategy to not surrender prized young arms seems to have been the right one.
To boot, Lee is likely to age well as he starts to leave his peak. With a repertoire of four pitches – the best is said to be a nasty circle changeup – all of which are refined options he can command well, he shouldn't have much trouble adjusting, even if his fastball drops a bit. I also haven't seen worries about his pitching mechanics, although they're a bit unorthodox. Larry LaRue, beat writer for The News Tribune had a little preview on Lee's arsenal earlier this year.
"As for pitches. Lee relies on a fastball that sits around 89-92. He's doesn't throw exceptionally hard, but his fastball moves and when he's right he can keep put it on the corners whenever he wants. Lee also throws a cut fastball that is usually around 85-87. It rides in on right-hander hitters and if he's throwing it well you'll see him break plenty of bats. Lee also has a curveball that's more of an overhand variety. It isn't quite as nasty as Erik Bedard's curveball, but Lee's can be effective, particularly to lefties.

And of course there's the changeup which Adam Moore called "filthy" and "borderline unfair." It's a circle change (you can see the grip in the photo at the top) that has plenty of downward movement. And because of Lee's simple and consistent mechanics and arm motion, it's nearly impossible to pick up early. You will see several guys making that lunging swing for balls tonight. But it isn't just about swings and misses with that pitch. You'll often see plenty of swings where guys are out on their front foot and rolling over on the change up for easy ground balls."
I've talked about how different Lee has been since his masterful Cy Young season in 2008, but how did he improve so much from earlier? Is it even sustainable or are we likely to see him fall back to his awful, injury-plagued 2007 or his good and mediocre years that preceded it? The team's been burned before by throwing big money on long deals to inconsistent guys past 30. Considering the construction of the team and the money at stake, this isn't a guy you can whiff on. So is Lee just a flash in the pan likely to drop off a few years into the deal or implode entirely?
Having looked at the data, I think he's the real deal. His GB rate improved from the mid 30's to the low-to-mid 40's, and he also saw his HR/FB rate drop from the range of 8-12% to 5-6% the last few seasons. Much of this can be attributed to the addition of the cut fastball, better velocity on his 4-seamer and a curveball that is effective against lefties. He's been able to elicit more swings on balls outside the zone over the past few years than earlier in his career, a harbinger moving forward. In fact, even in his mediocre-to-good seasons in the mid-00's, he was close to or below average in O-Swing %. That's definitely something he's put behind him, which is even more impressive considering his walk rates are microscopic these days. Don't get me wrong — ideally you'd like more than two seasons on which to hold your hat on, but his peripherals are trending positively and he hasn't had flukey BABip luck in that span.
Obviously there are a myriad of factors that could make this potential pairing more or less likely to happen. Maybe Javy turns it around, dominates and re-signs at the conclusion of the season. The team could also place "the starter in the bullpen" Joba back in the rotation, filling a potential hole. Maybe Andy comes back again. Hell, at this rate Phil Hughes might become a #2 starter by the end of the year, negating some of the need for a big FA starting pitching acquisition. The M's could also fall out of the AL West race and end up trading Lee; who knows, he may even sign a long-term deal if the suitor is right. The Yankees could instead target Carl Crawford and fill left field for years. (I'd be highly surprised if the team could retain Jeter, Rivera and sign Lee and Crawford in the same off-season.)
Basically, there are too many variables to play out. But in the end, Cliff Lee, even depite a relatively short track record as an elite pitcher on the wrong side of 30, with some injury hiccups, and likely to have big contract demands, should be the guy to sign next year if he keeps this up and he's available.