Last night we undoubtedly witnessed one of the most exciting, satisfying wins of the 2010 season. The Yankees brought back some of that 2009 comeback luster, taking advantage of a seemingly fatigued Jonathan Broxton. The job might have been a degree easier, though, had Joba Chamberlain not surrendered a run in the bottom of the eighth, extending the Dodgers' lead to four. At that point the game seemed all but over.
Joba's performance again highlighted one concerning aspect of the 2010 Yankees, their bullpen. The starters have, for the most part, done a great job of limiting the need for relief pitchers. They're going deep into games and are handing the ball to Joba or even Mo. But with Joba's inconsistencies, perhaps he's not the man to take the ball in every eighth inning situation. But that only creates another question. Who would provide the bridge to Mariano?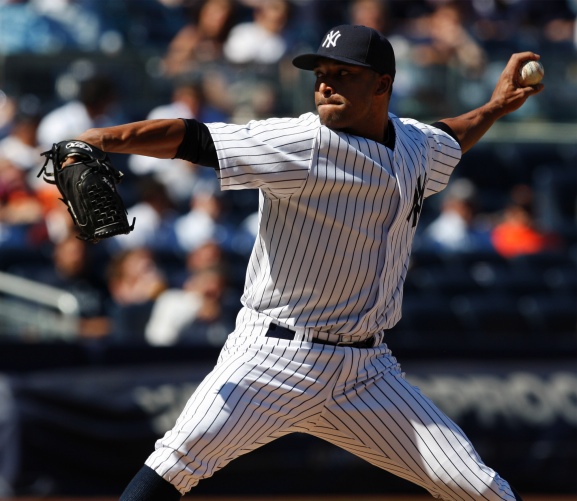 While the Yankees just finished one of their best games of the season, they're still less than a month removed from their worst loss. On May 29 they blew multiple big leads to the Indians, eventually dropping the game 13-11. Once again Joba was front and center. He took the ball with two outs in the seventh and not only allowed both inherited runners to score, but allowed four of his own. All with just one out left to record. The Yankees bullpen to that point didn't help much. David Robertson hit a guy and allowed him to score after a steal. Sergio Mitre walked a guy, and while Damaso Marte retired the only batter he faced, Joe Girardi still decided to go to Joba rather than let Marte finish the job. In other words, while Joba ultimately blew it, the inning was a team effort in futility.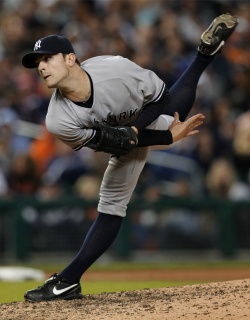 Since that game Robertson has been much better. He has appeared in nine games and has pitched nine innings, allowing just one run on eight hits and four walks, while stranding the only runner he has inherited. He's still not perfect, of course. Those four walks stick out, as do the 164 pitches it has taken him to finish those nine innings. But he also has plenty going for him. Even with his poor start he has struck out more than a batter per inning. His walk rate is in line with last year, and as we saw then he improved on that dramatically in the second half, walking just seven in 21.0 second-half innings. He has also kept the ball in the park, allowing just three home runs all season. Two of them came in one particularly poor performance against Baltimore; the other was that infamous grand slam against Anaheim at the home opener.
From Marte we see similar flaws and strengths. He keeps the ball in the park, allowing just one home run to the 65 batters he's faced. He's not as proficient as Robertson with the strikeout, just 10 in 14.2 innings this year, but he still has a quality rate. His walk rate is also troubling, as he's walked one more than he's struck out. That, however, might be attributable to his odd usage patterns. In fact, he's walked only two batters in appearances that have come within two days of his previous one. In other words, it seems like the old adage holds true for Marte: he needs to actually pitch in order to stay sharp. To that end, four of his walks came in his two appearances prior to last night. He had gone three and then five days between appearances. That's not to say that he'll miraculously stop walking guys when given consistent work, but it doesn't look like that could hurt.
The issue standing between Marte and Robertson, and more prominent roles, is that of trust. While Joe Girardi doesn't share the same trust issues as his predecessor, he does favor certain relievers in certain situations. When his team has a small lead in the late innings, he puts his trust in Joba Chamberlain. At this point, that trust appears misguided. Joba's peripherals look good, and in the long run I feel his results will move more in line with his strikeouts, walks, and home runs allowed. But for now the Yankees need another option, or options. There aren't many viable candidates sitting out in the bullpen. Marte and Robertson, it appears, present the best cases to receive more high leverage innings.
Turning to Marte and Robertson is not the ideal solution, but neither is continuing along the current path. Joba just isn't getting the job done. While I think he eventually will, the Yankees need a solution that will work during the next couple of weeks. With the way they've been pitching lately, Marte and Robertson present the best options. Neither has pitched much so far. Marte is on pace for 31.2 innings this season and Robertson is on pace for 54. Both can handle more, and if the Yankees want to explore all possible options to fix the bullpen problem they'll get that chance. After all, why would they go and trade for a reliever if they don't explore all possible internal options?