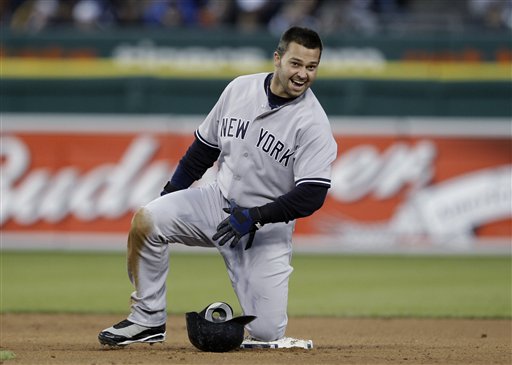 Forgive me while I try something different. We're not going to analyze anything in this post, I just want to talk about the current crop of Yankees and how for the most part, they're damn easy to like. I'm sure non-Yankee fans feel the exact opposite, but who cares about them. They'll probably respond with something creative like "for $250M they should be likable." Originality knows no limits, you know.
Anyway, the more I think about it, the more I realize how enjoyable this team is to watch and follow on a daily basis. Winning certainly has a lot to do with it, but the Yankees won a ton of games last decade and looked like a bunch of grumpy old men doing it. I'm not talking about clubhouse chemistry and all that stuff, I'm just talking about plain old likability. Gary Sheffield scowled his way to 6.4 WAR in three seasons in New York, but looked miserable 24 hours a day. The only time I ever remember him smiling was when he hit his 500th career homer as a member of the Mets last year. Kevin Brown was another one. He punched walls and threw his glove and posted 4.1 WAR in his two seasons with the Yanks, but was impossible to like. The list of grumpy, old, and productive Yanks goes on seemingly forever.
It's pretty easy to pinpoint exactly when this shift towards more likable players began, it was the 2008-2009 offseason. CC Sabathia is a monster off the mound and seems like a teddy bear off it. A.J. Burnett can be infuriating when he pitches, but you'd be hard pressed to find louder cheers at the Stadium than after one of his pie jobs. Nick Swisher can make the routine look complicated on defense, but his outgoing personality and willingness to help others appeals to all. Curtis Granderson is the exact same way, even though he joined the team a year after those guys. It seems odd saying it, but these players simply seem to love playing baseball for a living. There were far to many that didn't seem to appreciate the opportunity over the years.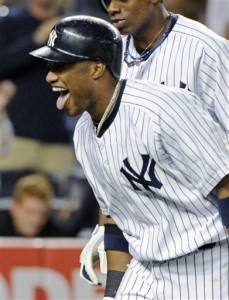 Another part of it is all the young, homegrown players. For whatever reason, it's just easier to root for the guys who grew up Yankees, at least I feel that way. Maybe it's because they're closer to my age and I can relate. Robbie Cano's smile was MVP caliber long before his game was. Melky Cabrera was doing all sorts of silly stuff that never failed to put a smile on your face. Brett Gardner makes us all feel warm and fuzzy inside just because we can't remember the last time the team had a player that exciting to watch. Frankie Cervelli … don't even start with him. He could run for mayor of New York and I'm convinced he'd finish no lower than third in the voting. People love that guy.
And of course, there's the old timers. Derek Jeter, Andy Pettitte, Mariano Rivera, and Jorge Posada are beloved for being far more than great players. They're beloved because they are all great people with no egos. I'm adding Alex Rodriguez to this group since he's the longest tenured player on the team after those guys. He's definitely a bit of a weird fella off the field, but he's hands down the greatest player I've ever seen in pinstripes, and chances are the same is true for you. We all love a good comeback story, and his performance following last year's PED fiasco and hip surgery should be enough to convince even the most determined of haters that he's an amazing player and we're lucky to have him. Watching world class players like A-Rod are what makes being a Yankee fan great.
Sure, Burnett stunk and the Yanks lost last night, but in the end who cares. In a week it'll nothing but a distant memory and in the month it'll be completely forgotten about. The Yanks are fun to root for not just because they're a great team, but because they have great players who make the game fun to watch. The corporate baseball playing robots are gone, since replaced by players who would sleep at the park if you let them. If you can't find this team easy to cheer for, then you take this game far too seriously.