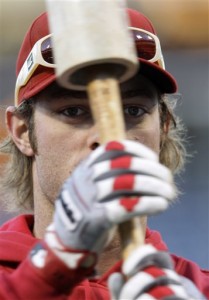 The trade deadline really brings out the dumb in people. Stupid trade rumors come with the territory, and we're certainly no exception. So you're going to have to forgive me for a second while I throw something out there. Ready for this one? Javy Vazquez for Jayson Werth. Seriously, hear me out before you delete your RAB bookmark.
Buster Olney says that the Phillies are talking to a bunch of teams about possible matches for Werth, and are looking for what he calls "a proven starting pitcher who could be a No. 2 or No. 3 type of guy" in return. Well, Javy fits that bill. You can argue that he's more of a number four based on his dreadful April, but I'm not going to waste my time with that. The guy's got a 3.05 ERA (3.94 FIP) in his last ten starts, and the Yankees would have won more than six of those games if they bothered to score more than two runs in three of the four losses.
But there's a fit here because each team has something the other team needs. The Phils need a starter, and the Yanks could use an extra bat. Furthermore, both players are free agents after the season and are projected to be Type-A free agents, so each team will still get their two extra picks in the epiphany draft of 2011. The money doesn't match up perfectly – Javy is owed $5.54M the rest of the way, Werth $3.41M – but that's something that could easily be worked out (I think).
What would the Yankees be getting in Werth? Basically a righthanded hitting version of Nick Swisher, that's what. Werth's triple-slash line sits at .279/.365/.518 (.378 wOBA), which is perfectly in line with his performance over the last two seasons. There's no fluke, it's an established level of performance. Werth has also shown that the friendly confines of Citizen's Banks Park aren't the cause for his success, he's wOBA'd .389 and .374 on the road in the past two years. His three year UZR in right sits at +17.5, and he can even play center in a pinch, not that the Yankees would need him too. Want steals? You got them too. Werth has swiped 44 bags in 49 tries over the last three years (89.8%). The guy does pretty much everything.
The Yankees could use him in a four man outfield/designated hitter rotation with Brett Gardner and Curtis Granderson and Swisher, adding some considerable length to their lineup while assuming avoiding the risk of taking on a huge contract. Well, that last part isn't entirely true, because you're giving up a quality innings eater, which is risky by default. The team would have to feel comfortable with someone like Sergio Mitre or Ivan Nova or maybe even Dustin Moseley taking the ball every fifth day, which might not sound so appealing given the team's shaky bullpen. They do have options however, so the answer to that final rotation just might be there.
Remember, Ruben Amaro Jr. hasn't exactly distinguished himself as an astute general manager. He gave three year contracts to 30-something's Raul Ibanez and Placido Polanco, two year deals to Ross Gload, Danys frickin' Baez, and 46-year-old Jamie Moyer, traded Cliff Lee for peanuts only to have interest in reacquiring him six months later, gave Ryan Howard that completely unnecessary extension, plus a whole bunch of other questionable moves. Amaro seems to be very much stuck in the early-00's way of doing things; big names, big contracts, poorly thought out trades. A Werth-Javy swap is unlikely, but not completely insane. I think. Of course, Werth would have to lose the Baseball Jesus look if a trade did happen, which would be a shame.
In all seriousness, the Yanks can use the extra bat, and they do have four other quality starters in the rotation to rely on. They'd be robbing Peter to pay Paul, which is always sketchy when you're talking about starting pitching. So what do you think, good idea? Bad idea?