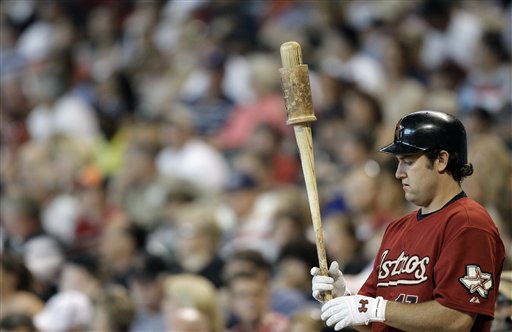 The Yankees have their new designated hitter. Joel Sherman reports that the team has acquired Lance Berkman from the Astros in exchange for Triple-A reliever Mark Melancon and Low-A infielder Jimmy Paredes. The only thing standing in the way is a Collective Bargaining Agreement mandated 24-hour grace period because of Berkman's 10-and-5 no-trade rights, though the five-time All Star agreed to the deal earlier today so the wait is nothing more than a technicality. Sherman adds that the Astros will kick in $4M towards the $7M still owed to Berkman. Bob Klapisch says the team might have some other things cooking beyond this deal.
Ken Rosenthal says a condition of the trade is that the Yankees do not pick up Berkman's $15M option for 2011, which is fine by me. Olney reports that the Steinbrenners pre-approved the addition of a large salary to the payroll, so that $3M the Yanks are taking on is no big deal. Even though Berkman currently projects as a Type-B free agent, there's no point in talking about compensation draft picks because the Yankees would not offer him arbitration in fear he would accept. It's worth noting that Andy Pettitte and Berkman are very close friends following the former's time in Houston, so that may have factored into the latter's willingness to accept the trade.
Joe laid out the case for acquiring Berkman earlier this morning. He'll presumably slide right in as the full-time designated hitter, giving the team another potent switch-hitter. Even though his season line sits at just .245/.372/.436, the 34-year-old Berkman has hit .259/.385/.465 since June 1st, and .232/.404/.521 since July 1st. Knee surgery delayed the start of his season, but it's not a chronic issue. Even so, Fat Elvis is purely a salary dump acquisition and is strictly a rental for the rest of the season.
It appears as though the Yanks lost some faith in Melancon. He hasn't performed well during his various call-ups to the big leagues, and things haven't been going so well for him in Triple-A this year either. The 25-year-old righthander figures to get more of an opportunity with the Astros. Paredes, 21, is a speedy infielder with surprising pop, but he is still several years away from the big leagues.