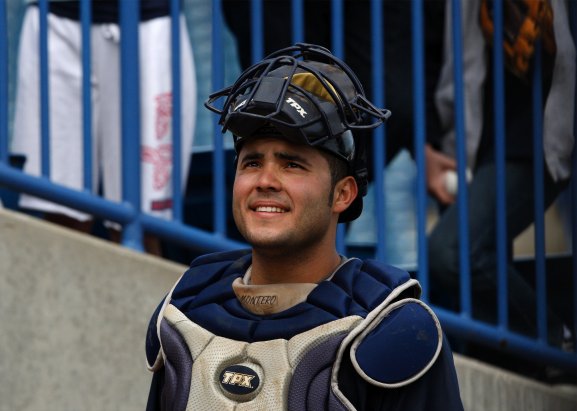 During the three and a half years of RAB's existence we've gotten excited about a number of prospects. At our inception it was Phil Hughes, and it quickly turned to Joba Chamberlain (and even Ian Kennedy). The latest in the prospect craze is Jesus Montero. He is considered by many talent evaluators, including Baseball America's Jim Callis, to be the game's best hitting prospect. The only question is of whether he can catch in the bigs.
At the end of the regular season I answered a mailbag question about the Yankees catching situation in 2011. Ideally they'd carry Montero, Jorge Posada, and Francisco Cervelli. That would allow Montero and Posada to rotate between catcher and DH, with Cervelli serving as a true backup (i.e., plays once a week). But we know that ideal situations don't often come to fruition. Plenty stands in the way of the Yankees and their heavy hitting catcher rotation.
Reader Mike writes in with an interesting question about the situation:
Isn't 2011 the make or break year to use Montero? I mean lets say the Yankees want to go with Posada/Cervelli at C and someone else DHing that means Montero will end up in AAA again. But won't that block Austin Romine's development? Isn't Romine due for a promotion to AAA, and you can't have both those guys on the same level considering both need to be playing everyday in the minors.
I'm not sure it's a make it or break it year, but it certainly will mean something for Montero's development. There's a decent chance that Montero breaks camp with the team and plays the role described above. Yet there's still a good chance that he opens the season back in Scranton. That means Romine starts in Trenton again, since, as Mike mentions, both players at this point need to catch full time. Romine could then move up to AAA once the Yankees are ready to promote Montero. Splitting the season between AA and AAA might be a good thing for Romine, who still has plenty of development ahead of him.
That might not seem interesting; it actually sounds pretty normal. What's interesting is the question I asked myself after reading Mike's question: What happens if they trade Montero? He might be the team's best hitting prospect since Nick Johnson, but he's not untouchable. As the Yankees rebuild the pitching staff this winter they might find that Montero helps them more as trade bait. We can all make a list of what players the Yankees should target if they trade Montero, but what I want to know is what the team plans to do at catcher in that scenario.
Going with Posada and Cervelli again is a poor idea. Posada started just 78 games at catcher, 10 fewer than in 2009. The Yankees simply cannot count on him to provide much production behind the plate. I doubt they sign a DH this off-season, in fact, because Posada will have to fill that spot often. That leaves Cervelli as the starting catcher, a role for which he is not suited. As a once-a-week back-up he's more than adequate. Even if he has to spot start while the starter goes on the DL, you could do a lot worse. But if he's the only one who can take on full-time catching duties, the Yankees should look elsewhere for a better alternative.
On the free agent market there aren't many upgrades. Victor Martinez is the best of the lot, but there are a number of points against him: 1) He'll cost a draft pick, 2) He'll be 32 next year, 3) He has defensive issues, 4) He'll almost certainly be overpaid by a catching-starved team. There are a couple of free agent catchers, John Buck and Miguel Olivo (should his option be declined), who can hit for power, but that's the only dimension to their games. Perhaps the Yankees could look to one of these guys as a one-year stopgap, but I'm not sure that they present that large an upgrade over Cervelli.*
While Olivo had 3.2 WAR and Buck 2.9, they did it with over 100 more PA — and there's no guarantee that they can repeat that in 2011. At the same time, I expect Cervelli's defense to improve, since most of it consisted of mental lapses, which is a correctable issue.
Another option is to work a trade. This would likely be for a player coming off a down year, such as Mike Napoli, or a 2012 free agent. Again there aren't many attractive names there, though Ryan Doumit does stand out a bit. The Pirates recently acquired Chris Snyder, who will likely start behind the plate for them in 2011. That means the Pirates can trade Doumit, who is one of their better bargaining chips. The only issue is that he is also not a great defensive catcher. Neither is Napoli. But, since Montero isn't, either, I'm not sure the Yankees would be losing out in this aspect.
There will be temptation this winter, particularly if Cliff Lee signs elsewhere, to trade Montero in order to upgrade the pitching staff. But doing so would leave the Yankees in a bind of sorts. The available veteran catchers are not world beaters; Montero could potentially outhit them all next year. He might not stick at catcher in the majors, but he'll hit anywhere, even if it's DH. After looking at the alternatives, I think it's better to hold Montero and try to use other pieces, or just cash, to upgrade the pitching staff.