Every team has a few of them every single season; replacement level relievers, or worse. Most of the time these guys are buried in the back of the bullpen, throwing low-leverage innings once or twice a week when his team had a big lead or a big deficit. The Yankees were (un)lucky enough to have three guys like that this year, and they even came with a cheesy nickname: Chad Ho Moseley. Let's review…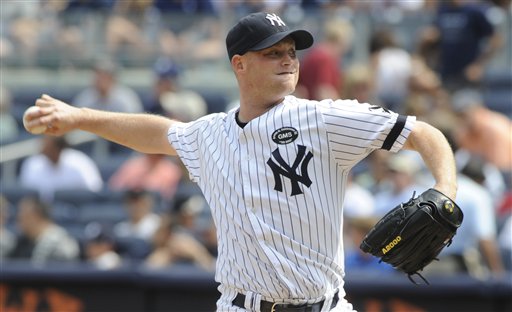 Chad Gaudin
After a solid job as the Yankees' makeshift fifth starter down the stretch last season, Gaudin was rewarded by being released in Spring Training. He ended up back in his old stomping grounds in Oakland, at least until they released him after 17.1 innings of 5.91 FIP pitching. The Yanks brought him back in late-May for the pro-rated portion of the league minimum and stuck him in their bullpen as a mop-up guy.
That's pretty much exactly what Gaudin was, because opponents mopped the floor with him during his second tenure in pinstripes. He was somehow even worse with the Yanks than he was with the A's (6.25 FIP), and a late season audition for a playoff spot which featured the Yanks forcing him into some high-leverage spot went predictably awful. All told, Gaudin put a -0.8 fWAR in 48 IP just with the Bombers in 2010 (-1.1 overall). Yuck.
Chan Ho Park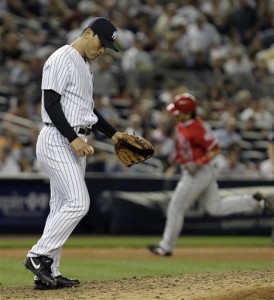 Park was a late addition in the offseason, signing a low-risk one-year, $1.2M contract after pitchers and catchers had already reported in February. His relief stint with the Phillies in 2009 was excellent (53-15 K/uIBB ratio and 0 HR in exactly 50 IP), good enough that even with normal age-related decline (he was 36 when they signed him, after all) and the AL-to-NL transition that there were still reasons to expect him to be a serviceable relief arm.
As it turned out, CHoP was anything but serviceable. He made three appearances in April, taking the loss in the first game of the season, before hitting the disabled list for a month with a bad hamstring. That bought him some more time. CHoP returned in mid-May and allowed at least one run in four straight outings and in five of six, earning himself a demotion to mop-up duty. After five scoreless outings in June, CHoP pretty much fell apart. He was designated for assignment after the Yanks acquired Kerry Wood at the trade deadline, finishing his Yankee career with a 5.60 ERA and more than one homer allowed for every 16 outs recorded.
It was a worthwhile gamble that completely blew up in the Yankees' faces; Park was worth -0.2 fWAR in pinstripes. That the Pirates claimed him off waivers and saved New York the final $400,000 of his salary was nothing more than a minor miracle.
Dustin Moseley
The Yanks brought in the former Reds' first round pick on a minor league contract with an invitation to Spring Training, and he pitched well enough in Triple-A (3.67 FIP in a dozen starts) that he forced the Yankees' hand when his opt-out clause kicked in in late-June. Pitching in a mop-up role initially, Moseley moved into the rotation once Andy Pettitte's groin landed him on the disabled list.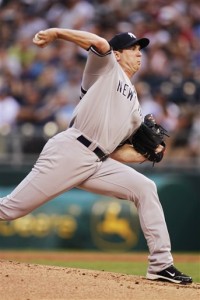 Moseley wasn't terrible at first, giving the team two quality starts in his first three outings. It all kinda went downhill from there (6.41 ERA, .932 OPS against) as his inability to miss bats (13 BB, 11 K) manifested itself in his next four starts. Somehow the Yankees still managed to win three of those games, but Moseley found himself back in the bullpen with rookie Ivan Nova usurping him in the rotation.
In the end, the 28-year-old righty finished the season with with a 5.99 FIP and -0.4 fWAR in 65.1 innings for the big league team. He slightly redeemed himself with two scoreless innings in Game One of the ALCS, paving the way for the eighth inning comeback, but meh. Dustin's effort was admirable, yet completely forgettable.
* * *
It's unfair to toss Sergio Mitre into this mix because at least he managed to be replacement level this season (exactly 0.0 fWAR), but we have to mention him somewhere. He allowed just seven runs in his final 24.2 innings (2.55 ERA), so unlikely the Chad Ho Moseley monster he at least finished strong.
A trio of sub-replacement level long relievers (total damage: -1.4 fWAR, 148.2 IP, or 10.3% of the team's total innings) didn't sink the Yankees season by any means, but it sure was painful to watch.