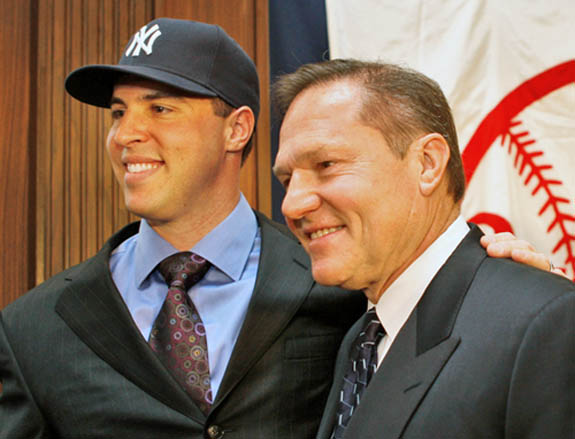 Well, it's done. The Yankees have signed Rafael Soriano for three years and $35 million dollars. Given that Cashman said he was not interested in giving up the first round pick, it came as a bit of a surprise. In retrospect, though, everyone should have expected this.
Two words: Scott Boras. Boras and the New York Yankees have a long history, tied together by big numbers made by superstar players. This isn't the first time Boras (with some help from the Yankees ownership) has managed to wiggle his grubby little hands deep into pinstriped pockets. As a matter of fact, it's happened over and over. It makes perfect sense that the team with enormous financial power spends a lot of time dealing with the agent known for record-breaking contracts. Two powerhouses with complementary results should go hand-in-hand, but most of the time, both sides can't win in a negotiation.
Exhibit A: In 1998, Bernie Williams was coming off a .328/.408/.544 season where he banged 21 homers and 100 RBIs. The offseason started off pretty bleak, though: George Steinbrenner had made it quite clear that his highest offer for the beloved center fielder was five years and $60M and not a dime more. Boras insisted that he had seven- and eight-year offers from mystery teams. There were plenty of people who thought this was a load of bull, but Boras held his ground, so the Yankees eyed Albert Belle instead. But Boras fought. He brought up meetings with both the Diamondbacks and the much-hated Boston Red Sox, who had were rumored to offer our dear Bernie seven years and $90M. When Belle signed with the Orioles, Boras pounced, and before anyone knew it, Williams was a Yankee to the tune of seven years and $87.5M, way above what Steinbrenner originally wanted to pay. In the end, the contract was a pretty good one: Belle suffered hip issues that knocked him out of baseball just two years later, and Bernie hit .298/.386/.480 and signed on for one last year in 2006.
Exhibit B: Alex Rodriguez. People could write books about the Rodriguez-Boras relationship, to say the least. In another example of shrewd Boras negotiating, Alex Rodriguez snapped himself up a 10-year, $252M contract from the Rangers. The franchise seemed to have forgotten they actually had to have that money to pay it, and began searching for trade options. In 2003, there was an attempt to trade Rodriguez to the Red Sox, but the complicated negotiation would have involved losing $30M. Interestingly enough, the trade fell through not because of Boras (who was fine with Rodriguez losing the cash), but the MLBPA, who felt that losing guaranteed contract money set a bad precedent. As per usual though, Red Sox loss was Yankee gain, and the Yankees acquired Rodriguez in February of 2004. But where Boras really showed off his skills was when Rodriguez opted out of the remaining three years and $72M of his contract in 2007 in favor of renegotiation. This decision, as I'm sure you all remember, was leaked during the 2007 World Series and I bet the New York Post had some really, really good front covers discussing the matter in their, ah, unique way. To calm the storm of New York rage, Rodriguez tried to soothe things by contacting the Yankees office directly, at the advice of Warren Buffet. As Rodriguez attempted to repair his public image (never his strong front) Boras took advantage of the fluctuations of the Yankees front office to secure the absolutely insanely absurd 10 year/$275M contract Rodriguez plays under today. He had a bigger hand in the incentives: each time Rodriguez passes a person on the all-time home run list, it's an additional $6M in his pocket. If Rodriguez becomes the all-time home run leader, his contract will exceed $300M, the first ever in professional sports. I'm sure I'm not the only one who grimaces and tries to ignore how much we're paying A-Rod in favor of the numbers he puts up, but Boras will be Boras. Truly the best worst contract ever.
I'm glad to say that the story for Johnny Damon is much shorter and sweeter. It was December 2005 and the Boston Red Sox  refused to budge on their 3-year contract offer for their center fielder, the caveman-like Johnny Damon. Damon, who had already admitted that he doesn't want to be a Yankee, was looking for more than three years, and the Sox would not negotiate down from Boras' five-year plan. Boras even tried to get in contact with the Sox's owner, Larry Luchino, but to no avail, and soon enough, Damon was a Yankee to the tune of four years and $52M. He would go on to hit .285/.363/.458 in the pinstripes and looked significantly less like a yeti, both great things about his tenure in the Bronx. I'm pretty sure I'll always remember his 2009 double steal against the Phillies. The story has a sad note for everyone who loved Damon as a Yankee, though, and for once Boras' demand for cash came back to bite his client. Damon demanded no less than the $13M he was paid for any further deals, and the Yankees said no. When they refused to budge, Damon was forced to take a one year, $8M offer for the Tigers. He's a free agent now, so we'll have to see how that ends up.
The story continues. In 2008-09 offseason, the Yankees were coming off their first season without October baseball since the strike, and they were out for blood. What do you do when you're the New York Yankees and you want to win? You use your biggest advantage: in a mindboggling display of financial might, the Yankees signed Mark Teixeira, CC Sabathia, and AJ Burnett. Teixeira, another Boras client, picked up the record for highest paid first baseman with an eight year, $180M contract of his own. While Teixeira's 2009 numbers were strong (he lead the league in RBIs and home runs), his glacially slow start in 2010 contributed to a down season. Here's hoping that he'll be make himself close to worth the $22.5M he'll be getting in 2011.
Soriano is only another chapter in the long story between Boras and the Yankees. "Like Williams and Rodriguez, he secured himself an exorbitant amount of money; his numbers from the previous year were stellar enough to pretend to justify both the years and the cost, at least for the Yankees. think it's safe to say that Soriano and his three year, $35M contract won't be the last time these two powerhouses meet. Andrew Brackman, for example, is a Boras client, and I'm interested to see how he develops as a pitcher and what Boras can do for him. While Boras clients almost never completely live up to their contracts, there is no doubt many of his clients have been incredibly important and still quite valuable to the current Yankees and those of the recent past. Let's hope Soriano continues this trend.