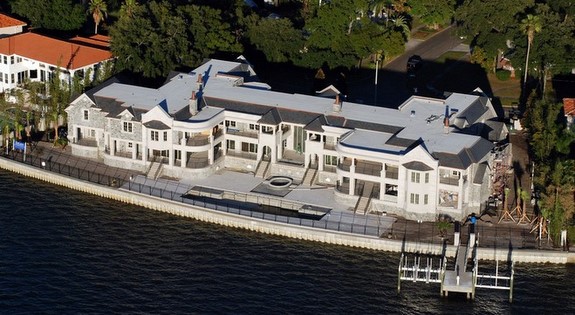 Derek Jeter has built himself an huge mansion on Davis Island overlooking the Tampa Bay. Jeter spent $7.7 million on two lots back in 2005 and 2006, and in early 2009, he started construction on his $7.7 million house. It's a very big house, the largest square-foot-wise in all of Hillsborough County.
Hank Steinbrenner, the Yanks' general partner and co-chairperson, doesn't much go for mansions. While talking off the cuff with reporters on Monday afternoon, Hank attempted to channel his dad as he questioned his team's hunger in 2010. "Sometimes, I think maybe they celebrated a bit too much last year, and some of the players were too busy building mansions and doing other things and not concentrating on winning," he said. "I have no problems saying that. I think they'll come into this spring with a new hunger, and that's what it takes to win."
When a reporter noted that only Jeter built a mansion this past year, Hank backtracked a bit. He didn't, however, note that the mansion under the microscope had been under construction during the Yanks' 2009 World Series run. "I'm not singling anybody out," he insisted. "Maybe they were riding the wave of '09 a little too much. It happens. Psychologically, it happens."
Except for a digression on Rafael Soriano, those were Hank's most strident words during the nine-minute session with reporters. Afterwards, Erik Boland of Newsday took to Twitter to remind the amused masses that the eldest Steinbrenner son has "little influence on day-to-day operations." The comments are, in other words, "nothing more than entertainment."
But I think there's more going on than just entertainment. Hank is defensive about his money. He's made that perfectly clear in his repeated attacks on Major League Baseball's revenue sharing system, and again yesterday, he called it either communist or socialist. Bud Selig, he says, wants to "do something" about it.
With Jeter, then, Steinbrenner, who doesn't involve himself with the Yanks too closely, saw what we all saw. George's golden boy — the short stop/captain who could — is getting older. With free agency looming, the 36-year-old hit .270/.340/.370 last year and produced career lows in nearly every offensive category. He was also coming off of a 10-year, $189-million contract but still wanted to be paid like the icon he is and the player he was.
After bitter negotiations made worse by incessant media coverage, the Yanks and Jeter struck a deal. For the next three years, Jeter will average $16 million in annual salary, and he holds an $8 million player option for 2014 that could be worth as much as $17 million. As Jeter noted this weekend, he intends to play out the duration of the contract. "That's my option, buddy," he said.
We don't know what kind of season Jeter will have this year. We don't know if Kevin Long can stave off an age-related decline. We don't know what 39-year-old or 40-year-old Jeter will look like. We do know that he'll be living in a mansion in Hank's backyard that's bigger than any house around. No wonder the Yanks' owner is taking jabs at mansions.
Hanks likes to roar; that's nothing new. But taking aim at Jeter won't earn him many accolades from the fans. The Yanks are moving forward with Jeter, as they should, and that's just the way of things, mansions and all.
A Note on Soriano
In the same interview, Steinbrenner defended the Yanks' signing of Rafael Soriano, and he adamantly compared the reliever to Cliff Lee. "Everybody's missing the point," he said of the criticism surrounding Soriano. "We didn't get Lee, but we got the second best relief pitcher in the American League next to our own guy…They seem to be conveniently forgetting that fact." He again repeated, "We didn't get the starter, but we got the reliever." As the Yanks head into the season with a mixture of Sergio Mitre, Ivan Nova, Freddy Garcia and Bartolo Colon holding down the back end of the rotation, I wonder who exactly is missing the point.
A hat tip to Marc Carig for the Hank Steinbrenner audio.