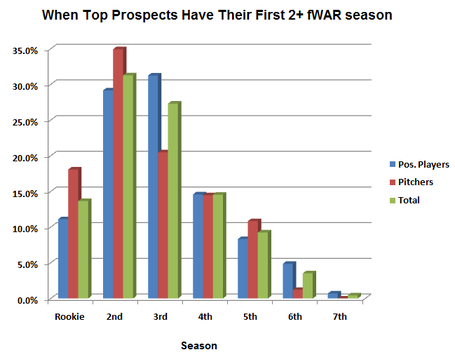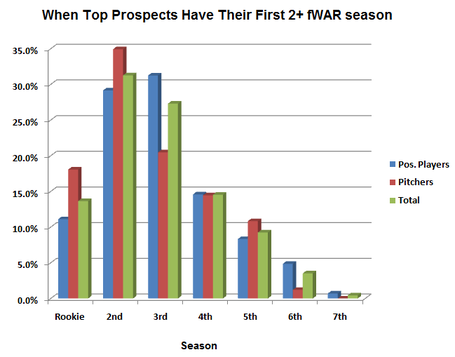 After breaking down Baseball America's top 100 prospects lists by determining the value of each spot, Scott McKinney of Beyond The Box Score looked at how long it took prospects to have their first league average season (defined at 2+ WAR) in the majors. The majority of both pitchers and position players have that first average season in their sophomore campaigns, though a significant amount of players (27.3%) reach that level in their third season, and another 27.7% reach it in their fourth season or later.
The average call-up age for both position players and pitchers is just 22.7 years of age, which surprised me. I thought it would be a little higher, maybe 23-24. It turns out that age isn't an important variable either, a player will still have his first league average season two years after he debuts regardless of how old he was when he got to the show. Unsurprisingly, high-end prospects (ranked 1-40 on BA's lists) tend to contribute a little earlier than lesser guys, but not by a whole lot.
The Yankees have a few high-end prospects on the cusp of the big leagues, most notably Jesus Montero. Recent history suggests that his coming out party might not occur until 2012 though, and I can't help but wonder how many Yankees fans are willing to be that patient. My guess: fewer than you think.