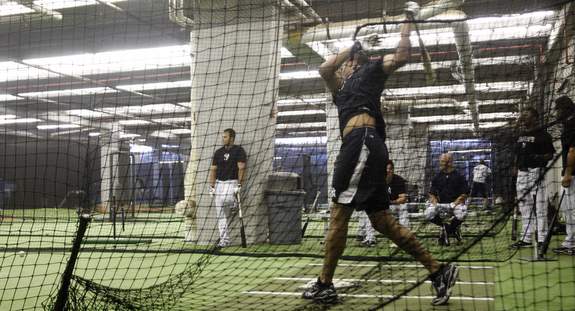 Here's some links for you night owls…
Surviving the Media
The New York media can be something else, to put it kindly, so Dan Barbarisi of The Wall Street Journal took a look at what the Yankees are doing to help their players cope with all the attention. It wasn't until 2007 that the team put some sort of media training in place, when Brian Cashman sat down with media relations guru Jason Zillo to hammer out a plan of attack. Now the club has mandatory training that includes mock interviews, guest speakers, and more, and young players (three or fewer years of service time) are stuck with even more intense training. I recommend giving it a read, stuff like that often goes unnoticed and unappreciated.
Yankees win 2011 Bobby Murcer Award
Two years ago, the Baseball Assistance Team announced the creation of The Bobby Murcer Award, which is given annually to the team whose players contribute the most to B.A.T. through MLB's payroll deduction program. The Yankees announced yesterday that they have won this year's award, just like they did in 2010 as well as in 2009. B.A.T. gives aid and support to members of the "baseball family" who are unable to help themselves, and this is an award I hope the Yankees win every year.
MLBTR's Offseason In Review
We've written countless words about the Yankees and their less than stellar offseason here at RAB, but sometimes it's good to see an outsider's opinion. Tim Dierkes tackled the subject at MLBTR yesterday, and started out by stating the obvious: "Only the Yankees can spend $130MM on free agents and have it seem like they didn't do much during the offseason." He gave the team credit for landing Pedro Feliciano on a two-year deal when inferior relievers were getting three years, but in the end, Tim draws an all too common conclusion: "The main goal may be to wring a couple of good months out of the rotation candidates." Hopefully the trade market takes shape sooner rather than later.

FanGraphs Top 100 Prospects
Marc Hulet at FanGraphs finally got around to posting his list of the game's top 100 prospects on Monday, and Jesus Montero came in at number five overall. He trails only Mike Trout, Bryce Harper, Jeremy Hellickson, and Domonic Brown. Manny Banuelos placed 18th, Gary Sanchez was 40th, Dellin Betances was 57th, and Austin Romine just made the cut at number 100. Five top 100 prospects seems to be the consensus this offseason, even if it hasn't always been the same five names in the same order.