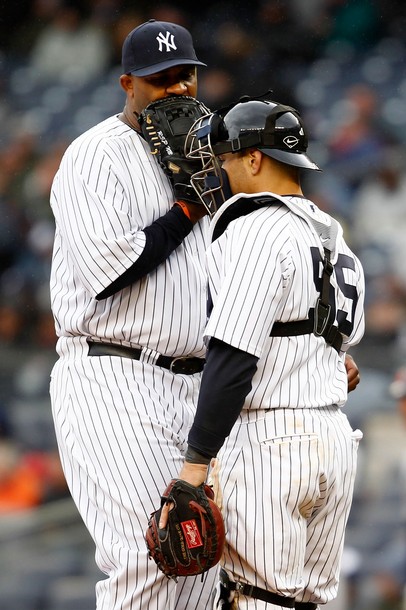 This past off season the Yankees and the Red Sox rarely went head to head on free agent and trade targets. The Red Sox weren't really ever in on Cliff Lee, and the Yankees didn't pursue Carl Crawford (except nominally) or Adrian Gonzalez. The Sox snagged Bobby Jenks, but New York's bullpen was already strong, even without Rafael Soriano. The most important head-to-head battle was over Russell Nathan Jeanson Coltrane Martin. After the Dodgers non-tendered him, the Red Sox and the Yankees both pursued him. The Yankees ended up winning, getting Martin to agree to a 1 year deal for $4M. It's clear that the Red Sox landed bigger fish this December, but the Martin move was a particularly savvy move by GM Brian Cashman, one that could pay dividends well into the future.
Russell Martin won't remind fans of Jorge Posada when he's standing at the plate. The last time he slugged over .400 was in 2007, a year which now seems aberrant in retrospect. Instead it seems more reasonable to expect a mid .300s OBP and a high .300s SLG, giving him an OPS of around .700. PECOTA backs this up, seeing a .360 OBP and a .379 SLG in 2011. While this isn't the level of offensive production to which Yankee fans have been accustomed, or expect in the near future with Jesus Montero, it still remains a respectable output. As Patrick Sullivan noted last week, AL catchers averaged .245/.312/.374 in 2010. Martin will clear that with ease; the only question is by how much.
The beauty of the situation is that Martin can provide above-average offense while giving the Yankees a level of defense that they haven't seen from the starting catcher in years, except for when Jose Molina became the starter to fill in for the injured Jorge Posada in 2008. In 2007 and 2009, Martin led the National League in runners caught stealing with 41 and 33 runners caught, respectively. In 2010 he was fourth in the NL in 2010 with 27. He was charged with four passed balls in 2010, and has a bit of a reputation of having a hard time with balls in the dirt in years past. Of course, fielding breaking balls in the dirt requires rapid mobility and flexibility, and Martin has dealt with knee and hip injuries in the past few years. Those injuries have reportedly healed completely.
As a result, Martin looks more agile and limber these days and is even able to flash a bit of speed. This was on display on Thursday when he swiped third base in the 3rd inning against the Tigers. This didn't come out of nowhere. In years past, Martin has been a speedster on the base paths, swiping 21 bases in 2007 and 18 bases the year after. His totals decreased to 11 and 6 the last two years, but again this was likely the result of the injured hip and knee. As Marc Carig noted, perhaps the Tigers weren't expecting Martin to flash his speed of old. Carig writes:
Martin wondered after the game if the Tigers have been reading too much into his surgically-repaired knee and his surgically-repaired hip, perhaps assuming that they needn't worry that much about the surgically-repaired Martin.

They may be wrong, of course, at least that's what he wants to prove, though he stole his base by playing on the Tigers' false assumption. He wanted everybody to know he was feeling fine, then changed his mind, figuring that maybe he could catch a few more teams underestimating his health.

"Tell them I feel awful, that I'm super slow right now," Martin said, after he was anything but those things against the Tigers.
Aside from his offense, defense and agility on the basepaths, Martin provides key flexibility at the most perplexing spot in the Yankees lineup. Despite a embarrassing wealth of riches at the catching position throughout the organization and two players on the 25-man roster with the ostensible ability to handle the position, the Yankees found themselves in a position of need this winter, and reached outside the organization. In doing so, they bought themselves flexibility on three separate levels. The first is with Posada, who checks in at 39 years young this season. Repeated foul tips to the head have both Posada and the Yankees organization worried about the long-term health of his brain. This piece by Bob Klapisch showed that the Yankees had done memory tests on Posada after a September foul-tip to the head, and that Posada had not scored well. Like the 49ers and Steve Young, the organization and the player were both concerned that further injuries could lead to brain damage. Designated hitter was the safe route and the smart route.
Martin also bought the Yankees flexbility with Posada's immediate replacement at catcher, Francisco Cervelli. While Cervelli excels in enthusiastic fist-pumping, most reasonable observers would agree that he's best suited as a backup catcher, preferably one employed against left-handed pitchers. The signing of Martin allowed Cervelli to return to that backup role. Unfortunately, Cervelli injured his foot in Spring Training. Having a backstop capable of manning the position in his stead means that the organization can be conservative with Cervelli's rehabilitation and afford him all the time he needs to recover. This reduces the risk of Cervelli re-injuring the foot, or compensating for it and setting of a cascade reaction injury elsewhere. Martin lets Cervelli return in his own time, and to his own more suitable role as backup.
Perhaps most importantly, Russell Martin allows the Yankees to be patient with uber-prospect, future multiple MVP-winner, future All-Star and future first-ballot Hall of Famer Jesus Montero. How's that for hype? No matter where you come down on the media's reading of Montero's performance this spring, it's obvious that important people within the Yankee organization thought that Montero wasn't ready. Both Girardi and Cashman seemed to agree that Montero was pressing, and that his defense wasn't what it could be. This isn't necessarily a bad thing – who doesn't love a 21 year-old wanting so badly to make the big league roster that he gets over-anxious? – but it is nice that the Yankees don't have to thrust him into a big-league role right away. Montero can get 100 or 200 at-bats in Triple-A, abuse the pitching, and come up in a few months when he's nice and hot.
In retrospect, it doesn't look like Russell Martin and Los Angeles were a good fit. Both Grady Little and Joe Torre seemed intent on Proctoring Martin, overusing him until he broke, and there were times at which he didn't get along with the front office. That's all behind him now. Martin is entering the physical prime of his career for the Yankees this season. If it doesn't work out, no matter. The Yankees' catching talent pipeline is nearly clogged with talent. If it does work out though the Yankees control his rights through the 2012 season and have gotten themselves quite a bargain at a premium position.