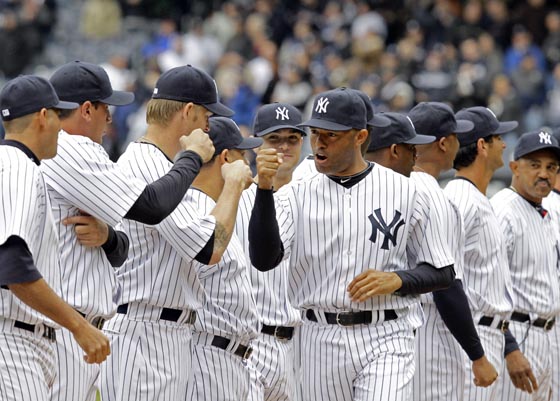 Opening Day has come and gone and there's lots of serious baseball in front of us. It goes without saying the the Yankees have a terrible team that will in no way make the playoffs and will certainly finish in last place and go under .500, whereas everyone else will have a surging year. Wait, sorry, I was just reading Keith Olbermann's blog again. Whoops. Anyway, Thursday's win was, as Mike put it back then, textbook: score runs, have good pitching, hand it over to the shutdown bullpen. While the amazingness of the bullpen may have only gone up over the offseason (despite the price tag involved), there's one part of that pen that's been around for a while now. I'm pretty sure I don't have to tell this audience who.
Mike posted this graph on Thursday, but in baseball you have to use both a combination of your eyes and the numbers to get a complete feel of the team. This Opening Day is just another example on the 15-year pile of examples of why the Greatest Ever's name stretches across the top of that graph and no one else can get a lock on the closer role quite like the Yankees. Relievers are volatile creatures, as we all know, and it's weekends like these where we remember that most closers are just relievers who were good enough last year to close the ninth this year.
Dan Bard, of the Red Sox, was the go-to closer in case of continued meltdown by Jonathan Papelbon. Bard was extremely good in 2010, making 73 appearances and posting a 1.93 ERA, a 3.37 FIP, and a K/9 over 9. Not bad for a 26-year-old, and certainly deserving of a shot at keeping Opening Day tied, right? Bard's line from yesterday looks something like this: .2 IP, 4R, 4ER, 1BB, 1K. He took the loss in the top of the ninth. Somewhere, Papelbon was feeling just a tiny bit more secure in his job. Or let's look at John Axford, who inherited the closer roll from Trevor Hoffman: last year, he picked up the job early due to Hoffman's inability to not blow a game, and showed he deserved it with ERA of 2.48, a FIP of 2.14, and strike out to walk ratio pushing three – with almost 12 K/9. In 2010, he picked up 24 saves in 58 IP. In 2011, he's already managed to blow his first save of the year, giving up a 3-run last-licks home run to Ramon Hernandez and taking Edison Volquez off the hook for the three homers he himself allowed. Then there's Brandon Lyon, in the second year of his three-year contract (what have we said about multiyear contracts for relievers?) starting the Astros off to another cellar-dwelling year. He helped out the Phillies' push to 162-0 by getting only one out and allowing six singles, giving up the game-winner to John Mayberry Jr.
While all these other guys were running around blowing games for their teams, our guy, the guy, if I may, is coming in and getting it done. Thursday was a perfect Mariano performance, a 1-2-3 topped with strikeout looking of Alex Avila. Yes, I know there's some obvious narrative bias going on here. Yes, I know it's one save out of what will be many. Yes, I know that this is only one game out of 162, most of which have yet to be played. Yes, I know Mo will almost certainly blow a save at some point during the year even if I'm loathe to admit it. Yes, I know the fact that Mariano Rivera is amazing isn't breaking news. But there's a difference between knowing how amazing Rivera is (among other things, he's all-time ERA+ leader with 205), and having your belief re-affirmed for yet another year. While other teams' closers melt down, Mo's presence effectively ends the game in the 8th. While other teams' rotate through closers, Rivera is the go-to guy every year for the Bombers, and every year he shows everyone – including the fans – why he's the greatest of all time.
And come on, who wants to say they blew the save on Opening Day?