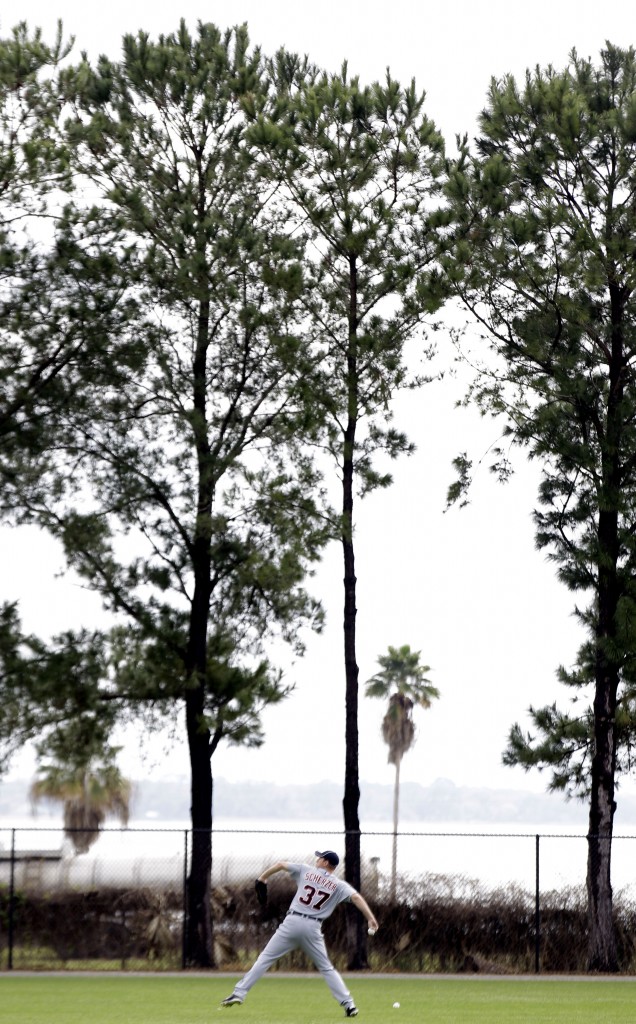 This afternoon the Tigers will attempt to avoid being swept by the first-place Yankees (never too soon to flaunt that) when they send right-hander Max Scherzer to the bump against Phil Hughes. Scherzer is an interesting story in terms of health, development and projection. Originally drafted by the Cardinals out of high school in the 43rd round of the 2003 Amateur Draft, Scherzer declined to sign with St. Louis and ended up going to the University of Missouri. When he was drafted again in 2006 his stock had improved a great deal, and the Diamondbacks took Scherzer with the 11th pick of the 1st round. Scherzer debuted in the minors in 2007 and on the whole pitched well, striking out 11.1 batters per nine innings, walking 3.9 batters per nine, and posting a 2.87 ERA over 106.2 innings. As David Golebiewski noted, Baseball America named Scherzer the fourth-best prospect in the Diamondbacks system after the 2007 season, a system that at the time included Carlos Gonzalez and Brett Anderson.
In 2008 Scherzer didn't make the team out of Spring Training but didn't stay in AAA for long. The Diamondbacks brought him up in late April. Scherzer came in on relief of Edgar Gonzalez and pitched splendidly, not allowing a single baserunner over 4.1 innings and striking out 7 batters. The Diamondbacks responded by slotting him in the rotation the next time around and he made three starts, throwing 15 innings of 3.00 ERA ball and striking out 16. However in late May lefty Doug Davis returned to the Diamondbacks rotation after recovering from thyroid surgery. In doing so, he claimed Scherzer's rotation spot and sent Scherzer to the bullpen.
Scherzer pitched in the bullpen for a solid month before the Diamondbacks sent him down to Triple A on June 13th to rebuild his arm strength. Unfortunately, Scherzer only made one outing before going to the disabled list with shoulder fatigue. He didn't return for nearly a month, but when he did he looked like the Scherzer of old. The Diamondbacks rewarded his recovery with a late August promotion, and he made 6 starts to end the season in the D-Backs rotation. He hurled 25 innings over those 6 starts, with an ERA of 3.24, striking 33 batters, walking 7 and allowing 3 home runs.
In 2009 the Diamondbacks gave Scherzer a rotation slot, but he began the year on the disabled list with shoulder tightness. When he returned to the rotation fully healthy he didn't disappoint. Making 30 starts, Scherzer pitched to a 4.12 ERA and 3.87 FIP over 170.2 innings. He boasted an elite strikeout rate at 9.19 K/9 and his walk rate was a respectable 3.33 BB/9. Despite shoulder injuries, and getting bumped back and forth between the minors and the majors, the bullpen and the rotation, Scherzer was blossoming into a very solid starter.
Yet the growth he exhibited in 2009 ultimately meant that his time in Arizona would come to a close. That winter the Diamondbacks shipped him off to Detroit as a part of the three-team trade that saw Curtis Granderson come to New York, Austin Jackson, Phil Coke and Dan Schlereth go to Detroit, and Ian Kennedy and Edwin Jackson go to Arizona. Unfortunately for Detroit, Max Scherzer got off to an absolutely horrific start. In 8 starts and 42 innings he pitched to a 7.29 ERA, allowing 54 hits and walking 16 batters, striking out only 26 batters. He allowed nine (!) home runs, and batters hit .323/.392/.563 against him. Clearly something was wrong with Scherzer, and the Tigers sent him down to AAA in mid-May.
He spent only two weeks in AAA, but whatever he tinkered with clearly worked. When he returned he faced the Oakland A's and was dominant, going 5.2 innings, walking 4 batters and striking out 14. This began an incredible streak of performance for the young righty. For the remainder of the year he threw 153.2 innings of 2.46 ERA ball with a 9.25 K/9 and a 3.17 BB/9. Thus despite the fact that his first seven starts of the year left him with a 7.29 ERA, Scherzer finished with respectable numbers: 3.50 ERA over 195.2 innings, 3.71 FIP, 8.46 K/9, 3.22 BB/9.
Max Scherzer leans heavily on his fastball, and for good reason. It hums in at around 93 mph, but he's been known to dial it higher. According to Texas Leaguers, Scherzer threw this pitch almost 65% of the time in 2010. He complements this with a very good changeup, a pitch that comes in at around 84 mph, and a slider that he throws at roughly the same velocity. Perhaps because of his high-quality changeup, Scherzer barely had any platoon split in 2010:
Scherzer vs. LHB: 8.42 K/9, 3.42 BB/9, 0.79 HR/9, 3.55 FIP
Scherzer vs. RHB: 8.52 K/9, 3.00 BB/9, 1.06 HR/9, 3.89 FIP
He struck out a few more righties and walked a few more lefties, but gave up more homers to righties than lefties. For his career, his FIP vs. lefties is nearly a half run higher than it is against righties, but it's possible that he gained more feel and command for the pitch in 2010, thereby enabling him to be more effective against lefties.
One of Scherzer's biggest weaknesses is his inefficiency. In 2010 he had the tenth-highest pitch per inning total at 16.8. This means that, on average, Scherzer was over 100 pitches by the end of the sixth inning. If the Yankees approach him with patience and grind out their at-bats then they may be able to get to the soft underbelly of the Tigers' bullpen early in the game.
As a side note, Scherzer is a bit of a stat-head. Click through to this interview with Eric Seidman at Baseball Prospectus to read him discuss mechanics, release points, BABIP and Pitch F(x). It's fascinating stuff.