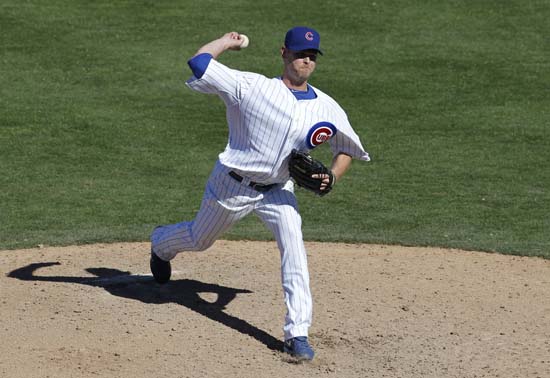 Aside from the clean-slate record, an awesome thing about the start of the new season is the batch of new players that comes in. Whether they be rookies coming up from the minors, off-season trades or free agent/pre-arbitration signings, it's always interesting to see who's becoming a Yankee this year.
Of course, with the arrival of new Yankees, others depart. Some of which we're glad to see go, be that due to injury or ineffectiveness, and others we long to have back. I'd bet there's a pretty strong correlation between who's performing away from the Bronx and who would look better if they were back for another year in pinstripes. Considering the attention paid to the Yankee rotation and some recent bullpen drama, I thought it would be interesting to look at some of the pitchers the Yanks let go and see how they were doing around the league.
Kerry Wood
Wood rode into the bullpen like a knight in shining Cubbie armor in the 2010 season, wowing everyone. It's imagine everything aligning better for Wood during his short stay in pinstripes: none of his bequeathed runners scored, his stuff was great, he was saving rear ends left and right. Though Wood had an expensive option, there was no way the Yankees were paying closer money to a man who would almost certainly not repeat his unsustainably good 2010 performance. Wood raced back to the Cubs and signed for $1.5M. He's racked up an impressive 2.15 ERA and 4.49 FIP, though the 95% LOB is likely to drop. Even so, the 2:1 K/BB ratio is extremely promising.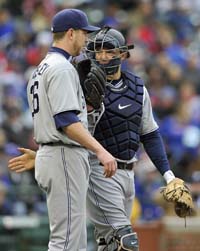 Dustin Moseley
The spot-starter/longman for the Yankees signed at the pitcher's heaven of Petco Park and has found himself a home in the Padres' rotation. He's making a comfortable $900k and is, uh, pitching his brains out, to say the least. In his five starts, he's pitched to a 1.99 ERA (3.90 FIP). The Adrian Gonzalez-less Padres offense, which is slightly feebler than a dead rabbit, has really gotten behind his strong performance, and helped him go…… 0-3. In his five starts, the Padres have scored him a total of two runs. Pretty sad. Although his numbers are likely to go up (Moseley isn't likely to hold down his .243 BABIP or hold up his 81% strand rate), it's pretty freaking impressive as is.
Chad Gaudin
Gaudin also making $900K in the NL, though his home is located across the country in Nationals Park. The man's picked up right where he left off with the Yankees, throwing spectacularly mediocre stuff and getting knocked all around because of it. In his 8 innings, he's given up 12 hits, six ER (one homer), and eight walks. The only positive thing about his line is the 10Ks, but it's not helping anything else. I wonder if Riggleman will have the same fascination with him that Girardi did.
Sergio Mitre
All right, I know you're really interested in hearing about: the man that Marc Carig of the Star Ledger calls The Experience. Although he technically started off the year as a Yankee, Mitre's been shipped over to the Brewers in exchange for Chris Dickerson. In his tiny 9 IP sample, he's managed to give up six hits, three ER and a homer, and walk more batters (3) than he's struck out (2). Of course, this is a tiny sample, and Mitre could get his act together and become the Rolaids Relief Man Closer we all know he could be. Right? Right?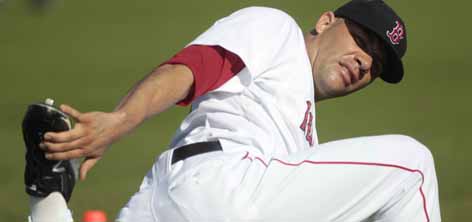 Alfredo Aceves
The man they call Ace fought injures all through 2010, and because of that (and who knows what else), Cashman decided not to tender him a contract. The Red Sox picked Aceves up for a microscopic $650k. He's been pretty effective for them too, making six appearances and racking up a 2.25 ERA. Way less impressive is his 5.80 FIP, helped out by the two home runs he's given up. It's hard for me to want a guy in Boston to succeed, but Ace was pretty awesome for the Yankees when they needed him, and I don't know if I'm quite ready to let him go just yet. Silly sentimental me.
Javier Vazquez
Two trips to the Bronx still couldn't cure Javy's problems: a dead fastball and a reputation that wasn't going to leave once it stuck his first time around. Vazquez has over 2,600 IP on his arm – I don't even want to know how many pitches he's thrown – and that wear and tear is becoming evident. Vazquez signed with the Marlins for $7M and he's basically the same old Javy: a junkball and some other stuff being whomped around by better hitters. He's made four starts and walked more than he's struck out, even if his h/9 is still under one. 20 IP is too small a sample to really paint a picture, but here's some food for thought: his average fastball velocity was 89 MPH in 2010. His average fastball velocity in 2011 so far is 88.4.
* * *
The Yankees pitching staff is pretty band-aided together right now, but quite frankly I don't have a problem with it. If Nova wants to go 6.1IP and feel good about, awesome. If Colon wants to show off his amazing two-seamer and a 96 MPH fastball, even better! Honestly, if the worst thing that happens to Freddy Garcia is that he gives up a home run to Jose Bautista, things are going pretty well. Yeah, Garcia is going to throw some crappy pitches. But luckily, there are lots of crappy hitters out there to compensate. Plus, it's basically impossible not to have Bautista homer off you these days. That should not be the standard of judgment. Also, go Freddy. And someone give the guy a towel, will you? He's looking kind of shiny out there on the mound.