Has the Subway Series lost some of its luster over the years? Maybe as the quality of the competition has dropped (zing!), but I still enjoy these games because I know and am related to a lot of Mets' fans, and it's always fun to rub it in. Believe you me, they still hear about Luis Castillo's dropped pop-up on the holidays. I'm not sure if there will be anything that memorable at Yankee Stadium this weekend, but are you putting to past them?
What Have The Mets Done Lately?
Quite a bit of winning, actually. The Amazin's have won two in a row, three of four, six of eight, and nine of 13, and they've also thrown two straight shutouts. The last run allowed by a Mets' pitcher was on an RBI single by Marlins' reliever Burke Badenhop in the 11th inning of Monday's game. Go figure. They've won four of their last five series, and have outscored opponents 47-36 in the process. The Mets are coming in hot and feeling good about themselves, no doubt about it.
Mets On Offense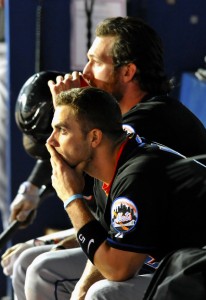 Could you imagine if the Yankees lost Mark Teixeira and Alex Rodriguez at the same time? That's basically what has happened to the Mets, who will be without Ike Davis (ankle) and David Wright (stress fracture in his back) for the next few weeks. That's not just a straight first base and third base comparison, the position stuff is actually just a coincidence. Davis (.397 wOBA) and Wright (.346 wOBA) have been the Mets' second and fourth best hitters this season, respectively, like Tex and A-Rod have been for the Yankees. You don't replace guys of that caliber, you just hope to survive.
Luckily for them, the Mets still have the resurgent Carlos Beltran, who's hit .277/.368/.539 on the season and .286/.388/.643 this month. Like Miguel Cabrera of the Tigers or Jose Bautista of the Blue Jays, this is the guy the Yankees can't let beat them this weekend. He's easily their biggest bat the moment. Jose Reyes is doing a fine job from the leadoff spot (.317/.373/.468 with a league leading 16 steals), but Jason Bay just has not hit as a Met. Last year's disaster (.336 wOBA and injuries) has been followed by .238/.330/.357 batting line this season, and that's after yesterday's 3-for-4 effort. I still don't feel comfortable when he's at the plate though, he hurt the Yankees too many times while with the Red Sox. Those are the guys you know about, so let's talk about everyone else.
Former Yankees' draft pick Justin Turner (unsigned 29th rounder in 2005) was called up when Davis got hurt and played some second before moving to third once Wright got hurt. He's hitting .333/.393/.490 in 18 games and is making plays all over infield, so he's my early pick for the guy that annoys the crap out everyone all series with curiously long at-bats and timely hits and great defense. Daniel Murphy eventually took over at second but has since moved to first, and he's hitting .233/.298/.367 after a wretched .167/.234/.228 stretch during his last 18 games. Jason Pridie is playing center for the injured Angel Pagan, and he'll probably be best remembered as the third guy the Twins received in the Matt Garza-Delmon Young swap despite his respectable .235/.325/.441 line. The punchless Ruben Tejada (.500/.571/.500 in all of seven plate appearances) is the second baseman, and Josh Thole (.221/.300/.260) splits time behind the plate with Ronny Paulino (.313/.405/.344).
I have no idea who is going to DH for the Mets this weekend, but they've already indicated that it won't be Beltran despite his grenade with the pin pulled knees. Their best bench bats are my boy Scott Hairston (.244/.309/.327) and a pair of recent call-ups in Nick Evans and Fernando Martinez. You might actually see Bay serve as the DH with one of those three in left field. I guess we'll find out tonight.
Mets On the Mound

Friday, RHP R.A. Dickey: The Yankees have seen as many knuckleballs as any team in the league thanks to Tim Wakefield, but not all knuckleballs are created equal. The UCL-less wonder actually throws two of them, a hard one and a soft one that he uses to disrupt timing. He also throws a helluva lot more fastballs than Wakefield ever did, about one for every five pitches and it hums in around 82-84. Dickey has not pitched as well this year as he did last mostly because a) his walk rate shot back up to his career norms (3.16 BB/9 this year after 2.17 last year), b) some bad BABIP luck (.328), and c) far fewer swings and misses (6.8% after 8.4%). That said, his 4.52 FIP is probably more indicative of his true talent than his 5.08 ERA. Dickey is coming off three straight disaster starts, I'm talking 16 runs in 18.1 innings with a .350/.381/.500 batting line against. Also: Dickeyface!
Saturday, LHP Chris Capuano: Chris Young is out for the rest of the season with yet another shoulder issue, but Capuano has held up pretty well so far. His ugly ERA (4.78) is BABIP-inflated (.340) and masks some solid peripherals (4.03 FIP). He's struck out 7.06 men per nine (11.2% swings and misses) while unintentionally walking just 2.91 per nine and getting a ground ball 43.8% of the time. Capuano has crushed lefties (.255/.305/.291) and gotten crushed by righties (.315/.380/.532) with his upper-80's fastball, low-80's slider, and upper-70's changeup mix, splits in line with his career norms but a little on the extreme side at the moment. He's coming off three pretty good starts (six runs in 18 IP total) and is a pretty safe bet for six innings if the Yankees right-handed bats do not do their jobs.
Sunday, RHP Mike Pelfrey: Has anyone figured out what Pelfrey is yet? He's supposedly a sinkerballer but he doesn't get a ton of ground balls (44% this year, 49% career) and he certainly doesn't strike anyone out (4.38 K/9 this season, 5.06 career). The walk numbers aren't anything special (3.28 BB/9 both this year and career) and his platoon split isn't huge (.292/.370/.461 vs. RHB career, .283/.333/.487 vs, LHB). Pelfrey has some Jon Garland in him, in that he throws a ton of innings every year and has gotten labeled as a ground ball pitcher without actually being one. Anyway, he's coming off three fine starts (three runs or less and 6.2 IP or more in each) and is going throw low-90's fastball after low-90's fastball (both four and two-seamers) with the occasional split and slider thrown in for effect. The Yankees have seen plenty of him in the Subway Series throughout the years, though haven't really seen the "new" version of Dickey and have faced Capuano just once, many years ago.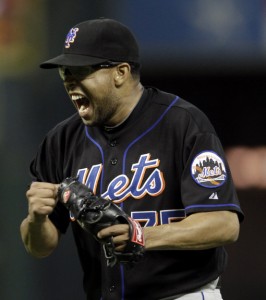 Bullpen: Francisco Rodriguez is having a very typical Francisco Rodriguez year as the closer (lots of walks, lots of strikeouts), but his ERA is a shiny 0.83 thanks to a 93.8% strand rate. He's putting nearly three runners on base for every two innings pitched. K-Rod has thrown in each of the last two days and in six of last eight, so his availability tonight is very much up in the air and who really knows for the rest of the weekend.
Like the Yankees, the Mets have a former closer working the eighth inning, except Jason Isringhausen has actually been pretty solid for new manager Terry Collins (3.56 ERA in 14 IP). He had yesterday off but has pitched in three of the last five days, and at 38 years old with an elbow that's undergone two Tommy John surgeries, who knows what kind of restrictions he'll have this weekend. Tim Byrdak is a lefty specialist in every sense of the term (.231/.259/.385 vs. LHB this season), and former Rockie Taylor Buchholz is the secret weapon. He's struck out 9.97 batters per nine while walking just 2.91 per nine in 21.2 middle relief innings this season. He's their David Robertson, and he's nice and fresh after having four days off.
The rest of the relief corps consists of second lefty Michael O'Connor (just 4.2 IP since being recalled, though he's another LOOGY), third lefty Pat Misch (just four innings since being recalled, but he can throw multiple innings if needed), and surprising Rule 5 Draft pick Pedro Beato. The young right-hander grew up in Brooklyn and was just activated off the disabled list (elbow trouble), and before the injury he pitched to a 0.00 ERA (2.27 FIP) in 17 IP thanks to a 5.29 K/9, 1.29 BB/9, and 42.4% ground ball rate. Pretty good for a kid that skipped right over Triple-A. Beato has worked mostly lower leverage situations, and we hope to see a lot of him late in the game when the Yankees have the lead.
Recommended Mets Reading: Amazin' Avenue and MetsBlog