Boy did the Yankees need a game like this. The bullpen was taxed, the offense was pressing, and the fans were frustrated, but a plethora of early runs and eight easy innings from CC Sabathia led a stress-free blowout win. The Orioles' are the best medicine apparently, and New York has now won three in a row.

Offense Offense Offense
After scoring four runs in 15 innings the night before, the Yankees came out of the gate on Thursday and scored five runs in the first inning. The inning went double, triple (run scores), ground out (run scores), strikeout, hit by pitch, walk, wild pitch (runners move up), walk, double (three runs score), strikeout. Nick Swisher's three-run opposite field double just out of the reach of Felix Pie was the big blow, his first hit with two outs and runners in scoring position all season.
The Yankees didn't get their first single of the night until Robinson Cano led off the fifth with a shot back up the middle, when the score was already nine-zip and the game was essentially over. Brett Gardner and Derek Jeter hit back-to-back triples, two of three three-baggers on the night. Even Eduardo Nunez chipped in a two-run homer, a sure sign that the rapture is coming this weekend.

Cruise Control
Am I the only one that kinda wishes the Yankees didn't "waste" a Sabathia start in a game in which they scored 13 runs? Don't get me wrong, I'm extremely appreciative of the big guy's eight scoreless innings (seven hits, season-high nine strikeouts), but in a perfect world some scrubby pitcher would have started this game while CC went tomorrow, when the Yankees are unlikely to score so many runs. Ah well, I guess I shouldn't look a gift (work)horse in the mouth.
Sabathia cruised right along all game long, retiring ten of eleven early on and only twice allowing the Orioles to have two men on base at the same time. One of those instances was the first, after he intentionally plunked Nick Markakis in retaliation for Cano getting hit in the knee in the top of the frame. One hundred and nine pitches (84 strikes!), 18 of 24 outs either on the ground or via strike three, and a bullpen spared. Vintage CC, exactly what they needed.

Leftovers
Both benches were warned after Sabathia hit Markakis, but there was no further incident the rest of the game. Cano was seen with an icepack on his knee in the dugout pretty much all game long, but he looked fine at the plate and stayed in until garbage time. I figure the beanball matter is settled, hitting their best-ish player and kicking the crap out of them on the scoreboard works for me.
Amaury Sanit has to be on his way back to Triple-A Scranton, right? Don't get me wrong, I'm very thankful for his bullpen saving effort against the Royals last week, but he's pretty awful, has been for two years now. Get Ryan Pope up here for tomorrow, please.
Every starter had a hit except for Alex Rodriguez, who instead walked. Jeter, Curtis Granderson, Russell Martin, Swisher, and Gardner all had multiple hits, and both Cano and Jorge Posada walked and picked up a hit. Mark Teixeira had just one hit, but it was a doozy, a two-run homer in the middle innings. Posada looked fine at first base defensively, but he wasn't tested with any tough plays, so he gets an incomplete grade for tonight's effort.
That's pretty much all there is to say about this game. Funny how the more runs they score and the better Sabathia is, the less there is to write. Yankees gonna Yankee, I guess.
WPA Graph & Box Score
Heh, it's funny Baltimore's little ninth inning rally wasn't even a blip on the radar. MLB.com has the box and video, FanGraphs the nerd.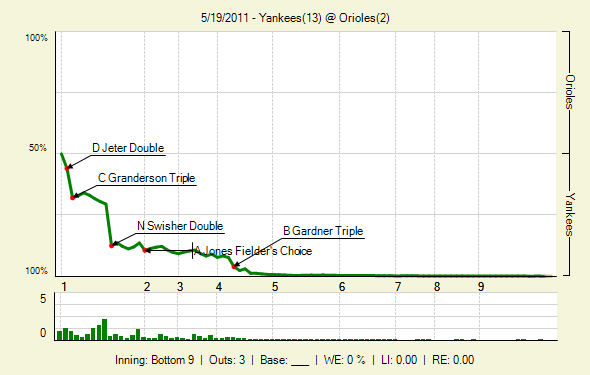 Up Next
The Yankees head back home to Bronx to kick off the 2011 edition of the Subway Series on Friday night. The Mets come across town and will start R.A. Dickey against Freddy Garcia.