The Yankees can't have anything nice. Friday night's blowout win over the Indians was clouded by the official announcement of Joba Chamberlain's upcoming Tommy John surgery. Saturday afternoon's shutout win cost the Yankees their number two starter, as Bartolo Colon suffered a strained hamstring covering first base in the seventh inning. The win counts in the standings, but the net result of the day was a loss for New York.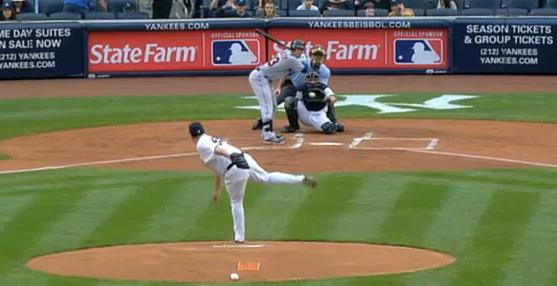 RIP Bartolo
As great as he's been this season, there's always been an elephant in the room when Colon pitches. This could be the last start, the last batter, the last pitch … he could blow up at any moment. He did blow up today, but not in the way we all figured. Bartolo's right arm is fine (thankfully), it was a bum hammy that took him down. That's like a rhino going down because it stepped on a thumb tack while the hunter was loading his rifle.
Colon was again masterful on Saturday, carving up his former team with his usual diet of four and two-seamers to both sides of the plate. He struck out the first two he faced and retired 14 of the first 16 men he faced on a measly 59 pitches. Bartolo threw ten pitches in each of the third, fourth, and fifth innings, and only one batter made it as far as second base against him. Colon's day ended at just 83 pitches with two outs in the seventh, when the hamstring gave out as he covered first base on a ground ball by Shin-Soo Choo. He had struck out six, walked one, allowed two hits, and gotten seven ground ball outs to that point. I feel like a broken record because we say this after every start, but Colon was brilliant. Unfortunately this day had a tragic ending.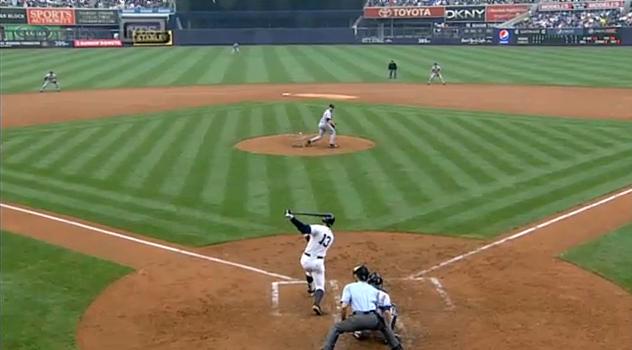 All They Needed
It's pretty cool when a guy has a dozen homers through a third of the season and it feels like we're waiting for him to heat up. That's kinda the situation with Alex Rodriguez, who seems to be victimized by his own greatness more than anyone in his the history of the universe. Homers like the one he hit today, a fourth inning solo shot that broke a scoreless tie, go underappreciated because he's so damn good. Less than 24 hours after hitting a ball into the left field bleachers, Alex connected on a 1-0 fastball and drove it through the wind into the Indians' bullpen. It wasn't as majestic as Friday's homer, but it gave the Yankees a lead on a day when their starter was cruising and their core relievers were rested. We'll forget about it in a week, but it's just a gentle reminder that A-Rod is always capable of changing the complexion of a game with one swing.
Mitch Talbot appreciates Alex's greatness, so much so that he hit him with a pitch the next time he came to plate. Aside from Fausto Carmona's shot at Mark Teixeira on Friday, I think this one was the most obviously intentional out of all the recent hit-by-pitches. Curtis Granderson had just taken Talbot deep (more on that in a second), Tex hit a ball to the track, and of course A-Rod hit the homer last time up. It was a first pitch fastball right to the hip, pretty much where these intentional plunkings tend to happen. There were two outs in the inning and none on, and yeah it was raining, but Talbot didn't appear to slip in any of the replays.
I'm not one of those guys who thinks you have to retaliate for every hit-by-pitch, but this is getting ridiculous. If you can't control your 90 mph fastball, then you don't get to pitch inside. Colon couldn't retaliate because both benches had been warned, but it's time to push back a bit and send a message because this is going on too frequently. "We're the Yankees, we'll hit your guys back and win the game too." Sounds good to me.
How About Some More?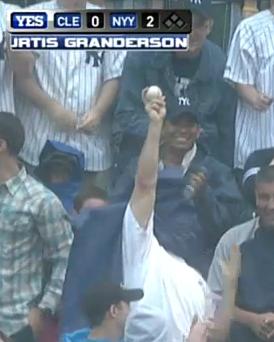 A-Rod's homer was the only run the Yankees would ultimately need, but that didn't stop them from tacking a few more on. Granderson hit a solo shot of his own in the sixth, a golf shot more than anything else. I didn't think it was a bad pitch at all. A Choo misplay in right allowed Nick Swisher to score from first on a Jorge Posada single an inning later, and Tex capped it all off with a solo homer in the eighth. He's gotta keep pace with Curtis, you know? Grandy is tied with Jose Bautista for the MLB lead with 20 homers while Tex is second with 19. At what point do we start talking about these two being the Yankees' most dangerous 1-2 punch since … I guess A-Rod and Gary Sheffield in 2005?
No LOLpen
The bullpen is in a world of trouble at the moment, so 2-0 wasn't exactly a comfortable lead when Colon exited. David Robertson came in to replace him and immediately allowed a single before getting the final out of the seventh. Jack Hannahan and Lou Marson opened the eight with singles, but Robertson escaped the inning by striking out Michael Brantley (looking), Asdrubal Cabrera (looking), and Grady Sizemore (swinging). There was also a balk mixed in there, and you can make a case that those three are the Indians' three best hitters. David let out an Eight Inning Guy™ caliber fist pump after Sizemore swung over top of that curveball, which is always fun. Boone Logan (of all people) threw a flawless ninth to close things out. He even struck out the only lefty he faced. Go figure.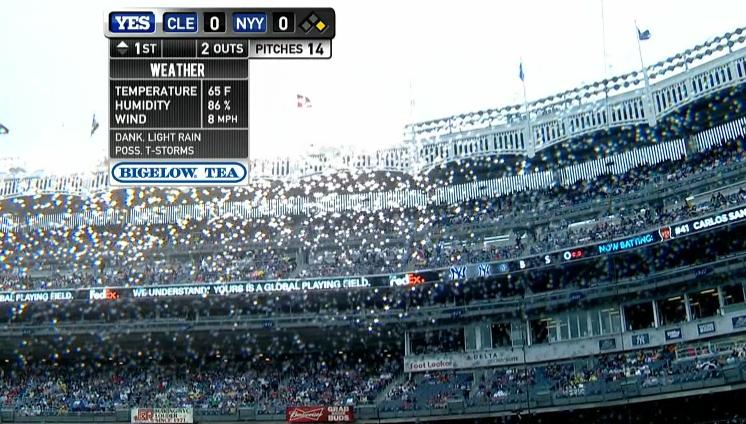 Leftovers
The Yankees made a full innings' worth of outs on the bases, which is at least the second time they've done that this season. Brett Gardner got caught stealing twice, once going for second and once going for third, then Jorge Posada got picked off second later in the game. That was partially Gardner's fault as well; he was trying to bunt Posada over to third with no outs and just flat out whiffed. Still, Jorge can't be that far off the base. Ah the joys of bunting.
Derek Jeter took an 0-for-4 and now has five games left in the homestand to pick up the nine hits he needs for 3,000. I'm sure he'll get it done, the baseball gods always make sure this stuff sorts itself out. Aside from the three solo homers, Swisher and Posada each had one hit while Gardner had two. Robinson Cano drew a walk to round out the offense.
Eduardo Nunez replaced A-Rod at third base in the ninth inning, and Joe Girardi said after the game that it was just a precaution because Alex's hip stiffened up a bit following the hit-by-pitch. No, it's not the same hip he had surgery on. A-Rod said he'll play tomorrow, so no problem there.
The wind was especially brutal Saturday afternoon, every ball hit high in the air was an adventure for the defenders. Didn't matter for A-Rod, Grandy, and Tex on the homers through.
WPA Graph & Box Score
MLB.com has the box score and video highlights, FanGraphs the other stuff.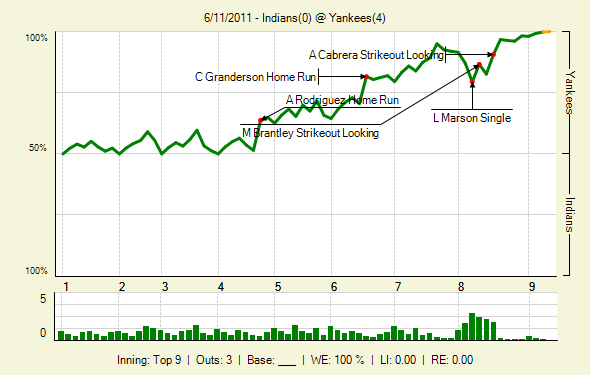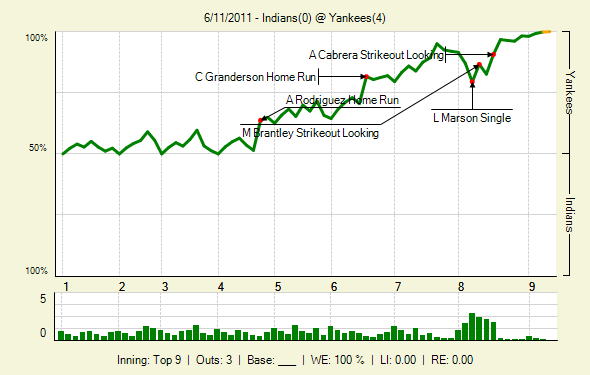 Up Next
For the first time all year, the Yankees will follow up a 1pm ET Saturday game with a 1pm ET Sunday game. Every other weekend series has featured some kind of weird start time due to FOX or ESPN or west coast or whatever. Freddy Garcia gets the ball against Josh Tomlin.