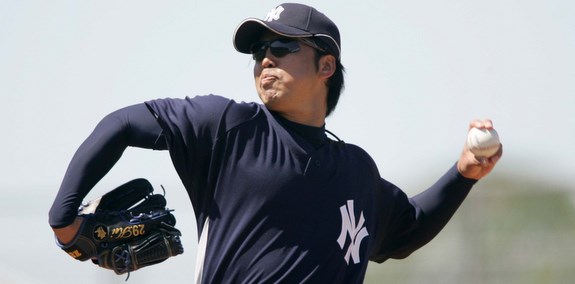 Yesterday was a rather hectic day in Yankeeland, so I'm sure a few of you didn't notice that Kei Igawa was put on Double-A Trenton's disabled list. The minor league season ends on Monday, so for all intents and purposes, the DL stint ends his season and also his time with the Yankees. Five years after joining the organization, Igawa's contract will expire in a few weeks and the Yankees will be free of the scarlet letter they've worn since 2007.
* * *
It all started with Daisuke Matsuzaka, the next great Japanese pitcher that was going to take MLB by storm. The Yankees bid handsomely for his services after the 2006 season, somewhere between $32-33M, but the Red Sox blew everyone out of the water with a $51.1M submission. Off to Boston went Dice-K, leaving the Yankees still in need of another arm. That's where Igawa came in, and he had all the credentials. He was a two-time strikeout champ with the Hanshin Tigers, a former league MVP, a former Eiji Sawamura Award winner (Cy Young equivalent), left-handed, and just 27 years old. It was a fit for a team in need of an arm.
The Yankees won the rights to negotiate a contract with Igawa with a $26,000,194 bid in November 2006, the last $194 an ode to his strikeout total from the previous season. "We have been following Kei Igawa's very successful and accomplished career in Japan," said Brian Cashman after the winning bid was announced. "We are excited about the opportunity to begin the negotiating process with him."  Then-Chiba Lotte Marines manager Bobby Valentine offered a more ominous statement after the news broke, saying: "The first time I saw him, I thought he was a lot better. Four years ago, he was a lot better than he is now. But he's still good."
Twenty-eight days after winning the bid, the Yankees inked Igawa to a five-year contract worth $20M that would pay him exactly $4M every year from 2007 through 2011. He started the '07 season as the number four starter behind Mike Mussina, Andy Pettitte, and Carl Pavano, and his first start could not have gone any worse. The first batter he faced, Brian Roberts of the Orioles, hit a fly ball to the warning track in dead center, and two batters later Nick Markakis welcomed Igawa to the States with a solo homer. Baltimore tacked on four more runs in the second inning thanks to a bases loaded walk and a Melvin Mora double, and then two innings later Mora went deep for a two-run homer. Igawa's first start consisted of eight hits, three walks, seven runs, 17 fly balls, three line drives, two strikeouts, and three ground balls.
His next two starts went much better, three runs in 5.1 IP against the Athletics and two runs in six innings against the Indians. After the then-Devil Rays hung seven runs on him in 4.1 IP in his fourth start, the Yankees took advantage of an off day to skip Igawa's turn in the rotation. His best outing as a Yankee came five days after the disaster in Tampa, when he tossed six scoreless innings against the Red Sox in relief in Jeff Karstens, who had his leg broken by a line drive in the first inning. I was actually at that game, and I remember Igawa pitching exclusively from the stretch and me thinking that maybe that would help get him on the right track mechanically. Alas, it did not.
Igawa made seven more starts after his relief outing against the Sox, allowing 29 runs and 47 hits in 35.2 IP. He did strike out 32, but he had walked 19 and given up ten (ten!) homeruns. The Yankees pulled the plug in early-August and sent Igawa to the minors, but not to Triple-A. They send him to their minor league complex in Tampa, where the pitching instructors were waiting for him. "That didn't work out too well," said Igawa years later, after the Yankees tried to overhaul his mechanics by changing everything from his arm action to his leg kick to where he stood on the rubber.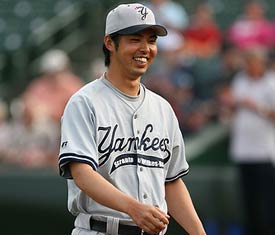 He made 13 minor league starts after the demotion, pitching to a 3.49 ERA with a 77-18 K/BB in 77.1 IP. The Padres claimed Igawa off trade waivers in August, and rather than work out a deal or simply foist his entire contract contract onto San Diego, the Yankees kept him because "ownership was not willing to let him go yet." Igawa rejoined the team in September, making one one-out appearance in relief and one five-inning start in game 157, when the Yankees were more concerned about lining up their playoff rotation than winning.
The Yankees sent Igawa back to the minors to start the 2008 season, though they did call him up for an early-May spot start against the Tigers. It was a disaster, an eleven-hit, six-run effort in three innings. A return trip to the minors followed, then Igawa resurfaced in late-June as bullpen depth for a doubleheader against the Mets. June 27th, 2008 would be Igawa's final appearance in the Major Leagues, a one-inning outing in which he allowed singles to Fernando Tatis and Jose Reyes in the ninth inning of a game the Yankees won 9-0. He was designated for assignment after the game, removed from the 40-man roster less than two-years after the Yankees invested more than $46M in him.
It's been more than three full years since that happened, and Igawa has toiled away in the team's minor league system ever since. He's set the Scranton/Wilkes-Barre franchise record for career wins (29), and is in the all-time top ten in career losses (ninth), starts (fifth), innings (fifth), hits allowed (sixth), runs allowed (tenth), homeruns allowed (second), and strikeouts (second). That's going back to when SWB was the Phillies' affiliate as well. When the Yankees didn't have a place for Igawa in Triple-A this year, they sent him to Double-A Trenton. He moved between the two levels whenever a spare arm was needed, missed several weeks with an elbow injury, came back briefly, and was just placed on the DL again. Unceremoniously, his Yankees' career ended with a devilish 6.66 ERA in 71.2 big league innings and a 3.83 ERA in 533 minor league innings.
* * *
Bill Pennington of The New York Times profiled Igawa back in July, an article that painted the Yankees in an unfavorable light, perhaps intentionally. Igawa, quiet, prideful and marching to the beat of his own drum, lived in his East Side apartment during the entire length of his contract, commuting to games in Scranton or Trenton or wherever with his translator Subaru Takeshita. He had trouble with the cultural transition and being away from his family for seven months a year, but he refused to go home to pitch in Japan. Cashman twice worked out a deal that would have sent Igawa to a Japanese club, but the now 32-year-old declined each time. It was made clear to him that he would not be returning the majors. The Yankees simply had no interest in seeing him wear their uniform again.
Igawa's tenure in pinstripes exemplifies the team's pitching failures over the last eight years or so. They paid top dollar for a less than elite talent, but because they are the Yankees, they were able to bury him in the minors and essentially eat the contract. Pitching up in the zone with a fastball that often failed to crack 90 mph was no recipe for success in the AL East, and the fly balls he produced often went over the fence and to the wall for extra bases. The Yankees received next to nothing for their investment, and will be free of the burden in the coming weeks. "It was a disaster," said Cashman recently. "We failed."