We've got four straight forward questions in this week's mailbag, so no nonsense answers today. Remember to use the always handy Submit A Tip box in the sidebar if you want to send in any questions during the week.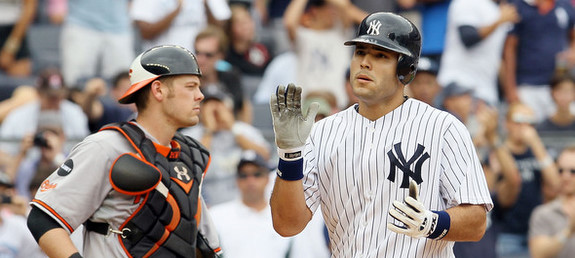 Will asks: What do you think of Jesus Montero's debut so far on the big league team? It seems like he's been striking out way too much. Do you think Montero has a good chance at making the playoff roster? And how much can we expect him to actually contribute?
I think Montero's been fine overall, neither great nor terrible. He obviously started out very well and has cooled off a bit (still at .313/.389/.542 overall), but that's a function of having just 54 plate appearances more than anything else. Yeah, the strikeout rate is high (27.8%), especially of late (11 whiffs in his last 28 PA), but it's not terribly surprising for a 21-year-old kid making his debut. Montero's shown that Yankee Stadium-friendly opposite field stroke and we've seen the power on display, so we know the tools are there. Regardless of what happens this month, good or bad, we weren't going to learn too much about the kid anyway.
As for the playoffs, yeah I think he makes the roster as the primary DH against lefties. We'll talk more about Jorge Posada in just a second, but I hope the team decides to leave the traditional backup catcher at home and rely on those two as emergency fill-ins should anything happen to Russell Martin.
Cliff asks: Not sure when you do these but I was curious if you think Posada is going to make the postseason roster. If not, do you think they will announce it before Sunday so we can give him a proper send off in the last home game?
I was pretty sure that Posada was going to make the playoff roster all along, but I think that AL East-winning hit on Wednesday cemented it. He can still hit righties (.270/.346/.464), so he's probably the best choice to platoon with Montero at DH. Plus Jorge can also be useful off the bench as a pinch-hitter and super emergency catcher. I don't put much stock in intangibles but they definitely do exist, so if nothing else, we know that Posada won't be overwhelmed by the moment in the postseason. He's been through all that already, and it's just one less thing the Yankees would have to worry about.
I would be very surprised if the Yankees announce that Jorge will not be on the playoff roster in time for the final home game,but like I said, I expect them to carry him on the roster. So that last point is basically moot.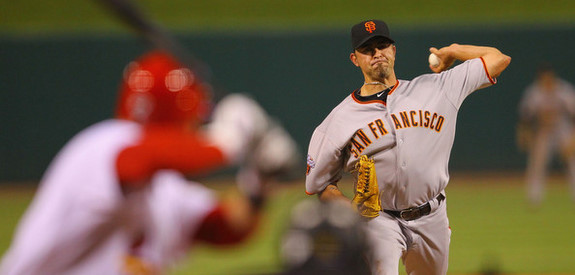 Scout asks: If the SF Giants decline his 2012 option, Jeremy Affeldt will become a free agent, and evidently without compensation. Does the lefthander make sense for the Yankees, assuming he will require a two-year deal?
Damaso Marte's contract expires after the season, so the Yankees have one of those $4M a year LOOGY spots to fill. We'll go more in depth with potential free agent targets and what not during the offseason (so I don't want to spoil it too much), but yeah, Affeldt would be a fine target. He held lefties to a .144/.206/.200 batting line with 24 strikeouts and just five walks in 97 PA this year, which is quite a bit better than the .245/.369/.365 batting line they posted against him from 2009-2010 (43 K, 29 BB in 195 PA). I think that has more to do with health than anything.
Affeldt, 32, still has pretty good stuff (low-to-mid-90's two and four-seamers with a curveball) and he has been really dominant against same -side batters when it comes to getting ground balls over the last few seasons. The Giants have a $5M club option for his services next year, but apparently it will be tough for them to bring both Affeldt and Javy Lopez back next season. I'm very much against multi-year deals for less than elite relievers, but the Yankees obviously aren't. Affeldt would definitely be an intriguing target after the season, assuming he hits the open market.
Daniel asks: With the success that Robertson has had this year and should he have a similar year next year, should he be made the closer after Rivera? If Rivera retires at the end of his current contract, the Yankees will still likely have Soriano for another year, and he has experience closing, but Robertson appears to be the better pitcher.
The one thing we have to remember is: how often do relievers have back-to-back elite years? The answer is not very often, so we shouldn't plan out the rest of David Robertson's career just yet. That said, he's obviously the best in-house replacement for Mariano Rivera, just like Phil Hughes was in 2009 and Joba Chamberlain was in 2007. I'd almost prefer that if Robertson does take over as closer, he does it as the guy that replaces Rivera's replacement. It's going to be impossible to fill Mo's shoes, and I suspect the natives will be restless if the new guy struggles out of the gate. We saw it when Tino Martinez took over for Don Mattingly, fans booed him like he kicked their dog or something.
Assuming Rivera retires after next year, the last season on his current contract, I'm not sure the worst move in the world would be to let Rafael Soriano (a.k.a. the Proven Closer™) close at first, then have Robertson replace him if he fails. And if he doesn't fail, then he'll be a free agent after the year and Robertson could step after that. The closer's job is overrated in general, and I think you can make a really strong argument that Robertson would be more valuable to the team pitching the seventh and/or eighth inning while a lesser reliever starts the ninth with a clean slate.