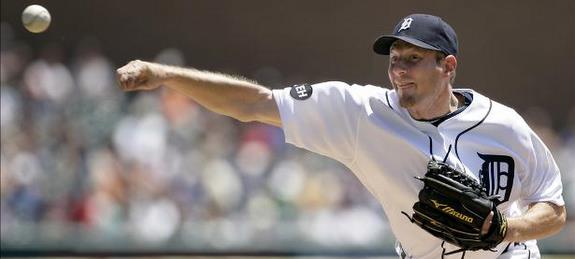 When we previewed Doug Fister yesterday, I mentioned that he had a pretty loose connection to the Yankees. Max Scherzer's connection to New York is much more ironclad. The 27-year-old right-hander was one of the seven players involved in the three-team trade that brought Curtis Granderson to the Yankees, though he went from the Diamondbacks to the Tigers. Scherzer will be charged with getting his team back in the series this afternoon following their Game One loss.
Performance
Scherzer started the year as Detroit's number two starter behind Justin Verlander, but he basically pitched his way out of that role by posting a 4.90 ERA (~4.40 FIP) through his first 18 starts. That's part of the reason why went out and traded for Fister. Scherzer finished well, pitching to a 3.89 ERA (~3.80 FIP) in his final 15 starts.
Always a high strikeout guy, Scherzer's strikeout rate decreased for the third straight season, down to a still stellar 8.03 K/9. He's gotten the walks under control (2.58 BB/9) but is a fly ball guy (40.3% grounders). I guess the best way to describe Scherzer is enigmatic; he had 20 starts of two runs or less, but also nine with five runs or more.
Pitch Selection

(via Texas Leaguers and FanGraphs)
Scherzer is basically two two-pitch pitchers. He'll rely on the fastball and slider against righties, and then the fastball and changeup against lefties. All three offerings have been essentially average this year (not much difference between ±0.5 runs from average per 100 pitches and zero), but the pure velocity of his fastball and the ten mile an hour separation between the heat and soft stuff make him tough to handle. Some deception in his delivery, courtesy of one of the most violent head whacks you'll ever see, helps his cause. Scherzer is definitely one of those guys with better stuff than results, but power repertoires always seem to play up this time of year.
Pitching Pattern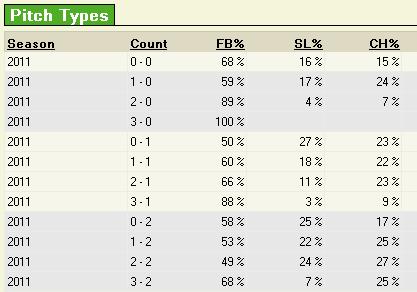 (via FanGraphs)
It's all fastball, all the time. Even when he's ahead in the count, there's still better than a 50-50 chance that Scherzer will go to his heat. I guess when you throw that hard, you should be proud of your fastball. [/Flaherty'd] Scherzer has been quite a bit better at home than on the road, and I'm guessing that's at least part of the reason why they scheduled him to pitch Game Three in Detroit. The weather threw a wrench into that, so perhaps the Yankees benefit. The good news is that they were the third best fastball hitting team in baseball this year, so Scherzer plays right to their strengths.