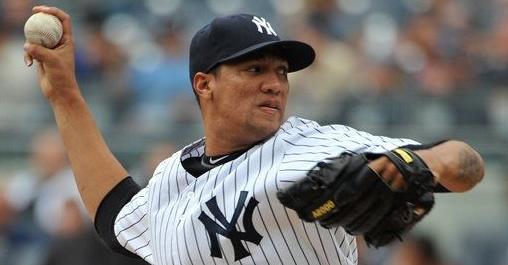 We've seen it every year of the Joe Girardi era. The Yankees finish the season with a bullpen that looks a whole lot different than the one they started the year with, and 2011 was no exception. Injuries and poor performance always play a part in that, but it's also a two-way street. The guys that do the replacing have to perform well enough to stick around. Let's look at three surprise contributors to the team's bullpen this past season…
Hector Noesi
The Yankees rotation was a bit of a mess early in the season, leaving the bullpen to pick up a lot of slack. Guys like Amaury Sanit and Buddy Carlyle came and went, but when the Yankees first called up Noesi on April 13th, he didn't pitch. He sat around in the bullpen until being sent back down nine days later. Noesi re-emerged from the minors on May 13th, and this time he got his chance. His first appearance came five days later,and he responded by throwing four scoreless frames in extra innings against the Orioles to earn his first big league win.
Noesi continued to get looks in long relief, including a six inning, two-run outing against the Red Sox on June 7th, and he even worked some one inning, higher leveraged spots from time to time. Two late season starts while the Yankees were lining up their playoff rotation didn't go so well, but he made a strong impression by posting a 4.09 FIP in 56.1 IP overall. His swing and miss rate (9.4%) was strong enough to forecast improvement to his 7.19 K/9 going forward, no matter what role he's given. The Yankees have Noesi on a strict pitch count in winter ball as he makes up for all the innings he lost while pitching out of the bullpen.
Cory Wade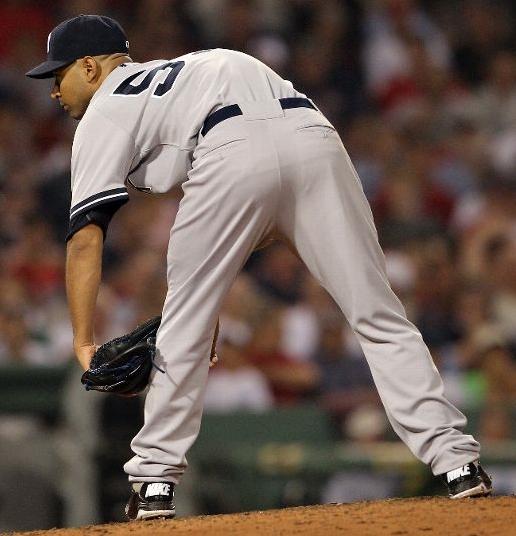 Signed to a minor league pact after being released by the Rays in mid-June, Wade made just a single appearance for the Yankees' Triple-A affiliate before being summoned to the big leagues. He made a great first impression by retiring the first 12 men he faced in pinstripes, and with both Joba Chamberlain and Rafael Soriano on the shelf with elbow injuries, Wade quickly stepped into the seventh inning role.
All told, Wade pitched to a 2.04 ERA with a 3.76 FIP in 39.2 IP for the Yankees. He was true to form with a low strikeout rate (6.81 K/9), low walk rate (1.82 BB/9), a high homerun rate (1.13 HR/9), getting by with dead fish changeups and lazy fly balls. Wade had a rough finish to the season, allowing back-to-back walk off hits to the Mariners and Blue Jays in mid-September before surrendering Dan Johnson's game-tying homer with two outs in the ninth inning of a final game of the season, but that's not enough to erase all the good. Wade is still under team control for another four years, including at the league minimum in 2012, so the Yankees did a fine job of plucking a solid middle relief option off the scrap heap.
Luis Ayala
One of many players the Yankees brought to camp on minor league contracts, Ayala had a strong showing in Spring Training (one run, nine strikeouts, zero walks in 11.1 IP) and earned one of the last Opening Day roster spots. A mid-April lat strain sent him to the DL, but Ayala returned in early-May and was arguably the best last-guy-in-the-bullpen in baseball. He racked up a 2.09 ERA (4.19 FIP) in 56 IP, relying on his 50% ground ball rate to survive.
We joked all year about how Ayala was the worst sub-2.00 ERA pitcher in history (he had a sub-2.00 ERA until the last game of the season), but he truly was a solid pitcher given how he was used. His 0.89 gmLI (Leverage Index when entering games) ranked 117th out of the 134 qualified relievers, meaning he did most of his work in low-leverage, blowout situations. Someone has to throw those innings though, and Ayala did a fine job when called upon. It would be a surprise if he returned next season (this is exactly the kind of guy you get rid of a year too soon rather than a year too late), but Ayala was a positive contributor to the 2011 Yankees.