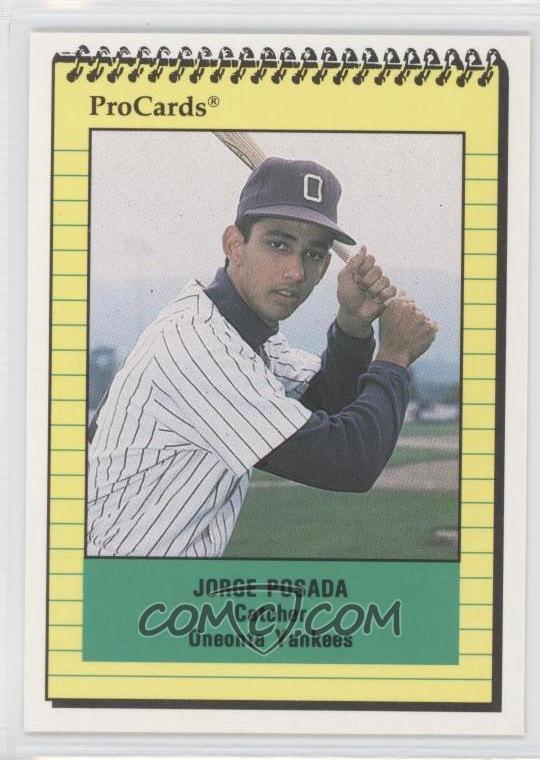 And then there were two.
As the Yankees gear up for an active off-season as the team prepares for the 2012 season, the clock is ticking inexorably forward for the players with whom I've grown up. Bernie Williams faded from view in 2006, Andy Pettitte stepped down after the wear and tear of 2010 grew to be too much, and now, it seems, it is Jorge's turn.
The erstwhile catcher turned part-time DH spoke on Wednesday night at a charity event for his foundation. He hasn't decided to hang it up yet, and a few Major League teams have come a-knockin'. The Yankees however are not one of them. "I don't think there's even a percentage of a chance that I can come back. It's not going to happen," Posada said.
I can't imagine Posada's emotions as the season ended. Drafted by the Yankees in the 1990 amateur draft when he was all of 19 years old, the Puerto Rican native has spent an eternity with the Yankee organization. In fact, only Mariano Rivera has been with the organization for longer. Over the past 17 years, Posada has earned more than $117 million from the Yanks, and he has put up numbers as a catcher that make him a serious contender for Cooperstown. He hit .273/.374/.474 with 275 home runs and starred in October on four World Series winners.
"I," Posada said, "will always be a Yankee. The Yankees for me is my second family. It would be tough to put on another uniform for real and learn another set of rules and all that stuff, but that's one of those things. I have to see if I want to keep playing."
Posada, who had a tough time coming to grips with a team that no longer needed his full services this year, knows what baseball is all about. After 17 years in the Majors with the same team, Jorge harbors no grudges. "At the end of the day, it's a business," he said. "You look back and you wish there was some things that could have gone differently, but they didn't. There's nothing I could control. Everything happened for a reason. I'm not bitter at the Yankees. I'm not bitter at Joe Girardi. I'm not bitter at Brian Cashman. It just happened."
We lived through the Posada drama this year. Mired in a bad slump, he benched himself when he was on the verge of hitting ninth. He ended the year at just .235/.315/.398 in 387 plate appearances, and he saw the future in Jesus Montero emerge in September. He isn't quite ready to call it a career though, and his .269/.348/.466 line against right-handers has made him a wanted man. Still, Jorge said, questions remain: "Do I want to do it for somebody else? Do I want to leave home? Do I want to do it all over again without knowing anybody? It would be tough. I've got great people, great friends and great teammates and it would be tough to learn new people again."
His wife last night expressed an interest in seeing Jorge play for the Marlins at a new stadium near their home. It would be the final hurrah of a great career, but I selfishly would rather not see him anywhere else. He's Jorge Posada, Yankee. Even as other Hall of Fame lifers have ended their careers elsewhere, I want to see my favorite players go out on top as proud Yankees. It's the cheesiness of the emotional impact of the game. Jorge was there through my teen years and well past college. Don't wind up playing out a perfunctory final season with Tampa Bay or the Marlins just to show the world you can.
Jorge told reporters last night that he doesn't know what he's going to do, but he said he's been talking to Bernie about it all. "Make sure you make the right decision," Jorge said Bernie told him. "Don't say or do something that you are going to regret." Go out on your own terms, go out when you want to, and hopefully after 20 years, go out a Yankee.