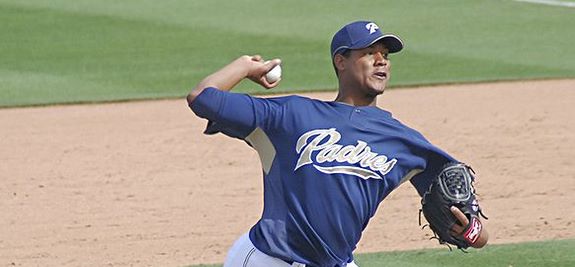 The Rule 5 Draft is almost like baseball's island of misfit toys. It takes place during the final day of the winter meetings (so next Thursday), and is designed to help blocked minor leaguers (with so many years of experience) get a chance with another team in the big leagues. It costs $50k to select a player, then you have to keep him on your active 25-man big league roster all season. If you don't, then you have to offer the player back to his old team. It's pretty simple, and very rarely does it yield big results (Joakim Soria, Johan Santana, and Josh Hamilton are the most notable Rule 5 success stories).
The Yankees have been pretty active in the Rule 5 Draft in recent years, taking three players (RHP Danny Turpen, LHP Robert Fish, OF Jamie Hoffmann) in the last two drafts. None of those guys made it all the way through Spring Training, but the Yankees did give them a pretty long look in camp. Five years ago they took veteran Josh Phelps, who they carried on the roster as a right-handed bench bat (.311 wOBA) through mid-June. It's not often a Rule 5 guy manages to stick even that long.
As usual, the Yankees really only have two spots to fit a Rule 5 player, either on the bench or in the bullpen. That's pretty typical, no club goes into the Rule 5 Draft looking for a star, they're just looking for useful spare parts. Here's three guys that are available and make some amount of sense for the Yankees, particularly this guy…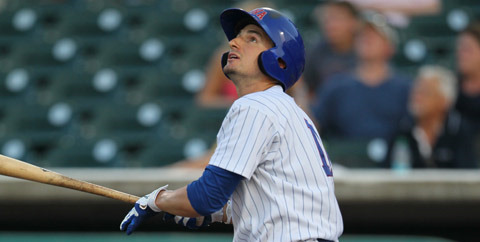 Ryan Flaherty, UTIL, Cubs
No relation to John Flaherty, Ryan was the 41st overall pick back in the 2008 draft, which Chicago received as compensation for losing Jason Kendall to the Royals. Yeah, the Cubs actually received a high draft pick for losing Kendall. Crazy. Anyway, they drafted Flaherty out of Vanderbilt, where he was overshadowed by Pedro Alvarez and some big power arms. He's steadily climbed the ladder since turning pro, reaching Triple-A for the first time this past season. The Cubs already have a ton of infield prospects on their 40-man roster, so they left Flaherty exposed to the Rule 5 Draft rather than clog up another spot.
The 25-year-old fits right into the Eric Chavez bench role quite perfectly. He's not the defender Chavez is (few are), but he makes up for it with versatility. Flaherty has extensive experience at second, third, and short, and he's also played a few dozen games in the corner outfield spots. He's also a left-handed hitter, a talented one that posted a .364 wOBA without a huge platoon split (.372 wOBA vs. RHP, .341 vs. LHP) between Double and Triple-A this year. That platoon split is consistent with the rest of his career. Flaherty has some power (career .184 ISO with 31+ doubles and 19+ homers in two of the last three years), draws a fair amount of walks (9.3% career walk rate), and doesn't strike out all that much (17.8%), even against southpaws. His makeup was also highly regarded back when he was drafted, and the Yankees have prioritized strong makeup in recent years.
Flaherty really does make a ton of sense for the Yankees, offering the kind of versatility and left-handed bat skills that would help balance out Eduardo Nunez and (the hopefully returning) Andruw Jones on the bench. Yankee Stadium could always help him get some more balls over the fence as well. Flaherty makes so much sense for the Yankees that I think they should trade up to make sure they get him*, which is something I don't think I've ever said about a Rule 5 guy. They've got a chance to add a real useful (and real cheap) piece to their bench with this guy.
* You can't trade picks, but Rule 5 Draft guys do get traded as players to be named later. Usually one team will offer another $100k — twice the Rule 5 Draft fee — and in return the second team will pick the guy the first team wants and send him over as the player to be named. The Yankees kinda sorta did this with Brian Bruney and Hoffmann two years ago.

Phillippe Valiquette, LHP, Mariners
Perhaps the most hyped player available in the Rule 5 Draft, Valiquette has been getting some serious buzz after Keith Law mentioned that he's a lefty capable of running his fastball up to 99 last week. The problem is that he's had trouble staying healthy (didn't pitch at all in 2011 because of an elbow problem) and doesn't have much of a secondary pitch or a feel for pitching. He's a classic thrower. Despite that big fastball, he's only struck out 7.2 batters per nine in his career (4.4 BB/9) while working almost exclusively out of the bullpen. Teams will line up for days to take a chance at hard-throwing lefties, but Valiquette is a very long shot. The Yankees have almost no chance to get him without trading up.
Trevor Reckling, LHP, Angels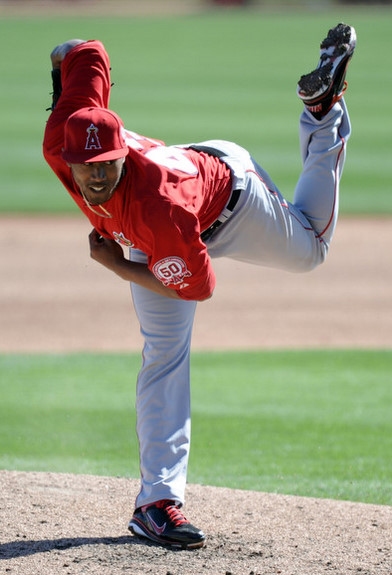 Reckling, 22, was considered the Halos' fourth best prospect by Baseball America just two years ago, four spots ahead of the now crazy good Tyler Skaggs and five spots ahead of Jordan Walden. He's taken a step backwards since then, and his 2011 season ended in mid-July thanks to a sprained elbow ligament. Reckling did not have surgery, and as far as I know he'll be ready in time for Spring Training.
The numbers over the last two years are pretty awful, we're talking a 5.34 ERA with 4.36 BB/9 and 6.21 K/9 in 247.2 IP between Double and Triple-A. Any team that takes a flier on Reckling would be doing so on the scouting report, which includes a low-90's fastball and a pair of sliders, a sweepy mid-70's version and a snappier low-80's version. He's also got a herky jerky delivery (seen here) that allows him to hide the ball well but probably also contributes to his control problems. After four years of working exclusively as a starter and with his development stalled out, a change of scenery and role could be in order. Whatever team takes Reckling (if anyone does) will probably just tell him to go to the bullpen, shut off his brain, and just air it out for an inning at a time with his two best pitches.
* * *
The Yankees protected five players from the Rule 5 Draft, with the most notable unprotected guy being Pat Venditte. Some team will assuredly select the switch pitcher, even if it's just to see what he's got in Spring Training. They'll likely get him back though, just like they did when the Padres took Ivan Nova back in 2008. New York's one empty 40-man roster spot figures to go to Freddy Garcia at some point soon, and the deadline for clubs to set their roster prior to the Rule 5 Draft is next Monday. You can't select a player without having an open spot, so the Yankees are probably going to have to give someone the axe if they want to take Flaherty, which they totally should.