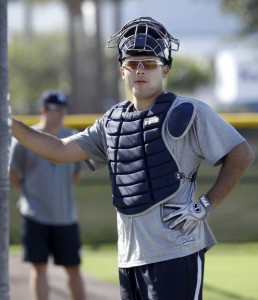 Ten days after the agreement was reported, the trade sending Jesus Montero and Hector Noesi to the Mariners in exchange for Michael Pineda and Jose Campos was made official yesterday. The Yankees dealt away their best position player prospect since Derek Jeter, a guy most of us thought was pretty close to untouchable over the last four years or so. That wasn't the case though, it never is. Brian Cashman is fond of saying that "no one is untouchable, but some are more touchable than others." That continues to be true.
For starters, the Yankees have dangled Montero in trade talks several times in the past. They weren't going to give him away, but he was out there if someone was serious about swinging a deal. The Yankees offered him to the Blue Jays for Roy Halladay during the 2009-2010 offseason, and of course there was the Cliff Lee non-trade fiasco. Other teams have asked for him over the years — the White Sox for John Danks, the Athletics for Gio Gonzalez, the Rockies for Ubaldo Jimenez — and that's just the stuff we know about. As much as we maybe didn't want to believe it, Montero was very available.
We all know about the long-term position and defensive questions Montero carried, but chances are the team had some other concerns that contributed to their willingness to trade him. Allow me to excerpt The Star-Ledger's Jeff Bradley…
"A big-time talent," [VP of Baseball Ops Mark Newman] said of Montero. "There's no one questioning his talent. But he hasn't had a great year with the bat this year. We expected more, honestly."

Newman went on to say, "The biggest deal for him is maturity. I've been doing this a while and I don't know how you significantly accelerate the maturation process. You can put him around mature people, but he's got a ways to go in figuring out how this game works and how this world works. He's bright. I think he'll eventually get it. The discipline and turmoil that he's had to deal with is part of the process. You've got to deal with stuff. You've got to take the training wheels off. That's what he's going through."

When asked if Montero had allowed his hopes of making the Yankees roster out of spring training last year get too high, Newman nodded. "He thought he had a chance to make the team in spring training. He thought he was the best player here at Triple-A last year. Now, he sees (Eduardo) Nunez is up there doing well. He thinks, 'I was better than him.' He sees Hector Noesi, Ivan Nova, and he thinks, 'I was better than all of them, and they're up there and I'm down here.' I had a zillion conversations with him about that. But his case is not unique. These guys are down here reading the blogs about themselves, where even a few years ago, players moved through development stages in anonymity."
Now, just to be 100% clear, these comments are not recent. They were made back around the trade deadline according to Bradley. It's not like Newman is throwing Montero under the bus on his way out the door Red Sox-style, he voiced these concerns when the kid was still in the organization and six months before he was traded away.
The idea that Montero was "bored" in Triple-A this past summer is nothing new, but that's not the only incident (if you can actually call that an incident) that involved a lack of maturity on his part. Remember, the Yankees did bench him for a few games in 2010 because he didn't run out a ground ball, and they benched him again in 2011 because his play lacked "energy." During yesterday's trade announcement conference call, Montero admitted that Alex Rodriguez stepped in and threatened to fine him $100 a day last September because he wasn't spending enough time in the batting cage. There's the whole "boys will be boys" mindset, especially when you're talking about kids this young after they were handed a boatload of money. I have no doubt a sense of entitlement comes into play.
The Yankees know way more about Montero and his maturity level — both as a person and as a player — than we ever will, and we really can't say that they had legitimate long-term concerns about him with any certainty. I've always been of the belief that talents reigns supreme, and I'll live with the occasional bad apple or grumpy player as long as he's productive on the field. The Yankees seem to have placed a renewed emphasis on strong work ethic and makeup, and in recent years they've sought out players with those traits in free agency, trades, and even the draft. Maybe they felt Montero didn't fit the mold despite his ability to hit baseballs a long way.