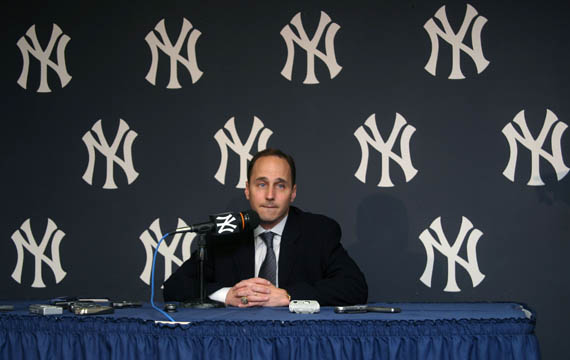 The offseason is the worst.
Not just for the total lack of baseball, though that's a pretty big chunk of it. Not just the lesser sports which we are all forced to tolerate while we wait for our gentleman's game to come back. There's also that the decisions made during the cold winter months are a lot more permanent than the year-to-year fluctuations players have with their numbers. You can excuse away a bad year, especially if you're trying really hard, but it's not as easy to do so with a whopper of a trade or a big signing. Rationalizing a low average with caught line drives or a low OBP with a large strike zone against is one thing, but there's no such protections with a big roster moves.
When the season starts, all — or many of — the numbers are influenced by randomness and factors that neither the players nor the ownerships/front office can control. That makes it easy for a fan looking for upside to feel better about his or her self. Every particular at-bat and game has so much go into it that, in most cases, there's a bright side. Maybe the team was robbed of some stellar line drives. Maybe it was a display of warning track power. Maybe you were no-hit, but the opposing pitcher was so dominant it wasn't even fair. Game-to-game stuff like a win or a loss can be rationalized.
Players, too. The perfect example for this is, of course, Adam Dunn. I don't think anyone expects Adam Dunn to be as legitimately downright vomit awful as he was in 2011. That's impossible, right? It could happen, I guess, but I (and many experts, and I assume Kenny Williams) don't think so. Having a year like that means everything goes wrong all at once. So White Sox fans can comfort themselves knowing things will probably get better, even if Dunn isn't the hitter he used to be. Yankees fans can have plenty of optimism in this area as well: maybe Derek Jeter stays that second-half monster he became after his injury. Maybe Alex Rodriguez stays healthy with his experimental knee surgery and his still-impressive power. Maybe Eduardo Nunez learns to field. Maybe Mark Teixeira stops hitting so many pop-ups. But even if they don't, there's lots of statistical noise here we can use to rationalize it. A.J. Burnett is a victim of a high HR/FB rate, for example. He's going to be bad. But he could be slightly better.*
During the offseason, there's nothing you can do after or during a trade. You're stuck with the players your GM picked pick up, so here's hoping they're good ones. There's no statistical noise in 'Jesus Montero was just traded for Michael Pineda.' You just have to hope that Brian Cashman knows what he's doing (I personally do), and that everything will work out. It's not like next year, Cashman gets to try again and see if he can get more for Montero, or if Montero has a massive year and Pineda's awful, he gets to tweak the trade like a player's mechanics to make it better. Once a trade or signing is done, that's it. So long, thanks for all the fish. Hope everything turns out well for your team. Maybe it won't! Of course, maybe you've traded Nick Swisher for Wilson Betemit.
There's no going back. Not being able to go back is scary. All you've got left is this new guy, looking around at his new environment and staring at the hole he's expected to fill from the guy you kicked out. And that's on top of hoping that the GM wasn't emotional about this, either: having your top prospect being traded for peanuts because he hates your bunt-loving manager sounds pretty damn awful to me. You're not gonna be able to blame that on a torn muscle.
I don't know how I feel about the Montero/Pineda trade. It could be great. It could be awful. It makes perfect sense in my head, what with New York needing arms and Seattle needing a bat (especially considering Cashman has been trying to give Montero to Seattle for a while now), but that's a different statement than if I I like it. I guess it's hard to make a decision because whether I like it or not, that's the way it is. Even if I hate it, I don't hate it enough to stop being a Yankees fan – Pineda's an exciting possibility, he's shown he's capable, and he's got a hell of a slider. Of course, like all Yankees fans, I loved Jesus Montero like you love a baseball player — that screaming power, the youth, the team control, all the potential and none of the inevitable disappointment. I'm sure I'll either grow to love Pineda (in a good ending), or have bitter, hateful thoughts at Montero getting AL MVP and decide the world is a joyless, terrible place (in a bad ending). That's just how being a fan is. The fact is, of these players will be subject to the random variation that comes with the long baseball season, and we'll be justifying what they do no matter what. But we're stuck with who we got, and all we can do is hope it all works out. (For us, not for them. Sorry, Jesus.)
* I get some kind of sick masochistic joy out of defending A.J. Burnett. I don't know either.
** For other views on the Montero/Pineda trade, I, like Mike, strongly advise Lookout Landing, The Best Mariners Blog.
*** Sorry I've been absent for a while. You will now be subject to me on a more regular basis.