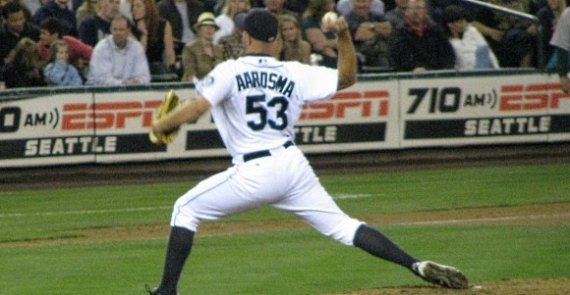 Bryan Hoch reports that the Yankees have signed right-handed relief pitcher David Aardsma to a MLB contract for 2012, with a team option for 2013. Aardsma, 30, missed the entire 2011 season due to hip and elbow troubles, though he didn't undergo Tommy John surgery until July. That means he'll be out until at least this July, meaning he could help the Yankees in the second half. The bigger part of the move, however, is the team option for 2013. That gives the Yankees one more in-house bullpen option, which could come in handy should Mariano Rivera retire and Rafael Soriano opt out of his contract.
Aardsma first made a splash in 2003, when he closed games for the College World Series Champion Rice Owls. He holds Rice records for both single-season and career saves. From there it was onto the MLB draft, where the Giants selected him number 22 overall in 2003. He threw 18.1 innings for their advanced-A club that year, dominating the competition — he struck out 28 of the 74 batters he faced. Following the season Baseball America ranked him the Giants' No. 3 prospect, one spot behind Matt Cain.
Things get a bit confusing here. Baseball America says that at Rice he ditched his slider for a knuckle-curve, and that his changeup is "major league-ready." Yet Baseball Info Solutions data suggests he barely used either his changeup or his curve, instead opting for a slider. Pitch f/x, once introduced in 2007, confirms that he's mainly a fastball-slider guy, with some splitter mixed in. Classification issues make it tough to determine how frequently he has used the splitter in the past; before 2010 many splitters were lumped in with his fastballs, but in 2010 he threw the splitter about 13 percent of the time.
As is the case with so many highly ranked prospects, Aardsma struggled out of the gate. His 10.2 innings in 2004 went about as poorly as possible; in those innings he walked 10 and struck out five. He did continue striking out a fair number of hitters in the minors, about one per inning, though his control remained an issue. In 2005, after seeing his strikeout rate dip below six-per-nine at the AA level, the Giants dished him to the Cubs in exchange for LaTroy Hawkins. While his strikeout numbers rose in the Southern League, he control problems lingered.
In 2006 Aardsma would return to the bigs. He was intriguing in ways, because he found ways to strike out batters. Unfortunately, he also walked far, far too many. A high strand rate saved him in 2006, but when that started to dip in later years his ERA suffered greatly. From 2006 through 2008, during which time he pitched for three different teams, he sported a 5.17 ERA. Despite striking out exactly one batter per inning during that span, he could not maintain a decent strikeout-to-walk ratio, putting 80 men on or free — 75 of them unintentionally. He was also incredibly hittable in that period, allowing almost a hit per inning. Combined with the walks, it was easy to see why, despite his strikeout tendencies, he just couldn't keep runs off the board.
Before the 2009 season the Red Sox traded Aardsma to the Mariners for some forgettable minor leaguer. Something apparently clicked during his time in the Pacific Northwest. Last winter Matthew Carruth of Lookout Landing examined what changed with Aardsma when he came to Seattle. It wasn't necessarily the huge park, though that surely helped a bit. Instead, Aardsma apparently focused on his fastball more, challenging hitters up in the zone and generating some more swings and misses. Pitching higher in the zone led to plenty more fly balls, but he did keep them in the park (even against lefties, who do not have nearly as hard a time as righties at Safeco).
For a $500K guarantee, the Yankees essentially made a mid-season bullpen acquisition. True, with Joba Chamberlain returning ahead of Aardsma, the bullpen could be full. But that's only if nothing goes wrong. Aardsma provides some mid-season insurance. Still, he might not be all the way back from surgery. Since control is the last thing to come back after Tommy John, he could be pretty rough around the edges in 2012. That's why the Yankees got a 2013 club option. If he shows flashes of his 2009 and 2010 self, the Yankees can keep him around to help the 2013 bullpen.
It's odd to see the Yankees hand out a major league contract to a pitcher who missed all of 2011 with elbow woes. But, given the ease with which they can add Aardsma to the 60-day DL, it doesn't make a huge difference. They can keep his 40-man roster spot free whenever they need it. In fact, he'll probably hit the 60-day DL once the Eric Chavez signing becomes official. While there's risk involved in the signing, it's at a low level. The payoff can be huge, especially for the 2013 team.