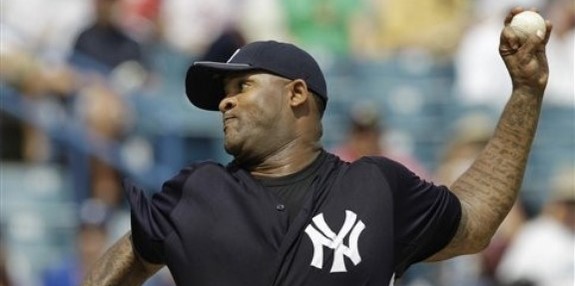 During the pitching-starved days of the mid-aughts, the Yankees seemed to tax their bullpen on a nightly basis, because their starters were unable to pitch any more than five or six innings. That started to change a few years ago as the team added some quality starters and offense around the league declined in general, and now the club has no fewer than three starters who can be counted on for six strong innings. Back in the day it was just one, before age started to catch up with Mike Mussina.
The Yankees got 979.1 IP out of their starters last season (6.05 IP per game), the eighth most in the AL and the 14th most in baseball. That total is up from 973 IP in 2010 (ninth and 14th, respectively) and 935 IP in 2009 (tenth and 19th, respectively). There isn't very much correlation between starter innings and team winning percentage, but there is a strong correlation between starter innings and overall runs allowed. Relievers are relievers for a reason; they're typically inferior pitchers and the more time the starters spend on the mound, the better. Here's a look at the Yankees' innings guys for this coming season.
CC Sabathia
There is no greater workhorse in baseball than Sabathia. The burly left-hander has topped the 230 IP plateau in each of his three seasons with the Yankees and in each of his last five seasons overall. Including playoffs, he's thrown an ungodly 766 IP in just three years with New York. His 1,199 IP since the start of 2007 are the most in baseball, and only Roy Halladay (1,194.2) is within 50 IP of his total.
Sabathia has made 67 starts over the last two seasons, and only once has he failed to complete five innings. That was May 8th of 2010, when a rain delay forced him from the game at 85 pitches with two outs in the fifth. His current streak of 60 consecutive starts with at least five innings pitched is the longest in baseball, eight more than Justin Verlander and 14 more than Jeremy Guthrie. Sabathia has more starts of at least eight innings (28) with the Yankees than starts of six or fewer innings (21). There are few things in baseball more certain than CC taking the ball and pitching deep into the game 30+ times a year.
Hiroki Kuroda
As a veteran starter, the Yankees are expecting peace of mind from Kuroda. He's supposed to just take the ball every five days and pitch as deep into the game as possible with as little drama as possible, kinda like the old Andy Pettitte mentality. Pitching like an ace isn't required, but the expectation is a solid performance good enough for a win each time out. It sounds simple enough, but we all know these things are never easy.
Because he was pitching in the NL and for a bad offensive team, Kuroda was often lifted for a pinch-hitter despite having gas left in the tank in recent years. Just last season he was removed from a game with fewer than 100 pitches before the start of the seventh inning 11 times. It's 40 times since the start of 2009, or nearly half of his 83 starts. Hiroki has averaged just 15.6 pitches per inning during that time, yet only 6.1 innings per start. The Yankees won't have to worry about pinch-hitting for him, so Joe Girardi is free to let Kuroda throw 100+ pitches each time out in 2012.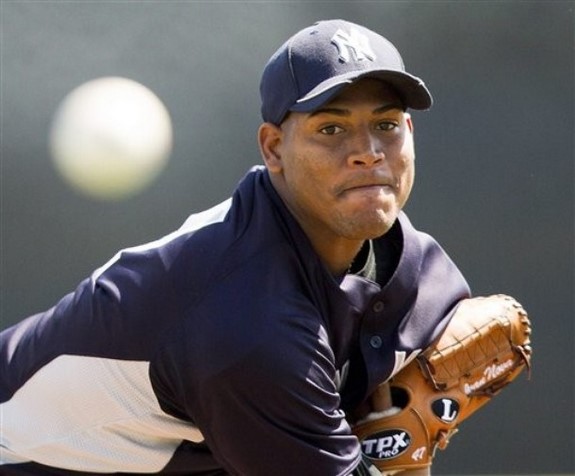 Ivan Nova
The Yankees have done some mind-numbingly stupid things to control the innings of their young hurlers in recent years, but Nova is the rare exception. He's thrown at least 180 innings and made at least 30 starts in each of the last two seasons (majors and minors but not including playoffs), and at least 140 IP in each of the last four seasons*. Nova has never been on the disabled list, and his first serious injury came in Game Five of last year's ALDS. His strained flexor is 100% healed however, and he's been able to go full bore since Day One of Spring Training.
*  We're fudging a bit for 2009, when Nova threw 139.1 minor league innings. He was a Rule 5 Draft pick of the Padres that year, and the Yankees had to send him to Extended Spring Training briefly because San Diego used him as a reliever in camp and he hadn't been properly stretched out.
After struggling to get through the order multiple times early in the season, Nova used his improved slider to complete at least seven innings in seven of his 12 starts after returning from the minors. He was also very pitch efficient down the stretch, averaging just 14.5 pitches per inning after the All-Star break. Only six pitchers were more efficient in the second half (min. 60 IP), and only one of those six pitched in the AL (Doug Fister). More of the same would be just dandy in 2012.
* * *
Although Phil Hughes remains a question mark and Freddy Garcia has been a five-and-fly starter the last two seasons (averaged 5.2 IP per start), Michael Pineda's workload isn't much of a concern. He threw 171 IP for the Mariners last season, up just 31.2 IP from 2010. It was his third time over 138 IP in the last four years, with the one exception being 2009. A sore elbow cost him three months that summer, but otherwise he's been healthy throughout his career. Pineda is poised for 200 IP in 2012, though I don't think giving him a little two-week vacation at the All-Star break would be the worst thing in the world since he figures to be part of a potential playoff rotation.