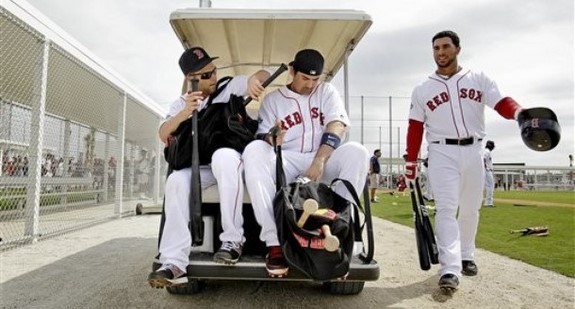 Earlier today we briefly discussed Ivan Nova's recent fastball command issues, which is something he'll try to correct against the Red Sox tonight. The game itself doesn't mean anything, but because it's part of the rivalry it will surely get more attention than it actually deserves. Hopefully Nova gets his fastball going where he wants, hopefully everyone makes it through healthy, and hopefully the Yankees win. If they don't, no big deal. We'd all sacrifice the latter to ensure the first two go well. Here's the starting lineup…
CF Brett Gardner
C Russell Martin
3B Alex Rodriguez
1B Mark Teixeira
DH Raul Ibanez
RF Andruw Jones
2B Bill Hall
LF Jayson Nix
SS Doug Bernier
RHP Ivan Nova
Available Pitchers: RHP Mariano Rivera is scheduled to follow Nova. RHP David Phelps, LHP Boone Logan, LHP Clay Rapada, RHP Cory Wade, LHP Cesar Cabral, RHP Adam Miller, RHP Ryan Pope, and RHP Chase Whitley are also available.
Available Position Players: C Gus Molina, 1B Jorge Vazquez, IF David Adams, IF Ramiro Pena, OF Justin Maxwell, OF Melky Mesa, OF Zoilo Almonte, and DH Chris Dickerson are scheduled to replace the starters.
The game is scheduled to start at 7:05pm ET and can be seen on YES, MLB Network, MLB.tv, or MLB.com. Enjoy.