The Yankees enjoy a much needed — for the bullpen, anyway — day off today before heading to Boston for a four-game set this weekend. They'll play one tomorrow, two on Saturday, one on Sunday, then will have four days off for the All-Star break. Everyone will get to recharge the (physical and mental) batteries before getting into the dog days of summer and the stretch drive. The break gives everyone a rest and just as importantly, it gives the Yankees a chance to manipulate and optimize their roster in the short-term.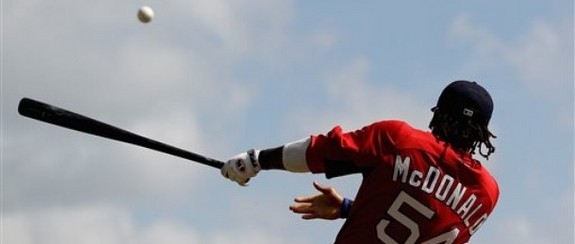 Darnell McDonald
It seemed like a curious move at the time but the picture became clear once we had a second to sit back and think about it. The Yankees claimed outfielder Darnell McDonald off waivers from the Red Sox yesterday, adding a right-handed bat known for hitting lefties (career .345 wOBA vs. LHP) and capable of playing all three outfield spots. He'll be in uniform at Fenway Park tomorrow.
The move wasn't made to replace Dewayne Wise or Andruw Jones, the move was made to add McDonald to them. Although the team has not confirmed their plans, they're almost certainly going to option David Phelps to the minors and roll with a five-man bench over the weekend. Phelps started yesterday and wasn't scheduled to pitch this weekend, so the Yankees won't miss him. With Boston scheduled to thrown three southpaws — Franklin Morales, Felix Doubront, and Jon Lester — in the four games this weekend, expect to see McDonald in left and Jones at DH with both Wise and Raul Ibanez available off the bench.
CC Sabathia
Once Phelps goes down he is ineligible to return for ten days, but that won't be an issue since Sabathia is expected to come off the DL right after the break. The big left-hander played catch yesterday and will throw his first bullpen session since hitting the DL tomorrow, and so far all indications are that he's a go once his 15 days up. Phelps will be able to continue to work as a starter in Triple-A, accumulating innings and threatening to take Freddy Garcia's roster spot.
The Yankees can push Sabathia back to the fifth game after the All-Star break, which is Tuesday the 17th. They play three games against the Angels and will likely see C.J. Wilson at some point, so McDonald should be useful for at least one game that series. They'll then play the Blue Jays, who have three lefties — Ricky Romero, Brett Cecil, and Aaron Laffey — in their rotation. Odds are in favor of them seeing one of those guys in the series opener, which McDonald could start before being released to clear a roster spot for Sabathia in the second game, getting the Yankees back to a 12-man pitching staff and four-man bench.

The 26th Man
Thanks to the new Collective Bargaining Agreement, the Yankees (and Red Sox) will be allowed to carry a 26th man for both games on Saturday. It has to be the same player for both games and he must be sent back to the minors the next day. George King says the Yankees will bring back Cory Wade for the day, giving them seven available relievers on Saturday. Wade threw a perfect inning on nine pitches in his first Triple-A outing yesterday as he tries to get his location back to where it needs to be.
The Yankees will still have the option of swapping out a regular 25-man reliever between games if they want. Say Cody Eppley ends up throwing 30 pitches in the first game, they could then send him down before the second game for someone like Justin Thomas — who was going to be recalled prior to the Chad Qualls trade — for the nightcap. The third lefty reliever could come in hand against the Sox, but it also may be overkill. It is an option though, and I figure they'll at least have an extra Triple-A arm waiting at the hotel in case they need to make a between-games move.
* * *
These four games in three days against the Red Sox are happening in isolation, at least as much as any early-July series could happen in isolation. Both teams are off today and the All-Star break follows next week, so both clubs will be rested with the opportunity to manipulate their roster. It's almost like a little playoff series, but between a first place team and a last place team. The Yankees added a right-handed bat to combat Boston's three lefties and won't have to worry about the pitching staff being short-handed this weekend, which is pretty sweet. There would also be something deliciously ironic about McDonald getting a big hit or two this weekend after Boston him cast him aside.