During the next few days we'll take some time to review the first half of the season and look at which Yankees are meeting expectations, exceeding expectations, and falling short of expectations. What else is the All-Star break good for?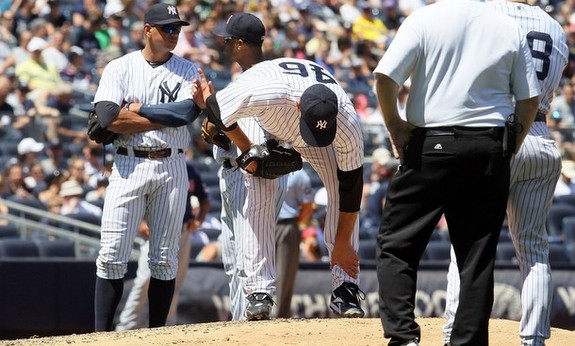 It takes a total team effort to finish the first half with the best record in baseball, and the Yankees have already used 35 different players this season. Not all of them have made a significant contributions though, mostly because they simply haven't had a chance to play all that much. I'm talking up-and-down relievers, miscellaneous fill-ins, and those who got injured.
Andy Pettitte
Blame Casey Kotchman. He hit the one-hop ground ball that fractured Pettitte's left ankle on June 27th and will cause the left-hander to miss no fewer than two months. Prior to the injury, Andy's return from retirement was a smashing success. He pitched to a 3.22 ERA (3.37 FIP) in 58.2 innings with ungodly peripherals: 9.05 K/9 (25.2 K%), 2.30 BB/9 (6.4 BB%), and 58.3% grounders. The strikeout and ground ball numbers are career bests by not small margins and the walk rate is more than half-a-walk better than his career average.
Obviously there are sample size issues with that, but what's done is done. Pettitte pitched that well in his nine starts and the Yankees will miss him immensely in the second half. It's unclear if he'll come back with that kind of effectiveness — the injury was to his push-off leg — or if he'll even come back period. Andy could decide that the rehab and getting back into playing shape is just too much. I wouldn't bet on it, but you never know. It was a fluke injury, it happens, but it still put a major damper on the best story of the season.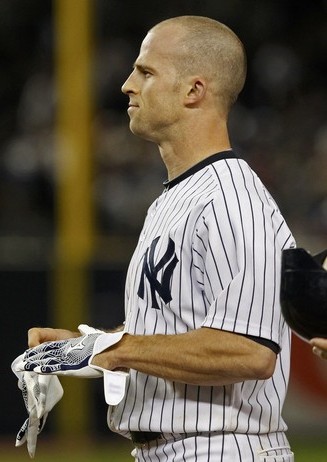 Brett Gardner
The Yankees have gotten exactly nine games out of Gardner this year. He didn't even start two of them, he came off the bench to play defense for exactly one inning each time. Those nine games include 34 plate appearances (.321/.424/.393 with two steals) and 14 defensive chances. That's it, that's all they've gotten out of Gardner in 2012.
An elbow injury suffered while making a sliding catch against the Twins is the culprit. It was diagnosed as a bone bruise and an elbow strain, and twice Gardner has suffered setbacks after working his way back in minor league rehab games. He's not expected back until the end of this month at the earliest, over 100 games into the season. The Yankees have done just fine without Gardner in the lineup and in left field, but they sorely lack team speed and the defense can always use an upgrade. His absence has been notable.
D.J. Mitchell & Adam Warren
We figured we would see these two — and David Phelps as well — at some point this season, and it didn't take all that long. Mitchell made his debut in relief in early-May and has thrown a total of 3.2 innings across two stints and three appearances with the big league club. He's allowed one run, five hits, and one walk in that time. The Yankees are carrying him as a long reliever right now due to the Pettitte and CC Sabathia injuries, so he has a chance to stick around by simply pitching well and soaking up innings.
Warren's introduction to the big leagues wasn't nearly as kind. The White Sox tattooed him for six runs on eight hits and two walks in just 2.1 innings late last month, his only appearance for the team. The Yankees called him up as an emergency replacement for Sabathia and sent him back to Triple-A the next day. You only get one debut and it wasn't a good one for Warren, but he'll surely get another chance to help the team at some point.
Chad Qualls, Darnell McDonald & Ryota Igarashi
All three midseason additions, all three having minimum impact thus far. Qualls was acquired from the Phillies in a minor trade less than two weeks ago and has allowed one run in his three appearances so far. He'll stick around as a sixth or seventh inning matchup guy for the time being. McDonald was claimed off waivers from the Red Sox last week and went hitless in four plate appearances against his former team last weekend. He'll most likely be remembered for causing Curtis Granderson to drop a routine pop-up on Saturday night. Igarashi has made all of one appearance for the Yankees since being claimed off waivers from the Blue Jays earlier this year, allowing one run in one inning against the Mets. He'll ride the Triple-A shuttle a few more times in the second half.