The Yankees have 35 total games left to play this season and whopping ten of them will be against the Blue Jays. They've won five of eight against Toronto already this season, and the first three of those final ten will be played in the Bronx this week.
What Have They Done Lately?
The Jays were rained out yesterday, sparing them a potential eighth consecutive loss. Toronto has won just five of 23 games this month, dropping them to 56-70 (-37 run differential) on the season. They're 17 back of the Yankees in the loss column and have the third worst record in the league.
Offense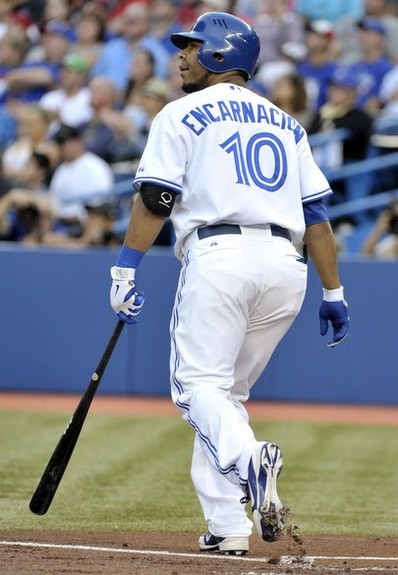 The Blue Jays average a bit more than 4.5 runs per game with a team 96 wRC+, so they're pretty much right in the middle of the pack offensively. Jose Bautista (138 wRC+) recently came off the DL after missing more than a month with a wrist problem originally suffered on a swing taken against David Robertson, but he felt more discomfort in the wrist in his second game back and has since been placed back on the DL. The Yankees are catching a break and won't have to see the game's greatest homerun hitter this week.
Injuries have decimated Toronto, but they still have the very dangerous Edwin Encarnacion (160 wRC+) anchoring the heart of the order. Regulars Yunel Escobar (69), Kelly Johnson (86), Adam Lind (87), and Colby Rasmus (91) have avoided the injury bug for the time being but are still underperforming. Moises Sierra (98 wRC+) have done well with his opportunity and Rajai Davis (97 wRC+) has been fine, but Mike McCoy (66 wRC+) and Adeiny Hechavarria (16 wRC+) have not. The catching tandem of Jeff Mathis (76 wRC+) and Yorvit Torrealba (72 wRC+) doesn't scare anyone, and neither does Omar Vizquel (35 wRC+). The Jays are rolling with a three-man bench these days because of all the injuries to the pitching staff.
Pitching Matchups
Monday: RHP David Phelps vs. RHP Henderson Alvarez
When these two clubs met last month, Alvarez struck out a career-high six batters while allowing two runs in six innings. The 22-year-old has managed to stay healthy and make 24 starts this season, pitching to a 4.84 ERA (5.18 FIP). His 3.43 K/9 (8.8 K%) is the second lowest among all qualified pitchers this year, better than only current Yankee Derek Lowe. Alvarez's walk (2.51 BB/9 and 6.4 BB%) and ground ball (56.5%) rates are pretty excellent, however. He's a three-pitch pitcher, with a fastball that sits in the low-to-mid-90s and two mid-80s offspeed pitches (slider and changeup). Hopefully the Yankees make some adjustments from their last look at the young right-hander.

Tuesday: RHP Phil Hughes vs. LHP Ricky Romero
It's been a disaster season for Romero, who in his last start became the first pitcher in four years and second pitcher in 21 years to walk eight while striking out zero. He owns a 5.63 ERA (5.17 FIP) with career worst strikeout (6.04 K/9 and 15.0 K%), walk (5.05 BB/9 and 12.9 BB%), and homer (1.05 HR/9) rates. His 54.1% ground ball rate is in line with career norms. Romero, 27, remains the same guy in terms of stuff — low-90s two- and four-seamer, low-80s changeup, upper-70s curveball — but his command has been awful and he's making too many mistakes. The Yankees roughed him earlier this year and have seen enough of the southpaw in recent years to know what to expect.
Wednesday: LHP CC Sabathia vs. LHP J.A. Happ
The Jays acquired Happ as part of a ten-player swap last month to help cover for some of those injuries, and he's allowed just two earned runs total in his last two starts (6 IP vs. Rangers and 7.1 IP vs. Tigers). You might remember that he stifled the Yankees for about five innings a few weeks ago before things fell apart late. The 29-year-old Happ owns a 4.68 ERA (4.13 FIP) overall this year with strong strikeout (8.62 K/9 and 22.3 K%) and walk (3.27 BB/9 and 8.5 BB%) numbers. The ground ball rate (44.3%) is decent enough, but the homer rate (1.27 HR/9) is pretty terrible. Happ is a four-pitch guy, using two fastballs (two- and four-seamer) right at 90 and two breaking balls (low-80s slider and upper-70s curve). His low-80s change is a distant fifth offering, so maybe call him a 4.5-pitch guy.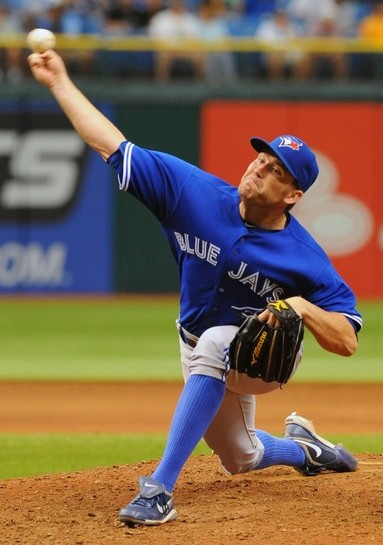 Bullpen Status
The rain out yesterday means manager John Farrell has a very fresh bullpen. They're carrying eight relievers, highlighted by closer Casey Janssen (3.06 FIP) and the left/right setup duo of Darren Oliver (3.03 FIP) and Brandon Lyon (2.75 FIP). Second lefty Aaron Loup (1.87 FIP) has done well in his limited time, and the rest of the relief corps features right-handers Carlos Villanueva (4.96 FIP), Steve Delabar (4.64 FIP), and Brad Lincoln (3.79 FIP). The middle innings can be a little sketchy, but that late-game trio is sneaky good.
Joe Girardi went all-out for yesterday's win, using Boone Logan, David Robertson, and Rafael Soriano for more than one inning apiece. Everyone else in the bullpen is well-rested, plus Robertson could be placed on the paternity list at any moment. Who the Yankees would call-up to replace him is anyone's guess (Cory Wade just pitched yesterday). Check out our Bullpen Workload page for exact recent reliever usage, and then check out Drunk Jays Fans and Tao of Stieb for the latest and greatest on the Blue Jays.
Ticket Info
You can save 25-50% off tickets for the homestand with this link. Just sign up if, find the section they'd like to sit in and make an offer based on the savings shown here. There won't be any shipping fees or any other nonsense like that either.